Topics in this issue of Behind the Blue:
Showcasing Blueberries' Nutrition and Versatility on a Global Stage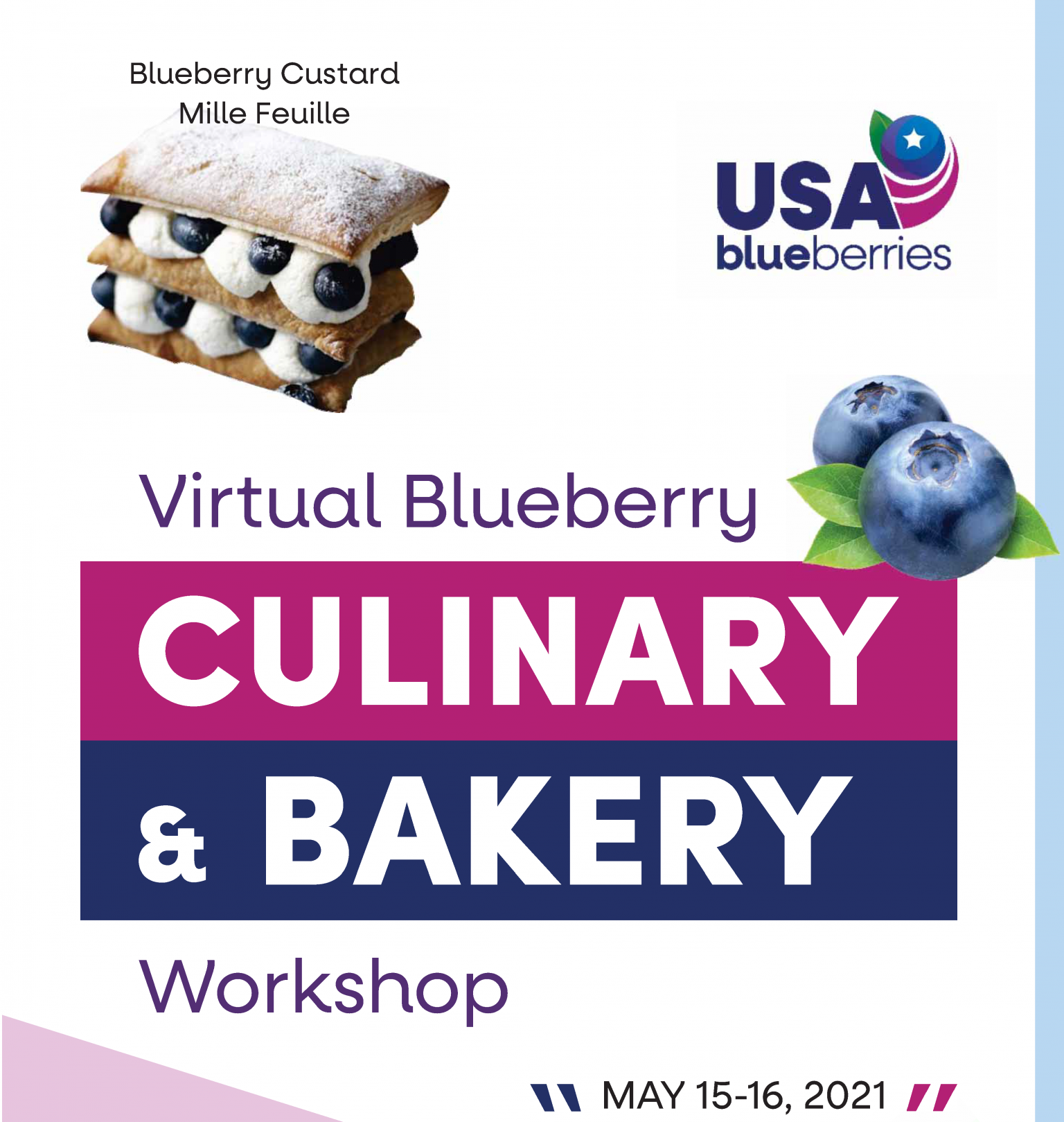 On May 15 and 16, USHBC collaborated with one of its India-based global partners to hold a virtual culinary event geared toward bakery chefs. The event provided attendees with insight about the use of blueberry ingredients in baking, nutritional benefits of blueberries and live demonstrations featuring bakery technologist Shorya Kapoor and pastry chef Abhjeet Anand.
Nearly 200 attendees participated in the virtual event as it happened live, and an additional 350 registrants had access to recordings and content. During the virtual workshop, Shorya and Abhjeet shared tips and tricks for incorporating blueberries in a variety of forms – fresh, frozen and dried – into multiple recipes.
"This is one example of how our international partnerships enable the USHBC to share blueberries' versatility while also inspiring their use in a variety of dishes and recipes with key influencers, all with the ultimate goal of continuing to build global blueberry demand," noted Alicia Adler, USHBC vice president of global business development.
For more insight about the emerging market opportunities for blueberries in India, check out "The Business of Blueberries" podcast episode featuring Adler and USHBC President Kasey Cronquist, who discuss the blueberry prospects in India with Raj Kapoor, USHBC's in-country representative in India, and Don Van De Werken, owner of J&D Farms and USHBC Export Committee member.
National Blueberry Cheesecake Day Social Content Available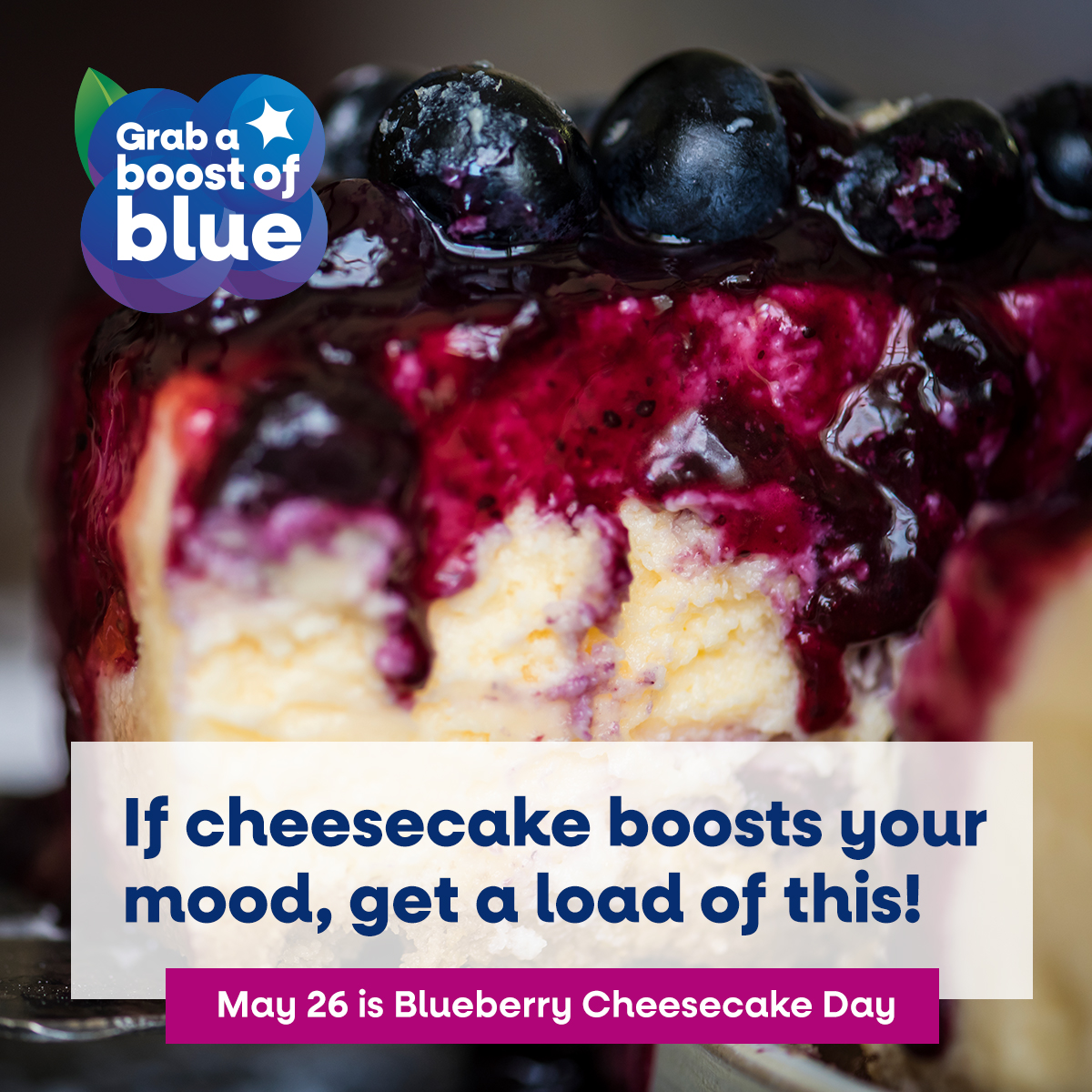 With National Blueberry Cheesecake Day coming up on May 26, USHBC developed a shareable social media image to celebrate, available to download and share on your own social media channels. This fun occasion provides another reminder to motivate consumers to enjoy more of the fruit they love by buying or baking a blueberry cheesecake and can be used across digital channel promotions. As you share it, be sure to tag @blueberries and include #boostofblue, and you could be recognized as an industry champion in an upcoming communication.
With summer just around the corner, as a reminder, two new toolkits are available on the Grab a Boost of Blue industry resource hub. The toolkit for Brain Health Month (June) features free creative tools and resources for blueberry growers and marketers, including banner ads, social posts, recipes and Brain Health Fact Sheets. The National Blueberry Month (July) Toolkit provides everything you need to promote the month-long celebration, from tip sheets to social media content to digital advertising.
For even more turnkey content to help capitalize on consumer promotions and drive year-round sales, check out the USHBC Grab a Boost of Blue industry resource hub. Industry stakeholders are invited to use assets in advertising, point-of-sale materials, social media, public relations and packaging.
Viral Blueberry Cookies Featured on TODAY Online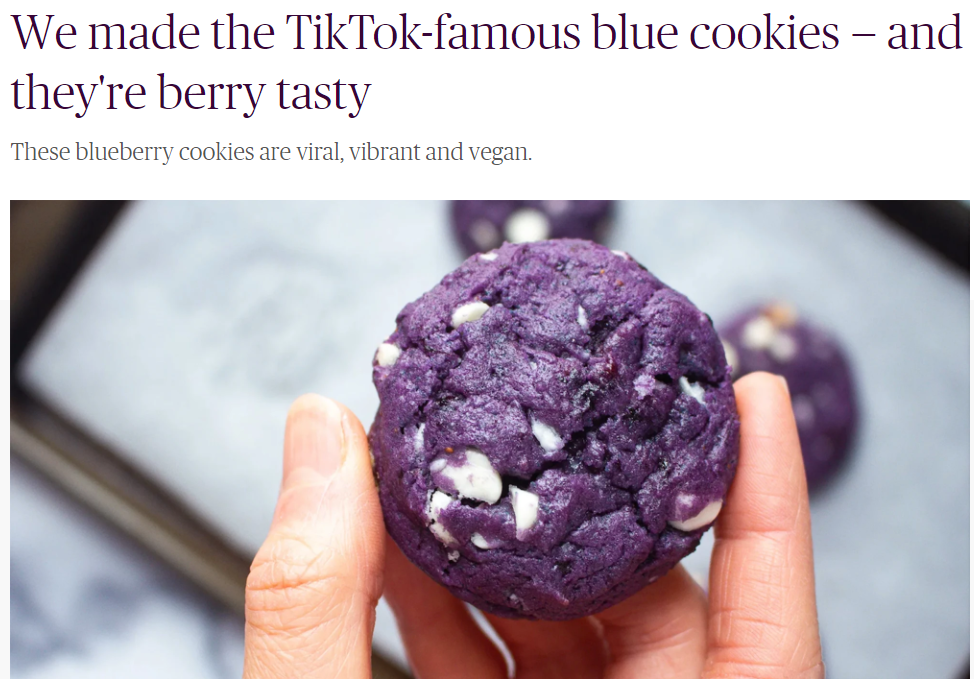 The good news just keeps coming as blueberries continue to go viral. TODAY Online joined the impressive list of national media outlets to feature recipe developer and blogger "Justine Snacks'" viral Blueberry Cookies. The article, which reaches an audience of 5.4 million, highlights the beautiful coloring of the cookies from frozen blueberries and showcases the viral video directly.
The blueberry cookie TikTok post, which has nearly 480K views and counting, was a result of USHBC's work with snack influencer Justine Dorian as part of consumer promotions programming with agency partner Padilla during the March Frozen Food Month power period. The recipe and video have also been covered in Real Simple, PopSugar, The Kitchn, Good Morning America and Simple Most. The coverage to date totals 19 million consumer impressions.
You can find this recipe video and the others on USHBC's TikTok channel. We invite you to comment or share these videos from your own accounts, and let us know if you get a chance to make these recipes at home! While Frozen Food Month is over, you can still check out our Grab a Boost of Blue industry resource hub for evergreen Grab a Boost of Blue resources. Just consider USHBC's website the marketing and advertising resource that's at your fingertips any time of the year.