Topics in this issue of Behind the Blue:
New National Blueberry Month Toolkit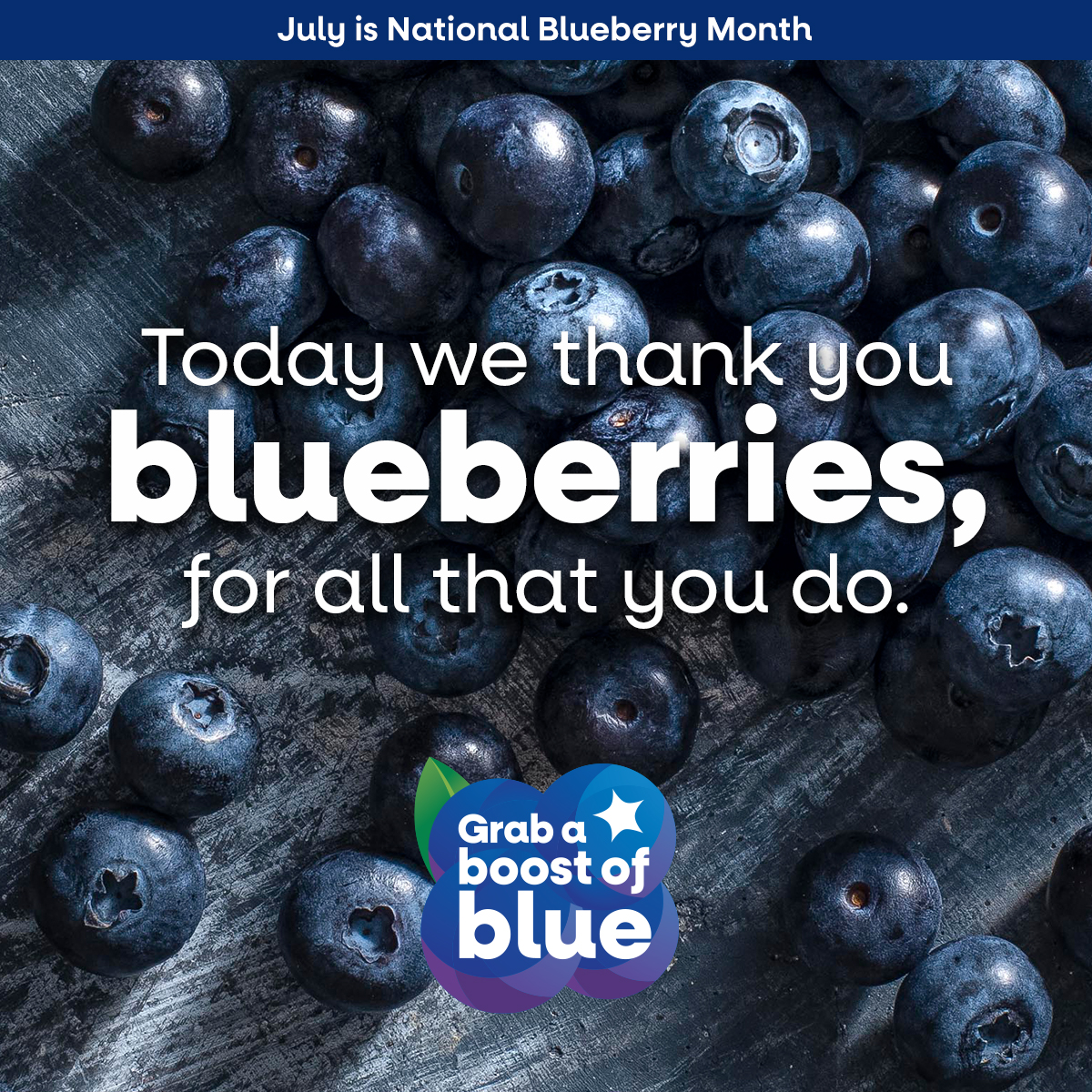 A new toolkit for National Blueberry Month (July) is now live on the Grab a Boost of Blue industry resource hub. From tip sheets to social media content to digital advertising and more, our National Blueberry Month Toolkit provides everything you need to promote the month-long celebration.
Together as an industry, let's show your customers, community and partners why they need blueberries in their daily lives and give them new ideas and reasons to Grab a Boost of Blue!
Social media content: Celebrate National Blueberry Month on your personal and professional social pages. Choose from several social media images in a square format ideal for Instagram, Facebook, Twitter and LinkedIn.
Digital ads: Use our National Blueberry Month digital ads for banners on your website, in newsletter content, on social media channels or in digital marketing materials.
Consumer tip sheet: Spread the news on the benefits of and unique tips for enjoying blueberries with your customers, partners and community by downloading this resource for digital or printed use.
Summer recipes and food hacks: Share our delicious recipes and beautiful photography to inspire your customers to enjoy blueberries more often and in more ways during peak season and beyond. Our versatile and delicious recipes are also available in a printable PDF format to make them easy to share with your customers, community and partners.
Summer recipe videos: Who doesn't love a short and snappy video featuring your favorite berry? Our highly shareable recipe videos, each under 60 seconds, are the perfect length for social media and are also great content for your website or digital newsletter.
April Nielsen Report Now Available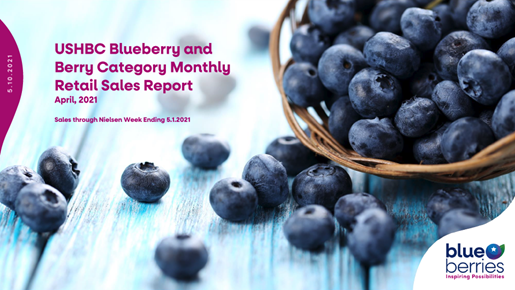 As part of our commitment to delivering strategic value to the industry, USHBC publishes monthly reports using Nielsen retail sales data that summarize blueberry sales performance. Our most recent Nielsen report for the week ending April 26, 2021, is available here.
As the report notes, fresh blueberry retail sales declined slightly (-0.9%) compared to last April. However, fresh blueberries posted positive dollar gains in five of the nine sales regions of the country. Additionally, while 6 oz packages decreased -14.7%, sales of 18 oz packages saw a 6.1% bump.
While frozen blueberry sales decreased -10.4% compared to last April, tracking with a decrease of -9.2% for all berries, they were still up 31.3% from 2019. The frozen category saw unusual gains in April 2020 due to the significant impact of COVID-19 lockdowns, so it's helpful to also compare data against a more typical year.
These retail sales reports can effectively supplement industry members' own internal data, helping you to understand the marketplace and make more informed business decisions and plans.
The reports provide a high-level summary of:
• Blueberry, berry category and produce category performance.
• Overall dollar, unit and volume sales trends for frozen and fresh.
• Trends by pack size.
• Trends by Nielsen region.
Summaries of the preceding month's retail sales performance are posted at the end of the second week of every month. Find the full list of reports at ushbc.org/nielsen-reports.
For more insight on blueberries' performance at retail, along with more about this year's domestic crop – which is projected to be one of the largest on record – check out our recent podcast episode, A Big Year For Blueberries.
Grab a Boost of Blue Industry Champions

Each week, more and more industry partners and stakeholders are embracing the Grab a Boost of Blue strategic positioning and consumer call to action. This week, we're highlighting two more industry champions that have leveraged Grab a Boost of Blue in unique and creative ways.
Stiebs, California's largest blueberry processor of NFC juice, concentrate and puree, recently highlighted Grab a Boost of Blue and other resources from the USHBC's Brain Health Month toolkit in its Food for Thought newsletter. And Florida-based Wish Farms highlighted Grab a Boost of Blue in big ways, including a digital billboard along Interstate 4 in Plant City, Florida, seen in action below.

A Grab A Boost Of Blue blog post was also featured on the Wish Farms website and is being leveraged through social media.
Check out even more industry champions and find the rest of our participating industry stakeholders and marketers here. To join these and other industry champions that are helping encourage consumers to Grab a Boost of Blue, explore our Industry Resource Hub to find all the available tools and more, including advice to best leverage the national campaign and drive sales year-round.