July is National Blueberry Month, and USHBC has packed the entire month with promotions to drive blueberry sales and pique consumer interest to Grab a Boost of Blue. This step-by-step guide will help you, our valued industry stakeholders and marketers, capitalize on our nationwide promotion and enhance your marketing efforts to engage your audiences during this key power period.
Get Tools and Resources
Head over to USHBC's comprehensive National Blueberry Month toolkit to access our national plan and learn about the efforts USHBC has in store, including 31 Ways to Grab & Give A Boost, inviting consumers to post about @blueberries every single day of the month. For each post, USHBC will donate $1 to No Kid Hungry to raise up to $50,000 and 500,000 meals for kids in need. Get in on this campaign to encourage consumers to flood social channels with blueberries AND support a worthy cause. Use Blueberry.org/Challenge when promoting the cause to your audiences!
Tips to Boost Your Blueberry Month Promotions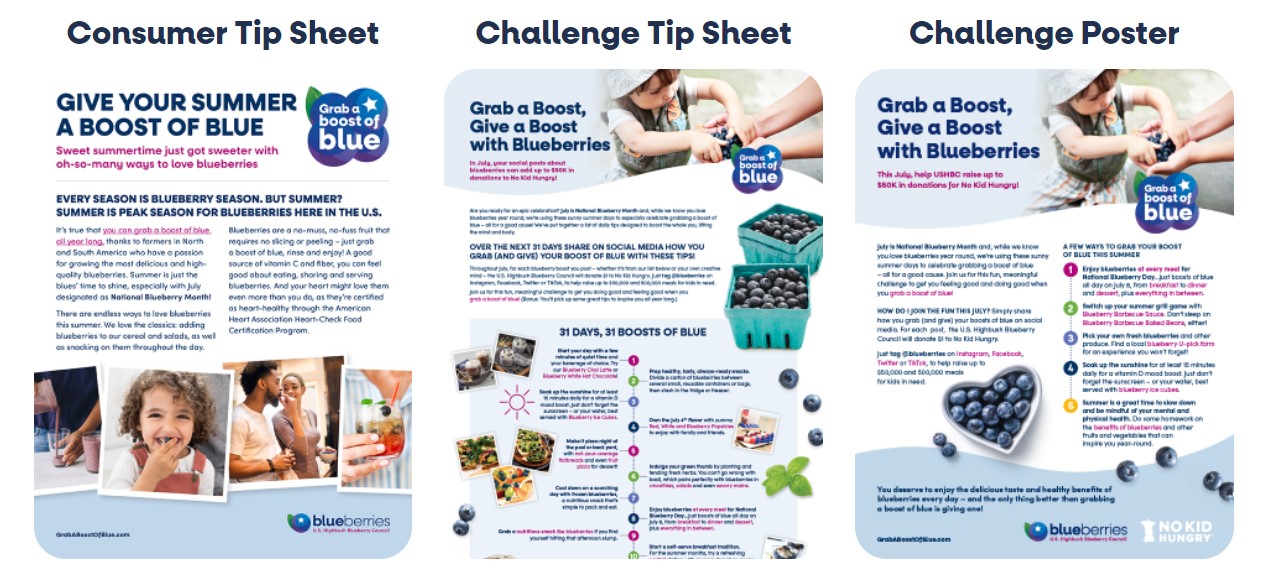 Follow the Fun on June 28 as We Kick Off National Blueberry Month
To generate media interest and garner news coverage of the 31-Day Challenge to engage consumers, USHBC is hosting a kick-off event for national media on the evening of June 28. To follow the fun, keep an eye on our social media channels to see – and share – the live content from the event.
Follow us on Instagram, Facebook and Twitter.
We'll also be sharing a fun "sizzle video" on July 1 (keep an eye on your email!) that you can use on your channels to kick off the month in a big way. Stay tuned!


Share Recipe Inspiration Throughout the Month
Bookmark GrabaBoostofBlue.com and use it wherever you're encouraging your audiences to find blueberry recipes.
Take note of the latest and greatest recipes. From mouth-watering Blueberry Barbecue Pulled Pork Sliders to a stunning Blueberry Chocolate Cheesecake, find some new seasonally inspired favorites to feature in your social posts or e-newsletter.
Pitch your media contacts with these recipes, along with new eye-catching high-res photos, to garner blueberry coverage throughout the month.
These recipe cards are also perfect accompaniments for media or influencer mailers you may be planning, or as free handouts for sampling events.
Thank you for your partnership as we work collectively to inspire consumers to grab a boost of blue! Please tag us @blueberries or let us know how you're using the materials so we can recognize you as an industry champion!