Today kicks off the greatest holiday of the year – National Blueberry Month – and USHBC has big plans to encourage consumers to Grab a Boost of Blue during the peak domestic growing season!
To kick off the celebration, we launched America's Best Blueberry Pie Contest on June 14, and will continue to drum up excitement leading up to the close of the contest on July 12. USHBC's blueberry pie recipe is one of the most popular webpages on the site, driving over 115K page views in 2019. So what better way to excite our consumers than to host a contest around one of their favorite ways to enjoy blueberries? It's also the perfect way to create buzz around blueberries and National Blueberry Month!
The national contest encourages blueberry fans to submit their favorite original pie recipe for a chance for it to be crowned the best blueberry pie in America and win a $10,000 grand prize. While industry stakeholders are not able to enter the contest, you can participate by encouraging your customers to put their pie to the test! FREE digital files of a flyer, postcard and social media graphic are available for download to help you promote the contest at your operation and give your own customers and community a chance to win.
But the celebration doesn't end there. On July 8, National Blueberry Day, USHBC will be attempting to break the GUINNESS WORLD RECORDS™ for the Tallest Stack of Pancakes! USHBC friend Chef George Duran will be doing the stacking honors on "Good Morning America" (GMA). To attempt this feat, Chef Duran is creating a custom recipe for stackable blueberry pancakes bursting with bright blue color and flavor. Save the date on your calendars to watch it live on GMA on Thursday, July 8!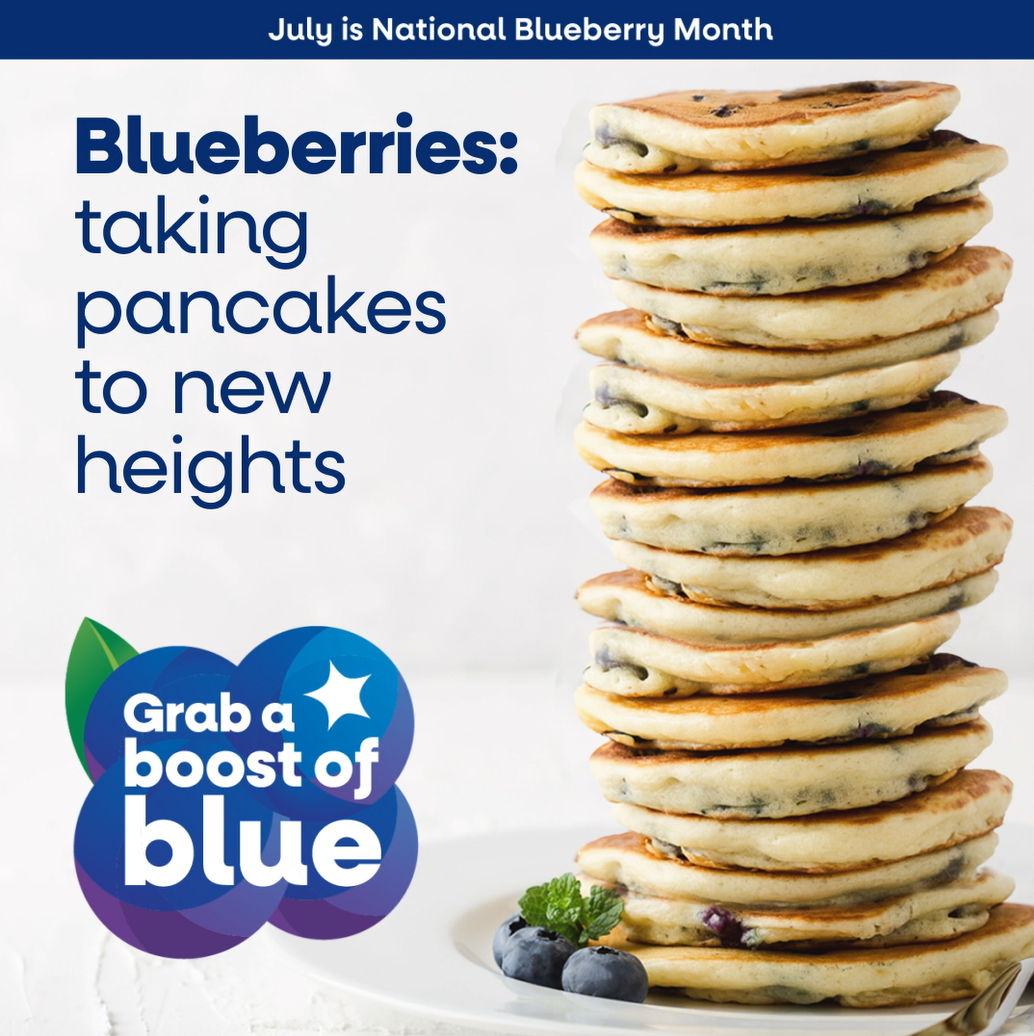 In addition to the pie contest and the tallest stack of pancakes, we'll be promoting other blueberry activations throughout July and through all our consumer channels, including:
A new influencer recipe and giveaway for National Blueberry Muffin Day on July 11
Virtual influencer visit to a U-pick farm showcasing how to use all of those freshly picked blueberries
Digital advertising with Better Homes & Gardens, and more!
All of USHBC's National Blueberry Month promotions and activations are designed to create awareness, increase demand, and turn blueberry consumers into blueberry enthusiasts.

As a reminder, our National Blueberry Month Toolkit provides you with everything you need to promote the month-long celebration, from tip sheets to social media content to digital advertising and more. Download this toolkit and other turnkey content on the Grab a Boost of Blue industry resource hub.
Together as an industry, let's show your consumers, community and partners why they need blueberries in their daily lives, and give them even more reasons to Grab a Boost of Blue!
An Update From the Pacific Northwest
In the midst of this important time period for the blueberry industry, USHBC is continuing to monitor the impact of the record-breaking heatwave the Pacific Northwest is enduring. For the blueberry industry in particular, this came at a critical time, as growers in Oregon, Washington and British Columbia enter peak blueberry season.
USHBC has produced a special edition of 'The Business of Blueberries' podcast to help provide blueberry industry stakeholders a better picture of just how this unprecedented heat wave has impacted the industry and what the outlook is moving forward. Pacific Northwest growers join USHBC and North American Blueberry Council President Kasey Cronquist for a conversation about the crisis, and what the blueberry community has done to mitigate the heat and its impact.
Please take a listen to this special report, and know that you have our support during this important time for our industry.