Topics in this issue of Behind the Blue: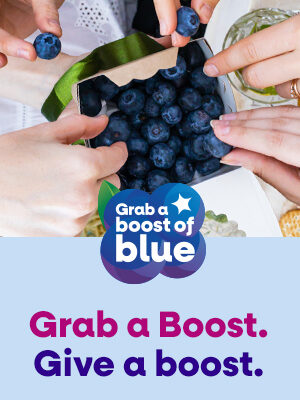 In a couple short weeks, we'll be celebrating National Blueberry Month. To make the most of the month, follow along for the latest news and resources to drive consumer interest and blueberry sales throughout July.
Kicking off the month, USHBC is hosting a media event in New York City on June 28. The event will feature a grower showcase farm stand, a speaker highlighting the benefits of blueberries in an active lifestyle, yoga and meditation demonstrations, and the launch of our 31-Day Challenge with No Kid Hungry. Following the event, we will send out a sizzle reel for sharing on social media and more.
To keep the momentum going all month long, download our 31 Ways Tip Sheet to share ideas for enjoying blueberries in fresh and exciting ways. If you're planning any in-store promotions, share the tip sheet as a handout to further inspire blueberry lovers. Download ready-to-use visual social content to enhance your social media posts, and set an example for your followers by posting about blueberries as often as you can to boost the donation total.
There are many ways to get involved in National Blueberry Month – check out this guide for more step-by-step advice! Make a plan, get engaged and have fun with it!
The May 2022 Nielsen report shows that total blueberry sales (fresh and frozen combined) are down -6.9% in volume and -0.6% in dollars vs. 2021.
Total fresh blueberry sales are down -6.5% in volume and -0.7% in dollars vs. year average (YA). Declines in fresh category growth are being driven by the organic segment, which is experiencing double-digit declines; down -26.9% in volume and -13.6% in dollars vs. YA. The conventional segment is down -3.0% in volume and up +2.6% in dollars vs. YA.
Consistent with frozen volume trends seen in recent months, the frozen blueberry segment is down -9.0% in volume and -0.3% in dollars. The decline in frozen volume is offset by higher retail prices for frozen blueberries. Historically stable in price, the average price per pound for all frozen blueberries at retail in May 2021 was $3.35/lb, which has increased +10% to $3.67/lb. Frozen conventional blueberry prices have increased +11% from $3.11/lb in May 2021 to $3.46/lb. Frozen organic blueberries' retail prices have increased by +10% from $4.49/lb in May 2021 to $4.95/lb.
Stay tuned for even more blueberry industry data and insights led by USHBC's newly hired Director of Business Intelligence Joe Vargas.

The USHBC foodservice and food manufacturing programs are gearing up for their first ever Behind the Blueberry event. This event, to be held July 25-28 in Western Michigan, will host a dozen high-volume foodservice chefs and new product developers to give them an immersive firsthand look at our industry.
Attendees will include culinary leads from Chobani, Jason's Deli, Culver's, Twin Peaks, Landry's Restaurant Group, Chartwell's Higher Education and more. These food professionals will see how blueberries are grown, harvested, sorted and processed. They'll meet with breeders and they'll have innovative blueberry touches at every meal, so they're sure to leave with not only a vastly increased understanding and appreciation for the blueberry industry and all blueberry forms – from fresh to frozen to dried – but also tremendous inspiration to apply to developing new menu items and food products.
For more details on USHBC's foodservice work and to access resources to engage or support a foodservice audience, visit our Foodservice Hub.