Topics in this issue of Behind the Blue:
Earlier this morning, USHBC/NABC Vice President of Marketing and Communications Jennifer Sparks provided insight and advice to 2021 International Blueberry Organization (IBO) Virtual Summit attendees on digital marketing strategies and tactics to engage today's consumer. Sparks used examples from USHBC's new Grab a Boost of Blue brand positioning and programs to illustrate compelling content that resonates with the consumer and drives demand for blueberries.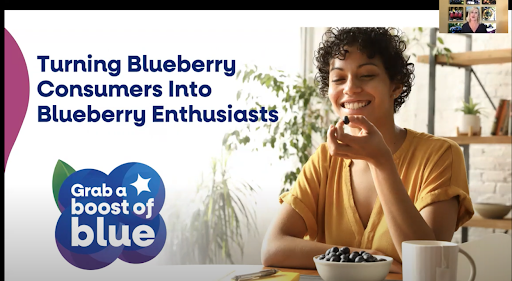 "We want [blueberry consumers] to be blueberry enthusiasts," Sparks said during the presentation. "Why? Because when they are enthusiastic about a product, then they don't even need to put it on their shopping list. It is already in their mind to buy [blueberries] every time they go."
Sparks detailed the efforts by USHBC to create a consistent drumbeat of consumer content meant to drive enthusiasm for blueberries through email marketing, social media, media outreach, influencer partnerships and so much more. Sparks noted that taking an omnichannel approach to marketing means to provide a seamless shopping experience and meet customers where they are. "Whether providing a top quality product at retail or creating marketing touchpoints that resonate, it's all about the customer experience."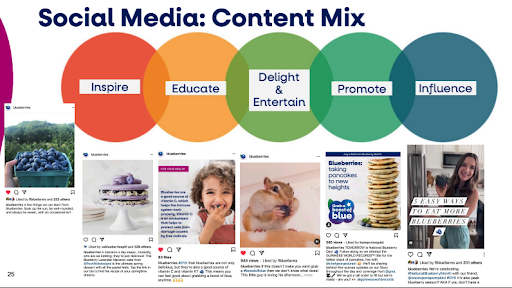 Sparks encouraged those in the audience who might be feeling overwhelmed by the complexities of the digital marketing arena to start small. "You don't have to boil the ocean," Sparks said at the end of her presentation. "Determine what your priorities are and focus on those, and do those few things really well. You will be much more successful than being everything to everyone." 
USHBC can help complement or boost those priorities to encourage your consumer audiences to Grab a Boost of Blue. Explore our Industry Resource Hub to find all the available tools and more, including advice to best leverage the national campaign and drive sales year-round.
Instacart is one of several USHBC programs that drive the volume of blueberries sold both digitally and through in-person retail.
To date, the 2021 USHBC Instacart campaign has served 9,577,368 impressions and received 152,040 clicks, while moving 176,481 units of blueberries. These numbers mean that most everyone who clicks is buying one or more units of blueberries during their Instacart shopping trip.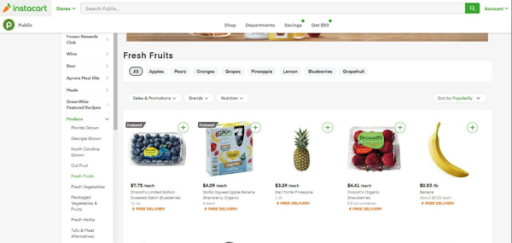 The program has accumulated $995,122 in attributed sales, while spending about $60,211 to date — a more than 16x return on investment.
Keyword searches containing the word strawberry or strawberries have also resulted in 16,627 units moved and attributed to sales of $88,966, which tells us that people are still thinking about and choosing blueberries while they're considering the whole berry patch.
For more information on blueberry sales data, visit our Data & Insights Center to access Nielsen retail sales data that measures U.S. consumer blueberry and competitive berry purchases on a regular basis. 
Last week, the USHBC foodservice team hosted a virtual session for high-volume chefs focused on insights from the recent patron study, reviewing how, when and why patrons said they want to see blueberries menued. To inspire blueberry ideation, the team also shared exciting culinary examples from real menus across the country, bringing the ideas to life for the 29 chefs in attendance.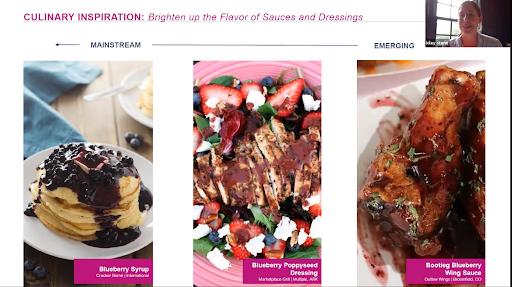 Culinary professionals in attendance represented thousands of units nationwide, from organizations including Marriott, IHOP, Eat n' Park, Houlihan's, Alamo Draft House, Dunkin' Brands, and more. This webinar offered the highest engagement of the Virtual Chef Roundtable series to date, once again underscoring the value of research to our foodservice audience, who will also be receiving a Blueberry Inspiration Kit. The kit features samples of several blueberry formats along with the offer for custom support on tailored menu applications.
This effort is just one of many foodservice program initiatives engaging the restaurant industry by showcasing the power of a boost of blue in culinary creations across the menu.
For more information about USHBC's foodservice efforts, visit our refreshed foodservice page at foodprofessionals.blueberry.org/for-foodservice/.