Topics in this issue of Behind the Blue: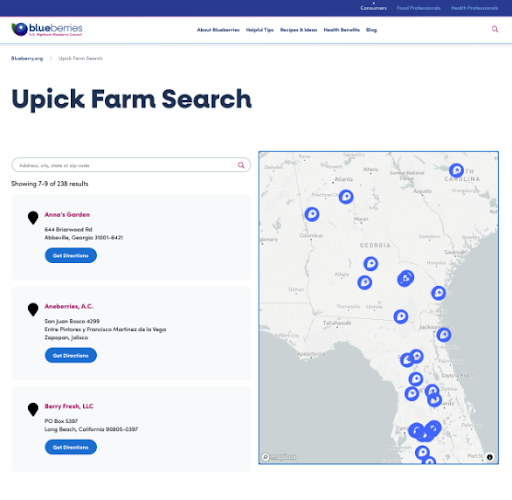 With the domestic season starting, USHBC wants to support and promote U-pick operations to help you promote your peak season. we. If you're a U-pick operator, please create or update your Impexium profile so you can be featured on a forthcoming searchable list of U-pick farms on the consumer website.
Take a few minutes to sign up for a free account on Impexium, USHBC's new digital management software. We'll be incorporating as many U-pick operations as possible to encourage consumers to grab a boost of blue directly from their local blueberry farms this spring and summer.
USHBC is gearing up to make July 2022 the biggest and best celebration yet. This year, we've added a cause-related element to our National Blueberry Month campaign by partnering with the well-loved organization No Kid Hungry to help kids in need, which includes a social media challenge to get consumers posting about blueberries while also helping to provide financial support to the organization.
In response to the industry's desire to also donate product to kids this summer, we've worked with No Kid Hungry to make that possible, and you've been answering the call! We're excited to see initial interest from the industry to donate both fresh and frozen product, and wanted to provide some clarification. At this time, we're solely looking for confirmation of your interest in participating. Please respond by March 30. After completing this step, there's still time for you to learn more and determine whether you're able to donate product. No Kid Hungry will contact interested product donators directly to discuss fulfillment and distribution logistics.
To read more about this opportunity or pass it along to a colleague or team member who might be interested, read our one-page flyer.
No Kid Hungry has many logistical moving parts on its end with summer distribution centers, which is why we need to garner the industry interest early.
Once we hear how things are progressing from No Kid Hungry, we'll be able to add to our messaging for National Blueberry Month. Wouldn't it be great to be able to say we're feeding kids from coast to coast? USHBC will recognize donating companies to the industry and trade press as part of our reporting on the program.
Thank you in advance for your generosity!
USHBC has been busy during National Nutrition Month this March, partnering with influencers and running digital promotions in nutrition-focused outlets. This annual campaign, created by the Academy of Nutrition and Dietetics, emphasizes the importance of making informed food choices and developing healthy eating and physical activity habits. USHBC's health and consumer teams have been hard at work demonstrating how blueberries fit into a healthy diet.
First up, Blue Crew members Manuel Villacorta (pictured above) and Cara Harbstreet's (pictured below) Instagram Reels were cross-posted to USHBC's Instagram page, as the Instagram Collab tool was used for the first time with this group to reach a wider audience.
Manuel's Instagram Reel which was published on March 8 reached over 3,600 accounts, and Cara's Instagram Reel, published on March 3, reached over 3,200 accounts. In total, the two Blue Crew members reached over 6,900 followers.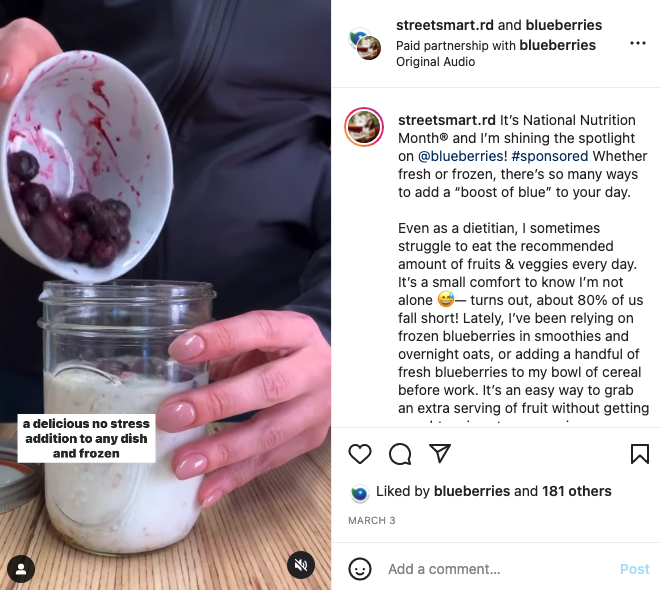 Sonali Ruder wrote the first Blue Crew guest blog post of 2022, commemorating National Nutrition Month and highlighting a recipe for Blueberry Farro Salad that leans into the World of Flavors theme.
Finally, USHBC ran a dedicated SmartBrief e-blast and ads that reached 110K food and nutrition professionals.
USHBC is in its final push to promote National Nutrition Month, and we're here to help you do the same! With a huge variety of free new resources, USHBC's National Nutrition Month toolkit will equip your audiences, community and partners with the necessary tools to illustrate how nourishing blueberries can be, driving demand with health-conscious consumers this month and beyond.
If you haven't already, don't forget to sign up to become a participating marketer or stakeholder in our Grab a Boost of Blue program. We'd love to learn how you're planning to use the logo and assets in your communications and are happy to feature your logo on our website.