Topics in this issue of Behind the Blue:
On Monday, USDA's Agricultural Marketing Service (AMS) announced that a majority of eligible producers and importers of record voted in favor of USHBC. According to the notice, 84% of producers and importers voting in the referendum, who also represent 93% of the volume of highbush blueberries grown, were in favor of continuing the program. This represents a 10% increase in producers and importers (and 13% more volume) voting in favor of USHBC compared to 2016.
Thank you to all our growers and importers of record who took the time and effort to vote. USHBC will use this new mandate of support to power the future growth of the blueberry industry. We're excited to collaborate on the journey toward making blueberries the world's favorite fruit, the vision detailed in our recently approved 2021-2025 Strategic Plan. The plan includes expanded, measurable programmatic goals and tactics for five strategic pillars: integrated marketing communications, health and nutrition, industry services, global business development, and innovation and technology. For more background, view our recent press release.
The announcement was covered by several industry trade publications, including: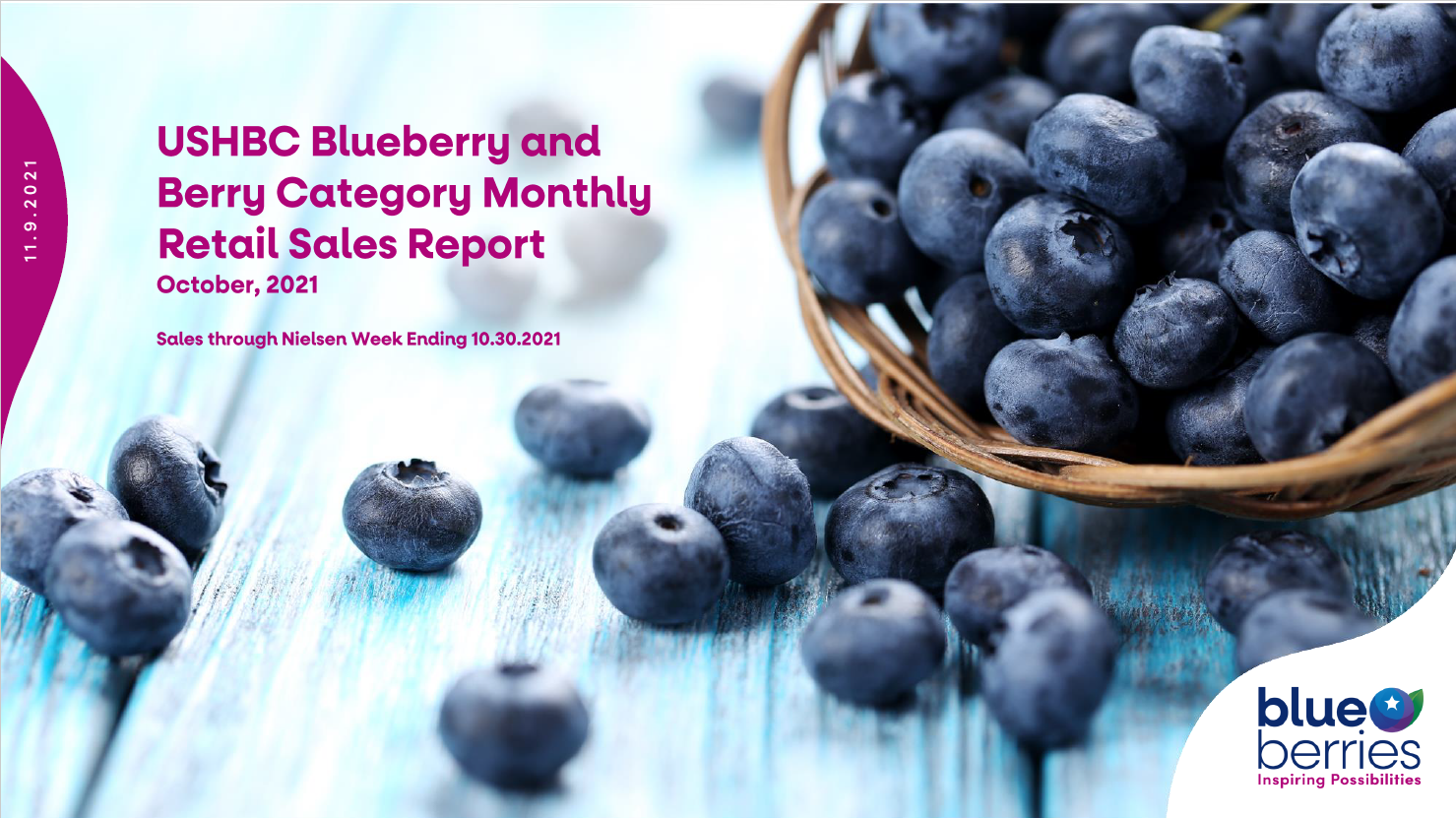 Our most recent Nielsen report for the week ending October 30, 2021, is available here.
Fresh blueberries are up compared to this time last year: dollar sales increased +13.6% while all fresh berries increased +15.8%. Perhaps more notably, pints increased +43.8% and represented 38% of total fresh blueberry dollar sales. Fresh blueberries posted gains in dollars, pounds and units for all regions.
Dollar sales for frozen blueberries decreased -2.3% compared to last year, consistent with a decline for the frozen department overall, which saw a decrease of -2.1% in sales. Despite the slight decline compared to 2020, frozen blueberry sales are still +24.6% greater than pre-COVID sales in October of 2019.
These retail sales reports are intended to supplement our industry members' internal data, giving you a clearer picture of the marketplace and supporting more informed business decisions and plans. Summaries of the preceding month's retail sales performance are posted at the end of the second week of every month. Find the full list of reports at ushbc.org/nielsen-reports.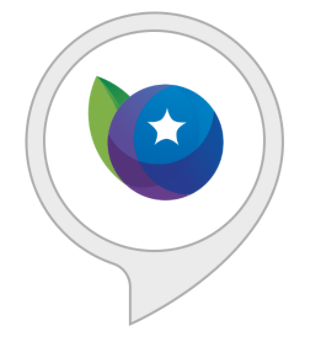 Alexa, give me A Boost of Blue! Alexa is Amazon's voice-activated artificial intelligence (AI) service, and a skill is like an app. The new USHBC skill, named "A Boost of Blue," delivers exactly what the name suggests – all kinds of ideas and inspiration for eating more blueberries in more ways throughout the day. Consumers can now ask Alexa any questions they have about blueberries, whether they're shopping, meal planning, baking, cooking or hosting an event. They'll get recipes, tips, kitchen hacks and more – often directing right to blueberry.org for more information.
Check out the skill for yourself! Simply ask Alexa to enable "A Boost of Blue" and start asking Alexa about the health benefits of blueberries, what flavors go with blueberries and even about the history of blueberries. There are many different topics integrated into the skill, ranging from storage and shopping tips to how to pick blueberries.
As this is the very first USHBC Alexa skill, there are many opportunities for us to learn more about consumer behavior and how Alexa can inspire grabbing a "boost of blue." For more details on our new skill, visit this page on the Amazon store.