Topics in this issue of Behind the Blue: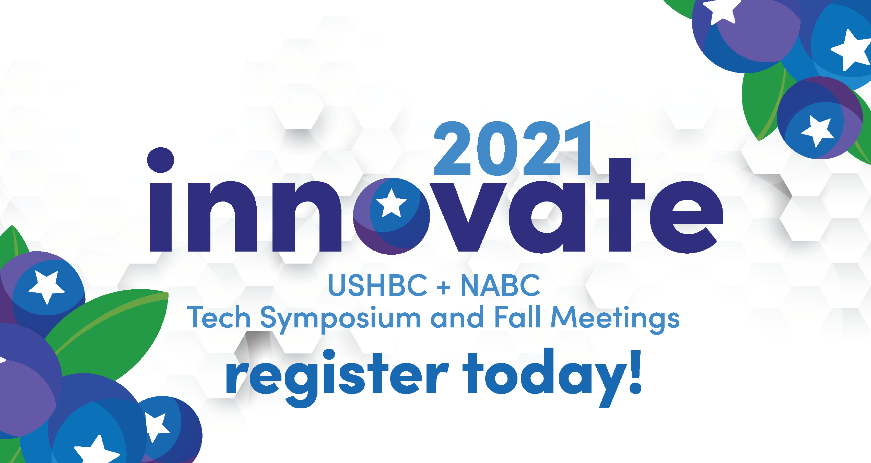 You still have time to join us for Innovate 2021: USHBC + NABC Tech Symposium and Fall Meetings, which is underway this week! The NABC Board Meeting, Crop Report and Committee Meetings are taking place on Thursday, Sept. 30. Just register and attend virtually at blueberryevents.org. The meetings will appear for you on Thursday's main event stage if you add it to your registration.
Thank you again to Naturipe, Fall Creek Farm & Nursery, Hortifrut, MBG Marketing and Munger Farms, the daily presenting sponsors of Innovate 2021. If you missed any of the sessions or want to rewatch your favorites, recordings will be available beginning on Friday for registered virtual attendees at blueberryevents.org. Stay tuned for ongoing updates from the USHBC for more content coming out of the conference! Attendees, watch your inbox for our post-event survey!
For over 20 years, the USHBC has helped grow the value of and sell more blueberries to people in the U.S. and around the world. Since its launch, the USHBC has been required to hold a referendum every five years, in which eligible producers are asked to vote to determine the continuation of the USHBC. The upcoming referendum is scheduled for October 8-22, 2021.
All eligible producers and importers will receive a ballot from the USDA via FedEx or Express Mail beginning October 1, and ballots can be returned within the voting window by mail or electronically. Eligible producers who produce 2,000 pounds or more of highbush blueberries domestically, or eligible importers who import 2,000 pounds or more of fresh or processed blueberries, are able to vote on the referendum.
For some compelling stats on why USHBC matters to the future of the blueberry industry, take a look at this one-page resource and pass it along to your colleagues. More background information on the USHBC referendum is available on the Federal Register here. For inquiries, contact Jeanette Palmer, Marketing Specialist, PED, SCP, AMS, USDA, 1400 Independence Avenue SW, Room 1406-S, Stop 0244, Washington, DC 20250-0244; telephone: (202) 720-5976; or email: [email protected] or Marlene Betts, Marketing Specialist, AMS, USDA; telephone: (202) 720-5057; or email: [email protected].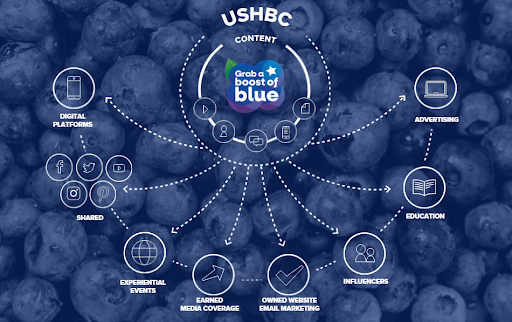 Grab a Boost of Blue, USHBC's strategic positioning and consumer call to action, inspires and drives demand for blueberries through a comprehensive marketing campaign focused on getting blueberries onto shopping lists and into grocery carts. The program was launched late last year along with an industry resource hub packed with tools, assets and ideas for stakeholders throughout the blueberry ecosystem to leverage. The inspirational campaign has been used for promotional purposes across retail, social, print and digital channels throughout the year, with many new activations coming in 2022.
The new and engaging content will include easy and creative blueberry uses and food hacks, social animation videos and plenty of new recipes. Beginning in 2022, USHBC's social media channels will highlight blueberry farms and orchards, as well as focusing more on sustainability and societal good, high-priority areas of interest for consumers. As ​a valuable retail partner, USHBC will grow data-driven insights, increase e-commerce activations and prioritize pilot programs with key retailers ​to elevate the industry throughout 2022.

To ensure the blueberry industry and retailers can seamlessly capitalize on this consumer promotion program, materials provided by USHBC will include content for the five power periods and blueberry "holidays" to keep blueberries front and center all year. New demand-driving tactics will include ads on Buzzfeed, podcasts, test-and-learn retail pilot programs and interactive displays.
Explore the Grab a Boost of Blue Industry Resource Hub to find resources and guidance to best leverage the national campaign and drive sales year-round. Sign up to become a participant if you haven't already, and let us know what you plan to do to help consumers Grab a Boost of Blue. We would love to give you some well-deserved recognition within the industry for your marketing initiatives.
To learn more about the 2022 marketing and promotions program, tune into the Promotion Committee meeting on Thursday at 9:50 a.m. PT, part of the Innovate 2021: USHBC + NABC Tech Symposium and Fall Meetings, at blueberryevents.org.