Topics in this issue of Behind the Blue: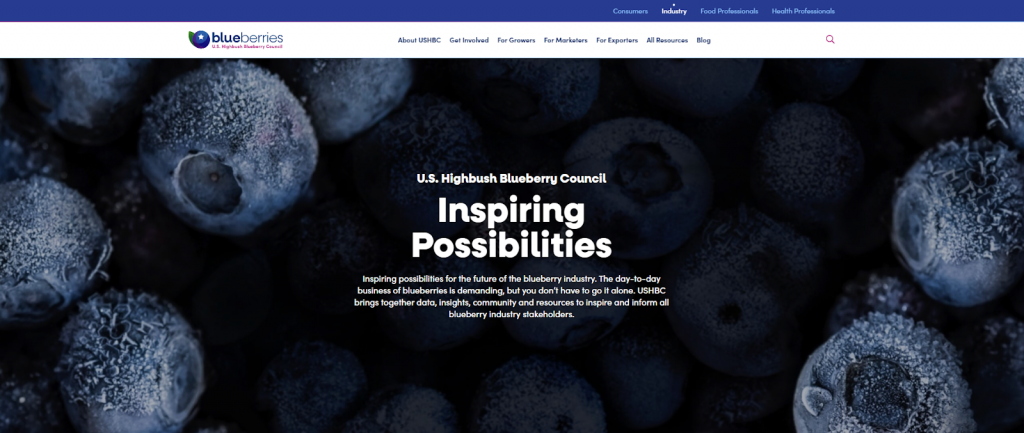 The latest tips, tools, and trends in all things blueberry are now right at your fingertips, thanks to the U.S. Highbush Blueberry Council's new industry website, which was launched as part of last week's NABC/USHBC Spring Conference & Meetings. As the heartbeat of USHBC, the new website brings together data, insights, community and resources to inspire and inform growers, marketers and exporters. Explore it yourself here.
Organized for easy navigation, and designed to save you time and money, the online hub includes a wealth of resources such as the Data and Insights Center. This center helps convert blueberry production and market information into relevant data points and actionable insights for your business.
You'll also find marketing advice, promotional ideas, downloadable materials and timely power-period toolkits to help you capitalize on the new Grab A Boost of Blue branding and consumer call-to-action. Additional materials target retailers to get on board with the demand-driving positioning.
The industry website launch is a major milestone in USHBC's broader "digital ecosystem" effort, with additional destinations being developed for consumers, health pros and food pros in the coming months. Have ideas for the future of the industry? Don't hesitate to reach out to us at [email protected].

The blueberry industry gathered, learned, shared and connected in a valuable way at the 2021 NABC/USHBC Spring Conference & Meetings, held March 16-19. The virtual conference proved to be an effective way to share knowledge and insight to the benefit of the entire industry.
The virtual conference and meetings, provided free to more than 580 registrants, couldn't be possible without the support of the 2021 sponsors.
Recordings of the sessions are available here so that you can catch the sessions you may have missed, or rewatch your favorites. In addition, to bring this educational content directly to your inbox, the next few issues of Behind the Blue will spotlight key sessions of the conference. You can also read more about some of the featured conference sessions in the news articles below.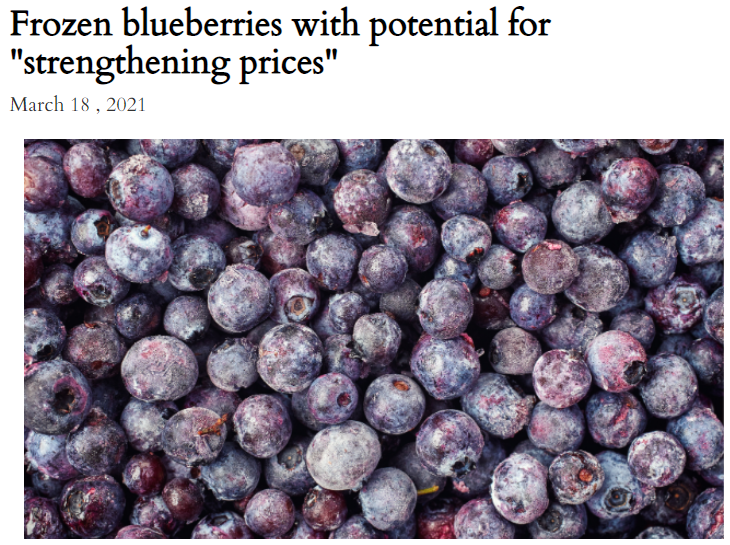 Fresh Fruit Portal highlighted the continued growth of the frozen blueberry market, with insights and predictions from John Shelford, strategic adviser at Naturipe Farms.
Produce Blue Book featured the analysis of retail blueberry growth from Jeff Cady, director of produce and floral at Tops Friendly Markets.
Produce Blue Book reported on the current administration's view of trade, which highlights Darci Vetter's thoughts on trade policy. Vetter is the general manager for public affairs and vice chair for food, agriculture and trade at Edelman.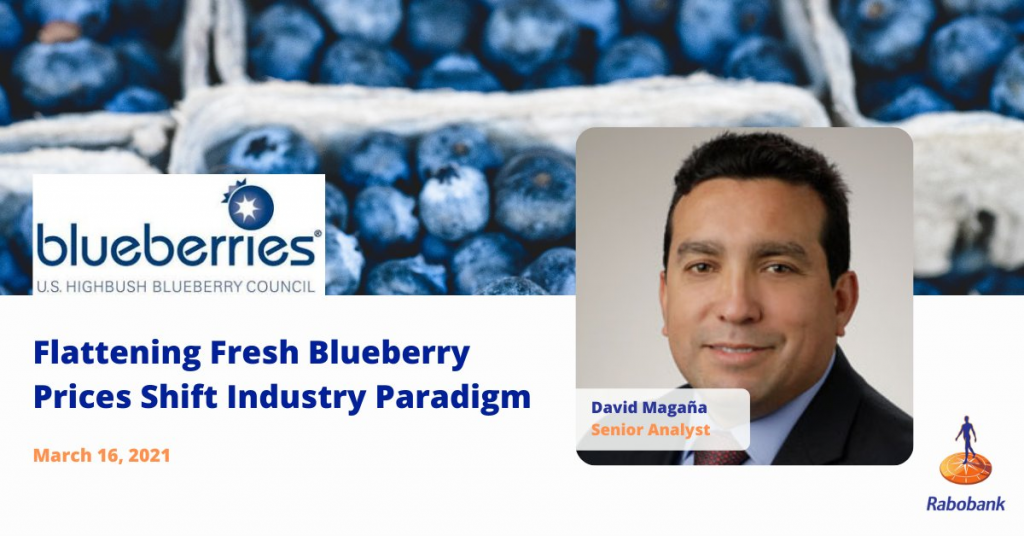 David Magaña, vice president and senior analyst at RaboResearch Food & Agribusiness, was the keynote speaker at the NABC/USHBC 2021 Spring Conference & Meetings. On March 16, Magaña discussed how blueberries are one of the fastest growing fruit categories in the U.S. and explored the forces shaping the future outlook for blueberry prices.
According to Magaña, "Driving demand in the export market will be key for American growers going forward." He noted that 20 years ago, blueberry exports were as much as 50 percent of the U.S.-grown crop. These numbers have dropped to levels as low as 10 percent of the U.S.-grown crop in 2018.
Magaña also stressed that the blueberry industry will continue to face price pressure as supply grows and shoulder periods (where prices have traditionally been high) narrow. The industry will need to address margin pressures through premium products and new technologies such as better mechanical harvesting and ever-more sophisticated genetics.