Topics in this issue of Behind the Blue: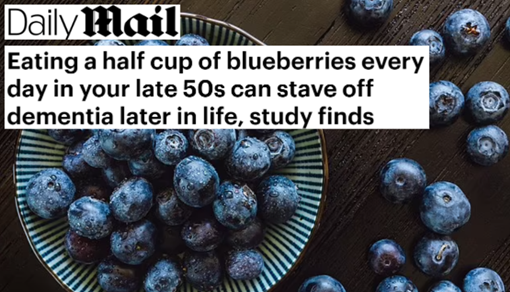 Coverage of the recent USHBC-funded research that indicates the potential for blueberries to protect individuals against cognitive decline has appeared in several produce and mainstream media outlets. Research led by Robert Krikorian, Ph.D., at the University of Cincinnati found that adding blueberries to the daily diets of certain middle-aged populations may lower the chances of developing late-life dementia.
"Our previous studies have shown that blueberry consumption can improve cognitive function in the elderly, but this is our first study showing a benefit in younger middle-aged individuals," said Leslie Wada, Ph.D., USHBC Senior Director of Nutrition & Health Research. "Good nutrition is important as we age, and including blueberries in a healthy diet throughout our lives may help maintain a healthy brain."
For a sample of coverage, take a look at articles in Produce Blue Book, Supermarket Perimeter, Fresh Plaza, Fruitnet, Perishable News, Bake Online, Fresh Fruit Portal, Daily Mail, New Atlas and Neuroscience News.
"Research that results in this kind of coverage is the cornerstone of our future success in making blueberries the world's favorite fruit," said USHBC and NABC President Kasey Cronquist.
Click here for more information on the study.
Joe Vargas has joined USHBC and NABC as the director of business intelligence. Vargas, who started on May 16, is responsible for developing and leading a best-in-class data and insights program for the blueberry industry.
In his new role, Vargas will collect, analyze and communicate data that helps growers and industry experts make effective business decisions. He'll also lead the USHBC and NABC Data and Insights Program, and will be responsible for building a production, inventory and historical price reporting program.
Prior to joining the councils, Vargas was the director of marketing, business development and business intelligence for FirstFruits Marketing in Yakima, Washington, and a lecturer at Central Washington University where he taught graduate and undergraduate data analytics courses. He also has experience in sales and management for firms including Copiers Northwest, Ecolab and MDC Promotions.
More about Vargas can be found in this press release.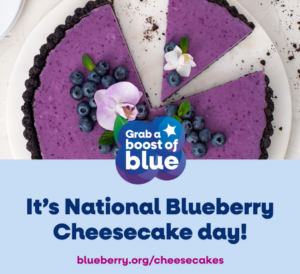 With National Blueberry Cheesecake Day coming up on May 26, USHBC developed a shareable social media GIF to celebrate, and it's available to download and share on your own social media channels and use in digital promotions. This fun occasion provides yet another opportunity to motivate consumers to enjoy more of the fruit they love by buying or baking a blueberry cheesecake.
As you share it, be sure to tag @blueberries and you could be recognized as an industry champion in an upcoming communication.
With peak domestic season and summer just around the corner, two new toolkits are available on the Grab a Boost of Blue industry resource hub. The toolkit for Brain Health Month (June) features free creative tools and resources for blueberry growers and marketers, including tip sheets, social posts, recipes and digital ads. The toolkit for National Blueberry Month (July) provides everything you need to promote the month-long celebration to drive consumer interest and blueberry sales.
Reach out to Jenni Sparks, vice president, marketing and communications, with questions or to discuss options for collaborating.