ICYMI:
Highlights From The Blueberry Summit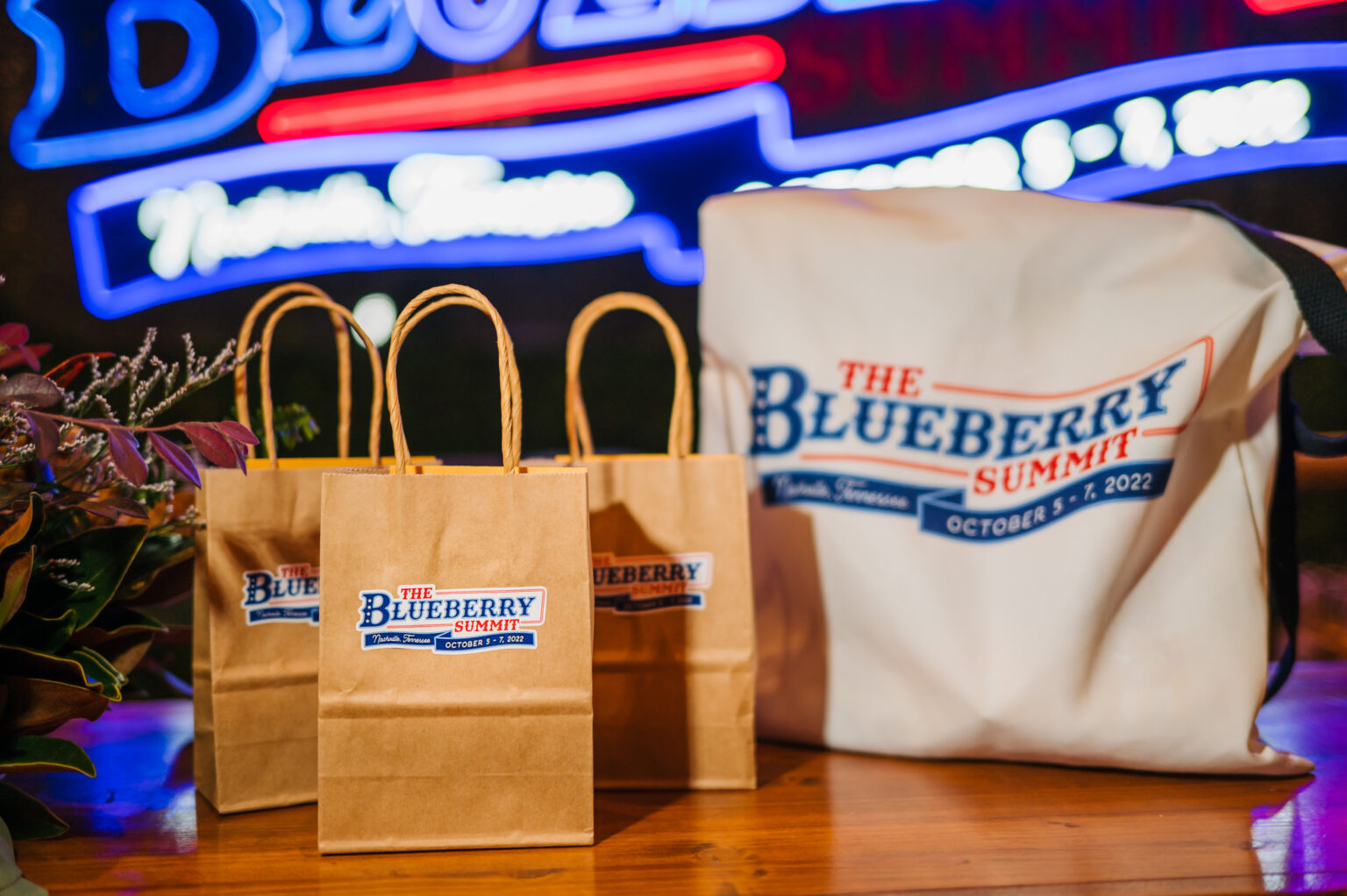 Thank you to all who joined us at The Blueberry Summit! Whether you want to rewatch your favorite sessions (we know you do!) or tune into sessions you may have missed, USHBC now has recordings available. Register for access to the event presentations! 
Some attendees shared sentiments on their experience in a post-event survey: 
"At The Blueberry Summit in Nashville, it was eye-opening to see the level of action the NABC has taken since 2019. Phenomenal use of resources overall. As we go to many conferences throughout the U.S., to date, this is the only one that has emerged stronger from the pandemic."
"The content and presentations at the summit were excellent. No matter the industry role of all who attended, every attendee was able to take some practical knowledge that can be used."- Bonnie Lundblad, Sunny Valley International
"If our industry is to succeed in these challenging times, we all need to participate. This conference demonstrated how important it is to share data, knowledge and information." – Cam Watt, Watt Agricultural Consultants
"This event is very informative and a great networking opportunity for any grower/packer/shipper/service provider."
We were joined by industry influencers, thought leaders and other influential stakeholders who explored inspiring blueberry possibilities. Read on for some event session highlights. And be sure to register for our next event, The Blueberry Convention, February 21-24 in San Diego!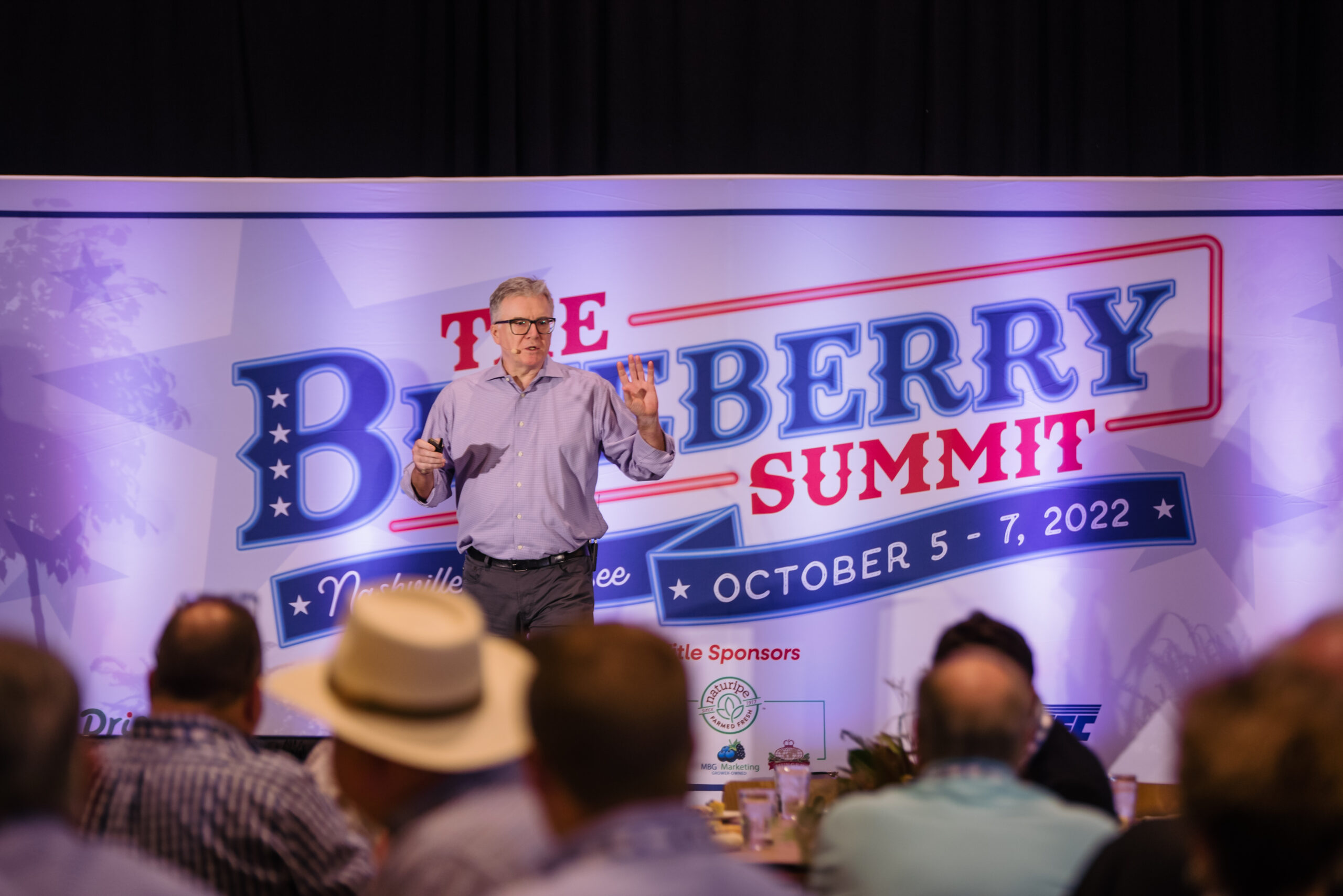 USHBC and our partners are using survey data to help the industry better understand how and why today's consumers purchase and consume blueberries. Grant Prentice, senior vice president and director of strategic insights at FoodMinds, presented highlights from the IPSOS Market Research survey of 1,500 U.S. blueberry users and 500 nonusers. Prentice shared new data on purchase and consumption behaviors and perceptions, barriers to blueberry purchase and consumption, the value of blueberry health benefits in driving consumption, and the growing awareness and impact of Grab a Boost of Blue marketing.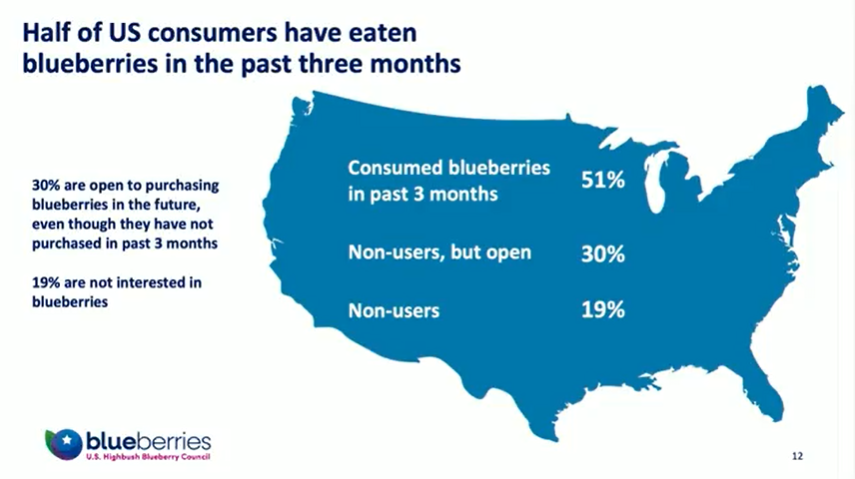 Looking at the Nielsen household panel data, we can see that more than half of all U.S. households (68M) purchased blueberries at least once in 2021, a 55% increase in penetration over the past decade. Notably, blueberries were the only berry category to grow in household penetration in 2021! That's a function of the industry doing a great job getting blueberries to consumers and successfully marketing the product.
An additional survey of heavier users in the blueberry category is being conducted and results will be shared in the coming months, most likely at The Blueberry Convention. Be sure to mark your calendars!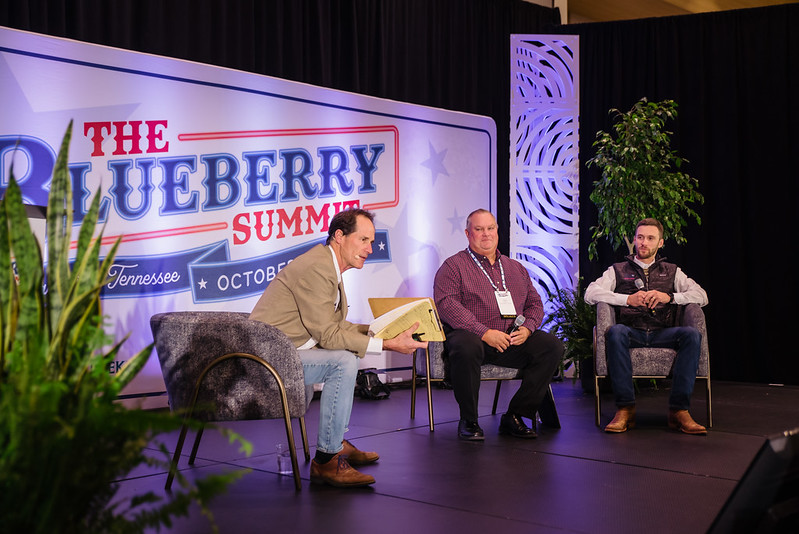 Curt Granger, USHBC interim vice president of global integrated marketing and communications, was joined by Don Ladhoff, founder of FreshSmartSolutions, and Joe Vargas, USHBC/NABC director of business intelligence, for a panel discussion that spotlighted Grab a Boost of Blue promotions and their proven successes in retail, as well as where they see the category heading in 2023.
Seven retailers participated in a Grab a Boost of Blue promotion program held during July and August where they delivered targeted messaging to shoppers. Efforts included in-store point-of-sale (POS), online and digital ads, social media posts, print ads, TV segments and more!
Results strongly validate the impact of Grab a Boost of Blue on sales:
• All 7 participating retailers saw an average unit sales advantage of 12.75* points over the rest of the market.
• 5 of the participating retailers grew their blueberry share of market.
• Display contests realized an average sales advantage of 25.8* points.
• 6 retailers were open to using USHBC POS and expressed its ease and value.
*Nielsen Retail Data
"This was a great program this year, and we are planning on running it again next year." – Joseph Bunting, Produce Director, United Supermarkets
Due to a colder spring in the Northwest, 2022 blueberry supply was under average. Even though retailers were facing a challenging state of the market for July and August 2022, they were still able to realize these impressive positive results! This goes to show how impactful Grab a Boost of Blue marketing can be! Check out even more participating marketers and stakeholders on our website, and sign up to become a participant if you haven't already.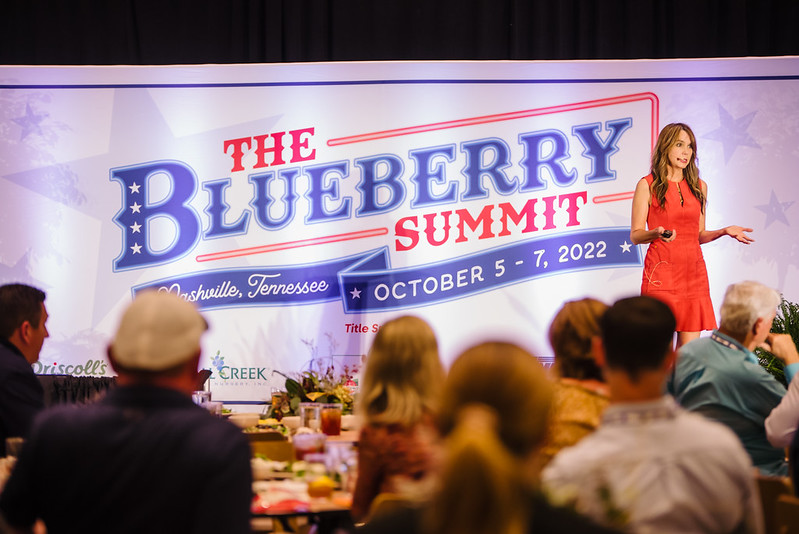 "The past is where you learn your lesson to build your present and future," said Stephanie Stuckey, CEO of Stuckey's Corporation and a Georgia pecan grower. Her grandfather built Stuckey's into an empire – a roadside oasis that redefined America. How did he do it? How is the next generation at Stuckey's taking wisdom from the past to help define the future? Stuckey shared her thoughts during an inspirational keynote.
From politics to environmental law, Stephanie Stuckey had a successful, if varied, career. After unexpectedly receiving a call from investors asking if she would buy her family's business, Stuckey has found herself filling many roles while learning to run a business.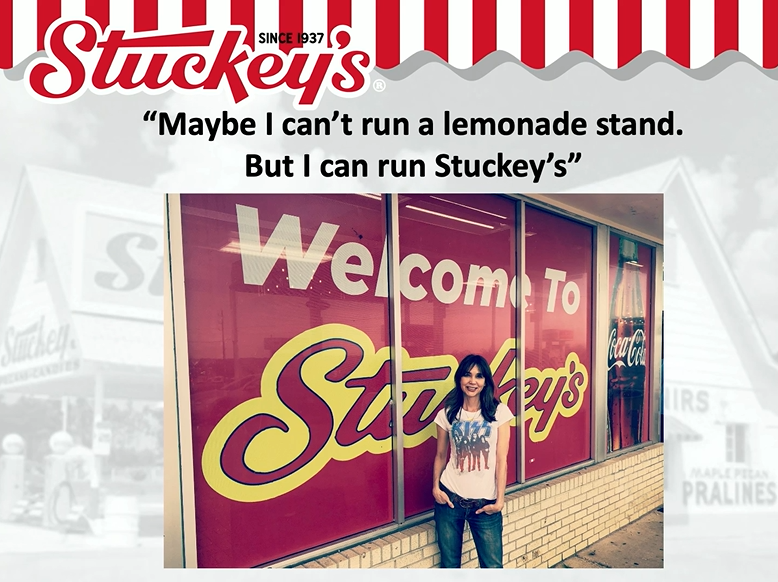 Stuckey's success comes from learning from the past, but not living in it. It is possible to reinvent yourself and revive a brand, taking inspiration from the past and innovating for new ways forward. Watch the full session to learn how she did it!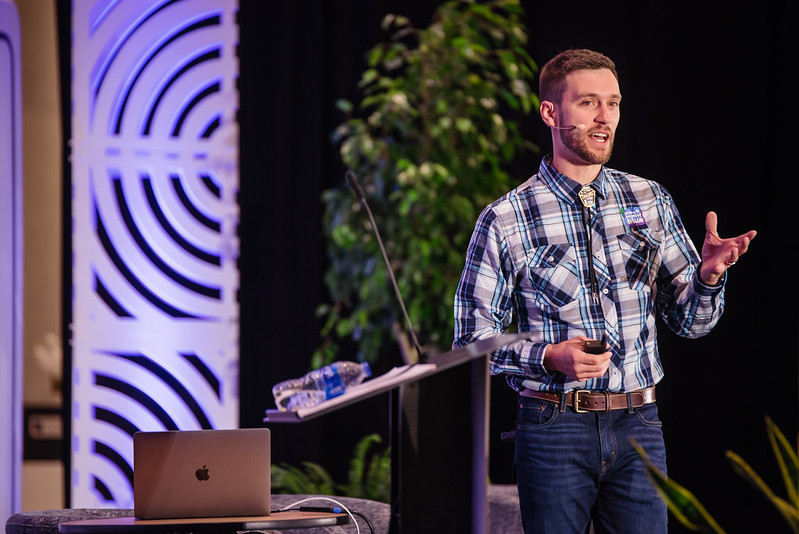 Last week, we shared a recap of the closing keynote panel at The Blueberry Summit in Nashville, which explained the collective industry progress on the development and deployment of the BerrySmart Insights platform. Joe Vargas, director of business intelligence at USHBC, reviewed the collaborative industry effort to build a more comprehensive, granular and accessible database that industry members can also use to forecast production and track supply, historical pricing and sales of their blueberries in the U.S. market.
The panel included members of the Bytecode team, a leading data analytics consultancy that USHBC and an industry advisory board selected to develop and program the automated production and pricing data platform.
The panel also heard insights from Joe Barsi, president of California Giant Berry Farms and chair of the United Blueberry Advisory Council (UBAC), which was instrumental in securing the incremental funding necessary for this industry data project. Barsi shared his personal commitment to sharing California Giant sales data as part of this project, and noted the expected benefit of being able to make more timely business decisions with a more comprehensive understanding of past volume, pricing and demand trends shaping the market.
Vargas updated the industry on the progress in data collection and the programming of automated data connections with each contributing member company. Every UBAC member company is on board with this project, and three are already working with Bytecode and USHBC to set up automated data connections. Contact Joe Vargas to learn more about how to participate in the BerrySmart Insights project and to use this tool to support your blueberry business performance tracking, planning and forecasting.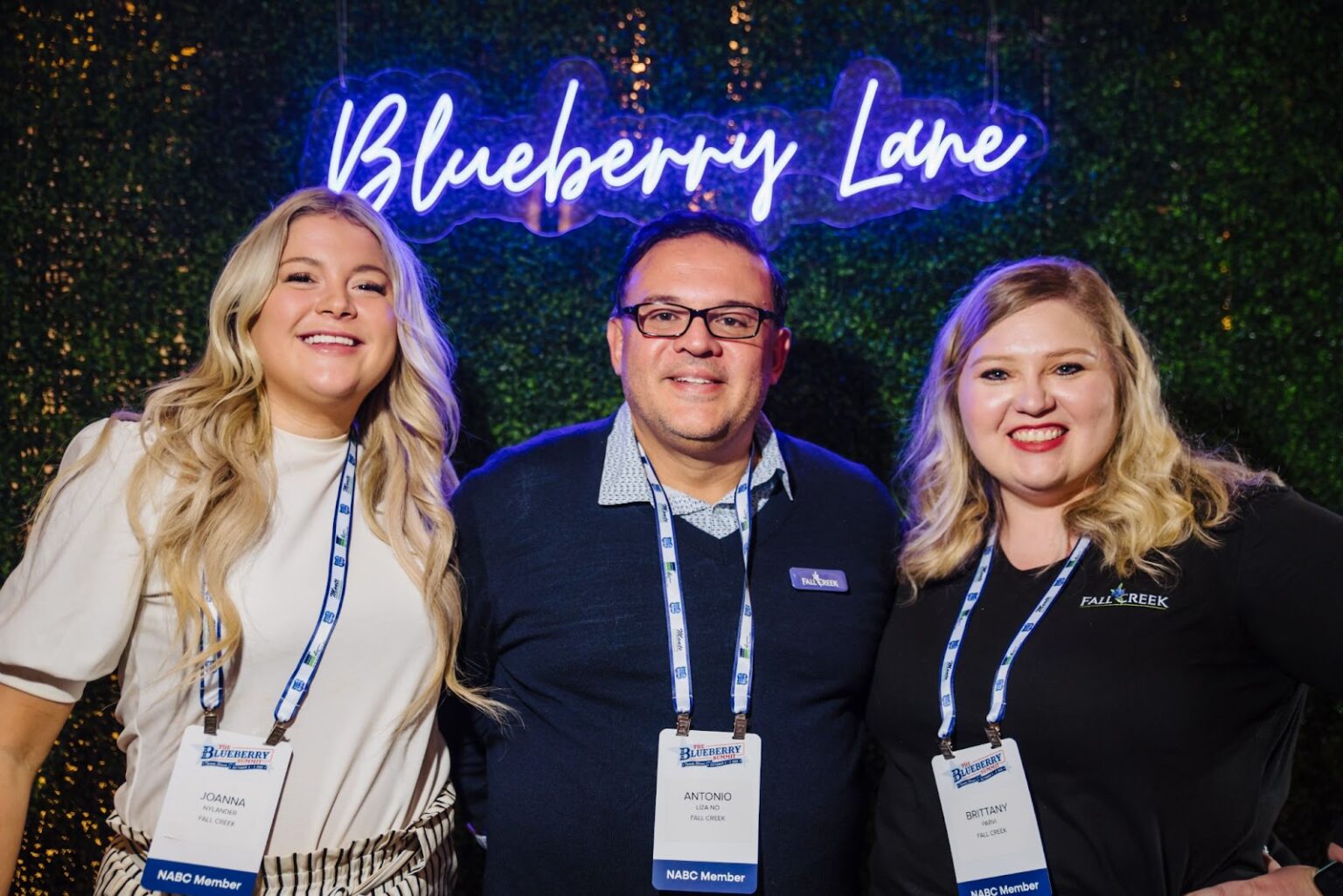 The Blueberry Summit also brought the launch of a new, expanded exhibit floor – Blueberry Lane! This intimate exhibit area brought together industry-leading companies that showcased innovations and solutions for the blueberry industry. The floor was packed with action for two full days.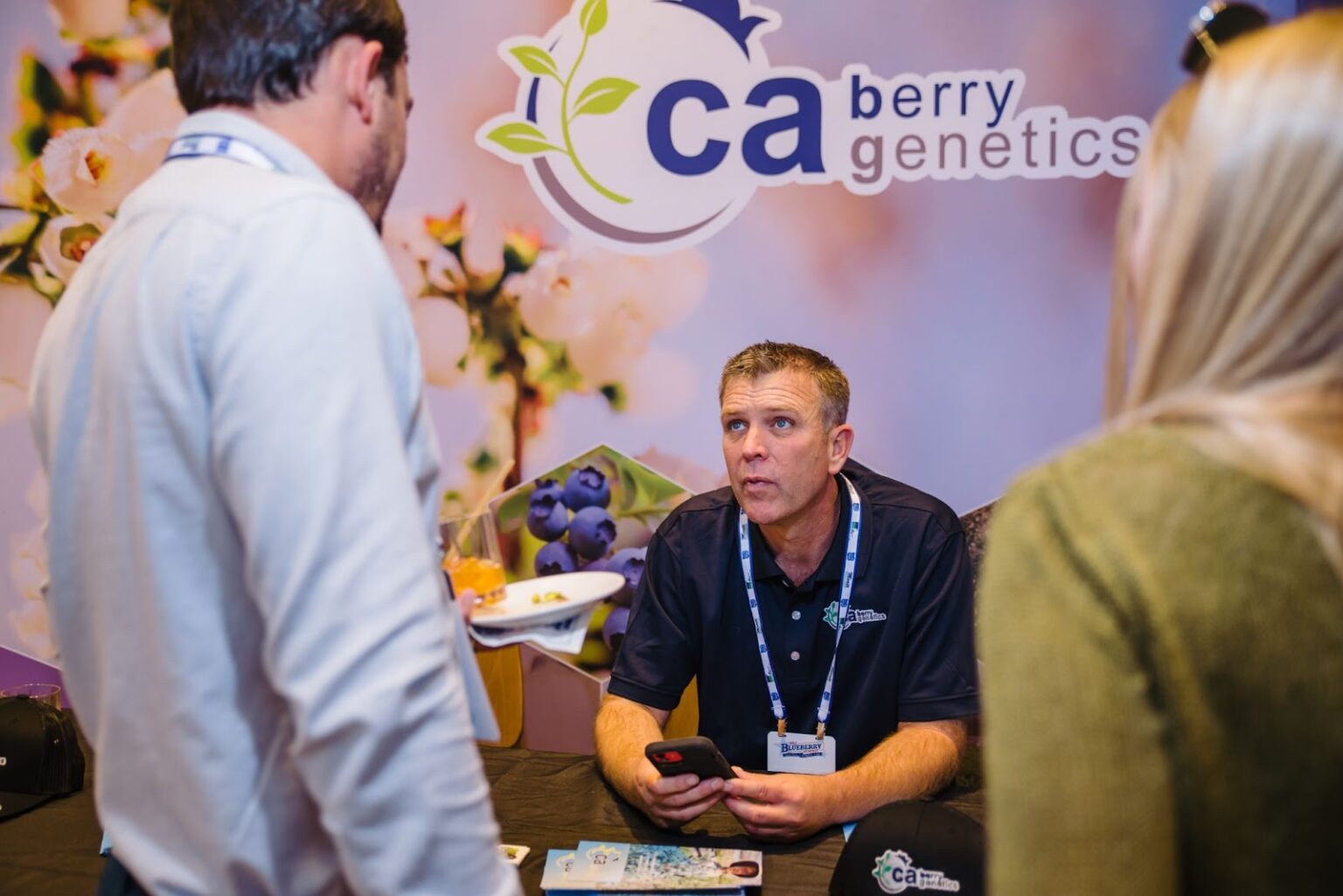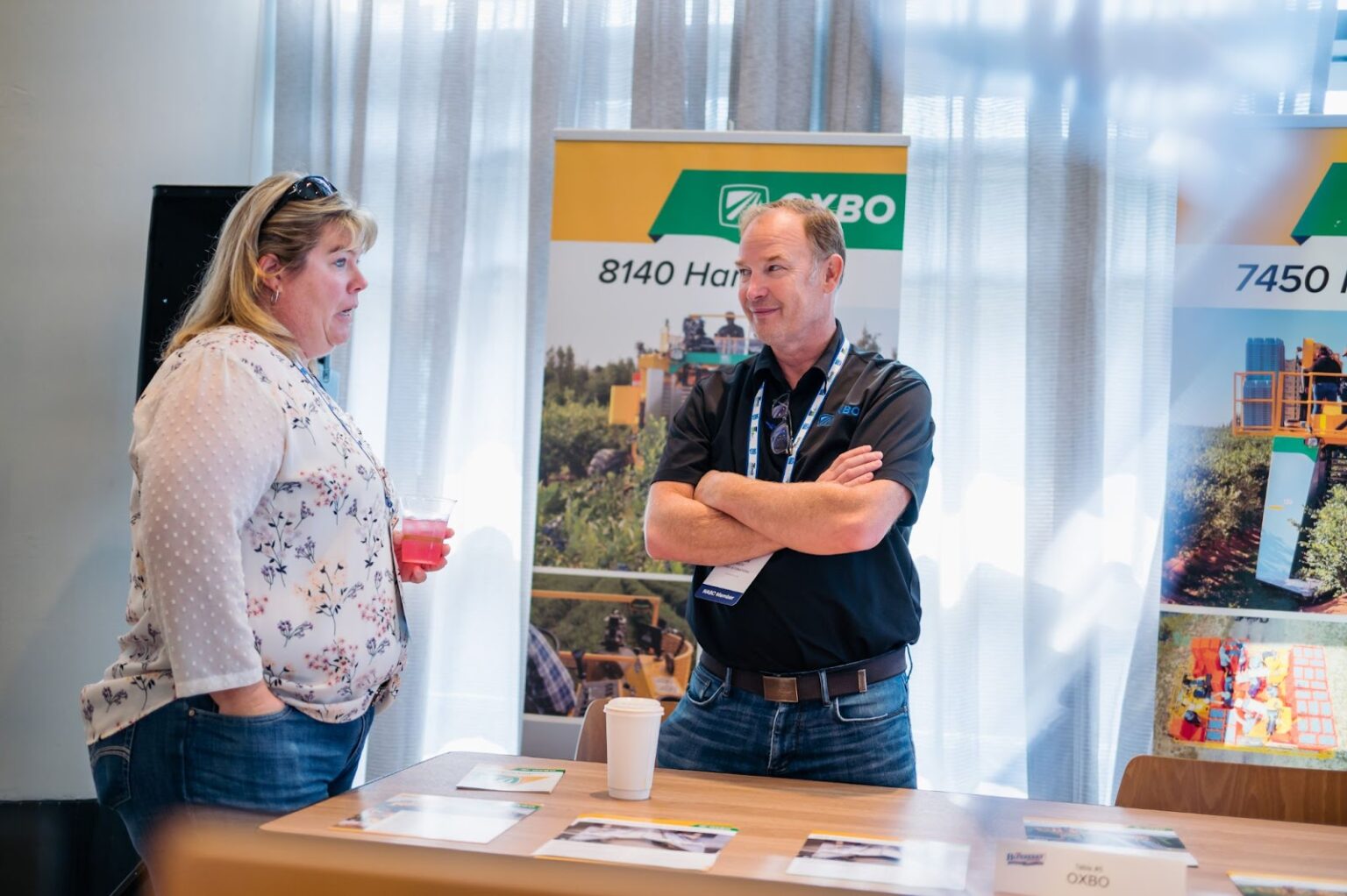 Blueberry Lane will continue to expand at the next gathering – The Blueberry Convention. Make sure to reserve your spot today. Contact Mandy Boarman to learn more about exhibit opportunities.