Topics in this issue of Behind the Blue: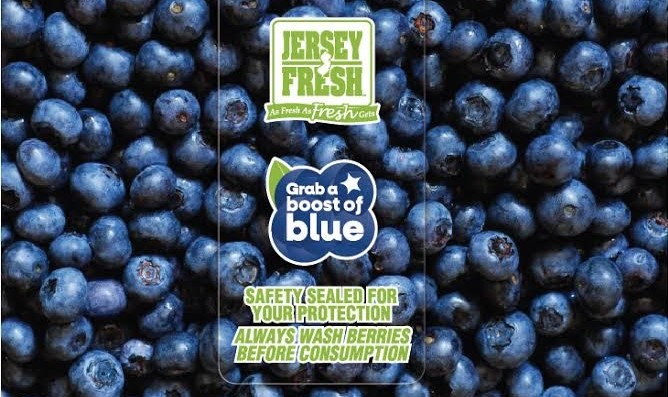 Blueberries from New Jersey will encourage consumers to Grab A Boost of Blue this summer, thanks to a partnership with East West Label Inc. This serves as a great example of how to promote this consumer call-to-action right on the package in a way that complements marketer brands.
"The blueberry business is one of the industries that helped to build East West Label," said Christina Wilson, president of East West Label Inc. "We were lucky in the early '90s to be able to service the growers as they went from printed film to clamshells with labels, and we are thankful to have grown with them ever since. We look forward to supporting and driving the Grab a Boost of Blue campaign as much as possible, and are very excited about this innovative launch!"
Earlier this year, Sonoco Products Company and Highland Packaging Solutions also partnered to develop a clear Grab a Boost of Blue packing tape for their products. Additionally, Scenic Fruit Company has been leveraging the Grab a Boost of Blue logo in its social media posts to provide usage inspiration and to promote the health benefits of blueberries.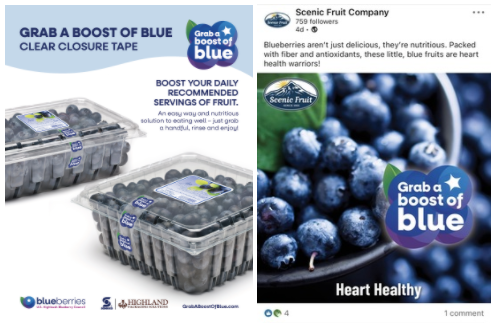 We hope these examples spark inspiration among other industry stakeholders who are interested in getting involved in driving more consumer purchases of blueberries. For more free tips, ideas and ready-made assets, visit our Grab a Boost of Blue Industry Resource Hub below:
Have you been using Grab a Boost of Blue in your promotion efforts? Let us know by tagging us on social media (Facebook/Instagram: @Blueberries; Twitter: @blueberry411; LinkedIn: U.S. Highbush Blueberry Council) or sharing with us at [email protected].
In February 2020, a study by Professor Harry M. Kaiser of Cornell University was conducted to measure the domestic market impacts of the USHBC's promotion programs and assess a rate of return for the promotion activities conducted by the USHBC.
Overall, the study showed that USHBC had a positive and significant impact on total blueberry consumption in the United States compared to what it would have been in its absence, creating a positive impact on growers' revenues and profits.
We developed a one-pager with the impactful stats at a glance that you can view and download here. We invite you to take a closer look and share with colleagues and other industry stakeholders who might be interested in information about USHBC and its impact.
To review the full study, visit ushbc.blueberry.org/cornellstudy.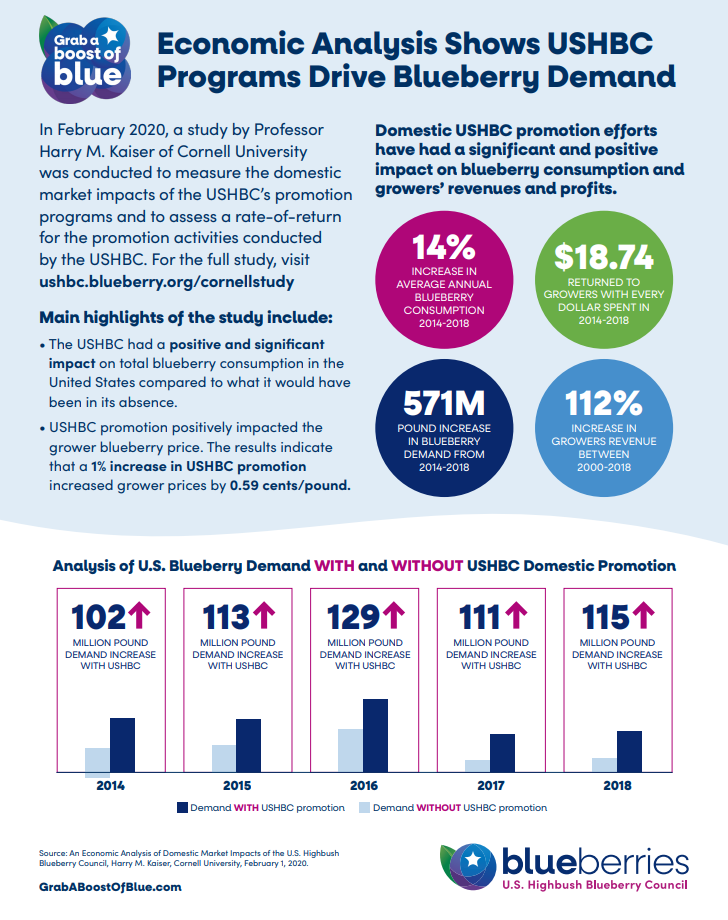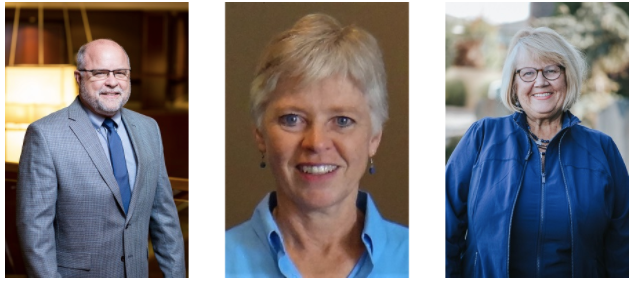 NABC's Duke Galletta and Alex Weatherbee awards were announced March 16 during the NABC/USHBC Spring Conference & Meetings. These awards honored three luminaries in the blueberry industry. 
Judy Macias was awarded the 2021 Duke Galletta Award for Excellence in Horticultural Research. Judy retired in February after serving as the assistant trade director for the Animal and Plant Health Inspection Service Plant Protection and Quarantine Phytosanitary Issue Management Unit since 2007. There, she was responsible for national export programs and provided technical support for issues related to the export of U.S. plants and plant products. Her predominant focus was on new market access and market retention for the export of U.S. deciduous tree fruit and berry crops, including blueberries, and the development and implementation of systems approach programs.
Her collaborative, solution-oriented approach brought together industry, government and research institutions from all regions to develop feasible systems approach programs that were acceptable to foreign countries, but most importantly feasible for U.S. growers to follow. As a result, many of the programs she developed are in use today, and U.S. growers are benefiting from the new opportunities in the emerging markets Judy helped open.
Lorrie Merker and Tom Bodtke were awarded the 2021 Alex Weatherbee awards for their outstanding contributions to the industry in the areas of marketing and promotion.
Lorrie and blueberries have been good for each other for more than three decades. Lorrie, vice president of grower relations, cooperative affairs and social responsibility for MBG Marketing, is a Michigan native, a Michigan State alumnus and has spent her entire career with MBG Marketing. In this role, she's involved in member education, corporate governance and corporate social responsibility programs, as well as customer and civic involvement on topics important to MBG's growers and its industry. In 2014, Lorrie organized the Young Cooperator leadership program to train the next generation of blueberry growers. As a volunteer with NABC for 32 years, Lorrie has served as a director and assistant treasurer, as well as on the Finance Committee, the Executive Committee, the Legislative Committee and as the chair of the Bylaws Review Committee. She was also a recipient of the USHBC 20th Anniversary Awards in the Grower Innovation category under Community Involvement and Outreach, awarded last September.
Tom attended and graduated from Michigan State University with a degree in ag economics. After working for a couple of years in cherry promotions, he returned to the Grand Junction area to farm with his parents at Cornerstone Ag. Cornerstone Ag produces both fresh and processed berries, as well as grains. Tom currently serves on the executive committee of NABC as the past chair. As chair, he successfully led the organization through its recent transition of staff leadership. Tom also currently serves on the board of the U.S. Highbush Blueberry Council. He also is a trustee of a local youth ministry. In the past, Tom has served on various boards and committees for both Michigan Farm Bureau and Van Buren County Farm Bureau, where he also served as chair. He has been a member of MBG Marketing for over 40 years, currently serves on the board of directors and is chairman of the Finance Committee. He's also involved in Naturipe Farms family of companies.