Topics in this issue of Behind the Blue:
In case you missed it, a new toolkit for Brain Health Month (June) is now live on the Grab a Boost of Blue industry resource hub. The toolkit features free creative tools and resources for blueberry growers and marketers, including banner ads, social posts, recipes and brain health fact sheets.
There are two versions of brain health fact sheets ­– one for consumers and one for health professionals and their patients. Both feature nutrition research information and simple recipes to Grab a Boost of Blue, tailored to each key audience.
These new resources are available now so you can plan your June marketing and leverage USHBC's national promotion for Brain Health Month, identified as a "power period" to boost blueberry awareness and drive demand. Brain Health Month leads up to another key power period in July, which has been celebrated as National Blueberry Month since 2003. The industry toolkit for National Blueberry Month will be available next week, so stay tuned for more information on how to fully leverage this important month for blueberries.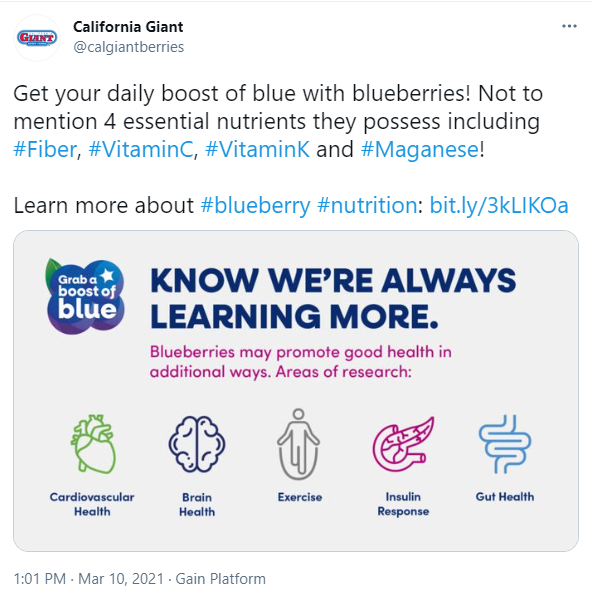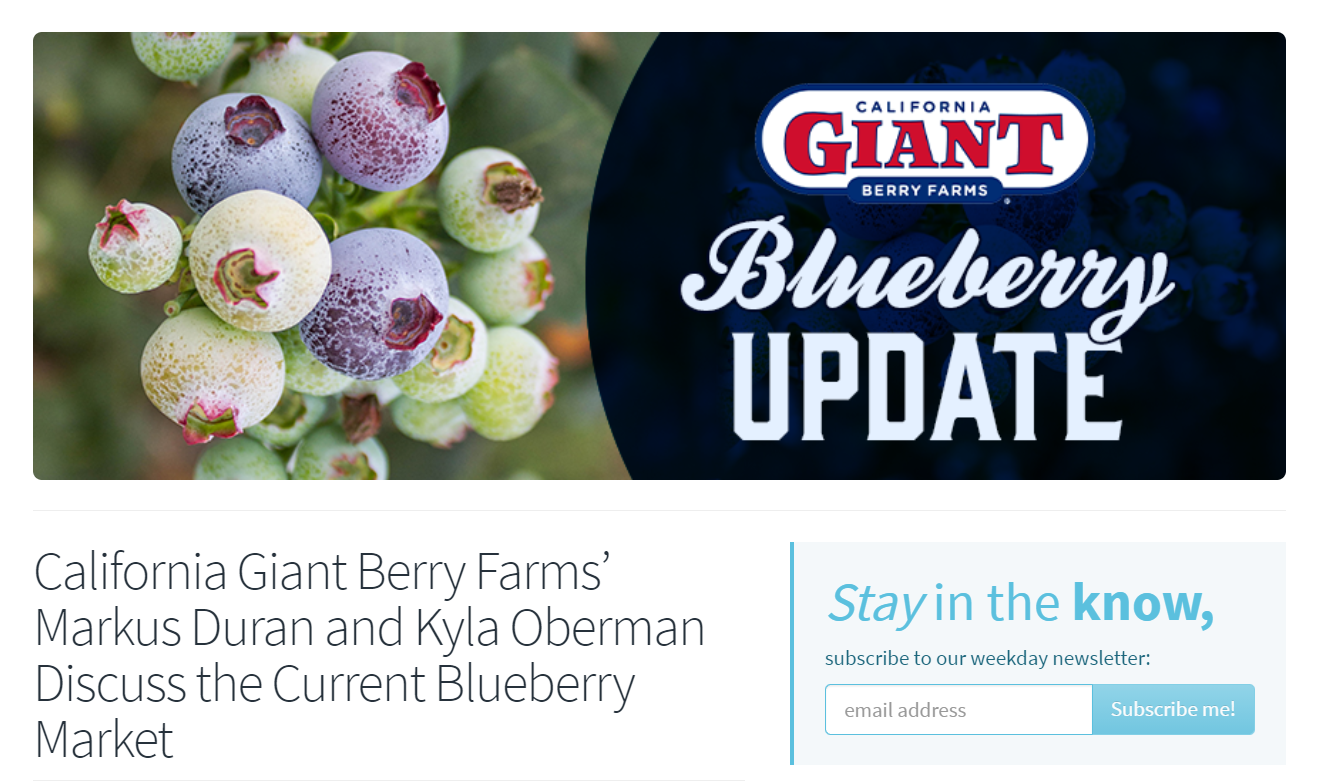 USHBC's new strategic positioning and call to action, Grab a Boost of Blue, inspires consumers' passion for blueberries and motivates them to buy more of the fruit they love. USHBC has developed resources for all industry partners to leverage and share for promotional purposes across retail, social, print and digital channels. A few months after the program's launch, it's exciting to see the many industry partners that already stand out as champions for their use of Grab a Boost of Blue resources, including California Giant Berry Farms and the New Jersey Department of Agriculture.

California Giant recently mentioned Grab a Boost of Blue in their "Blueberry Update" with And Now U Know. Kyla Oberman, California Giant director of marketing noted that "when it comes to shopper marketing, we work with retailers to provide digital media, berry nutrition information, growing facts and other talking points." California Giant is "also a participant in the U.S. Highbush Blueberry Council's strategic positioning and call to action, Grab a Boost of Blue, which is focused on driving demand and increasing blueberry sales."
The New Jersey Department of Agriculture is also putting Grab a Boost of Blue to work, and will feature the campaign's logo on one of four rotating billboards this summer, as well as share messaging, recipes and videos across their social media platforms throughout the New Jersey growing season.
Check out all of our Grab a Boost of Blue program participants on our industry hub. To sign up to become a licensee, have your logo added to our website and possibly get promoted on our channels in the future, simply fill out this form.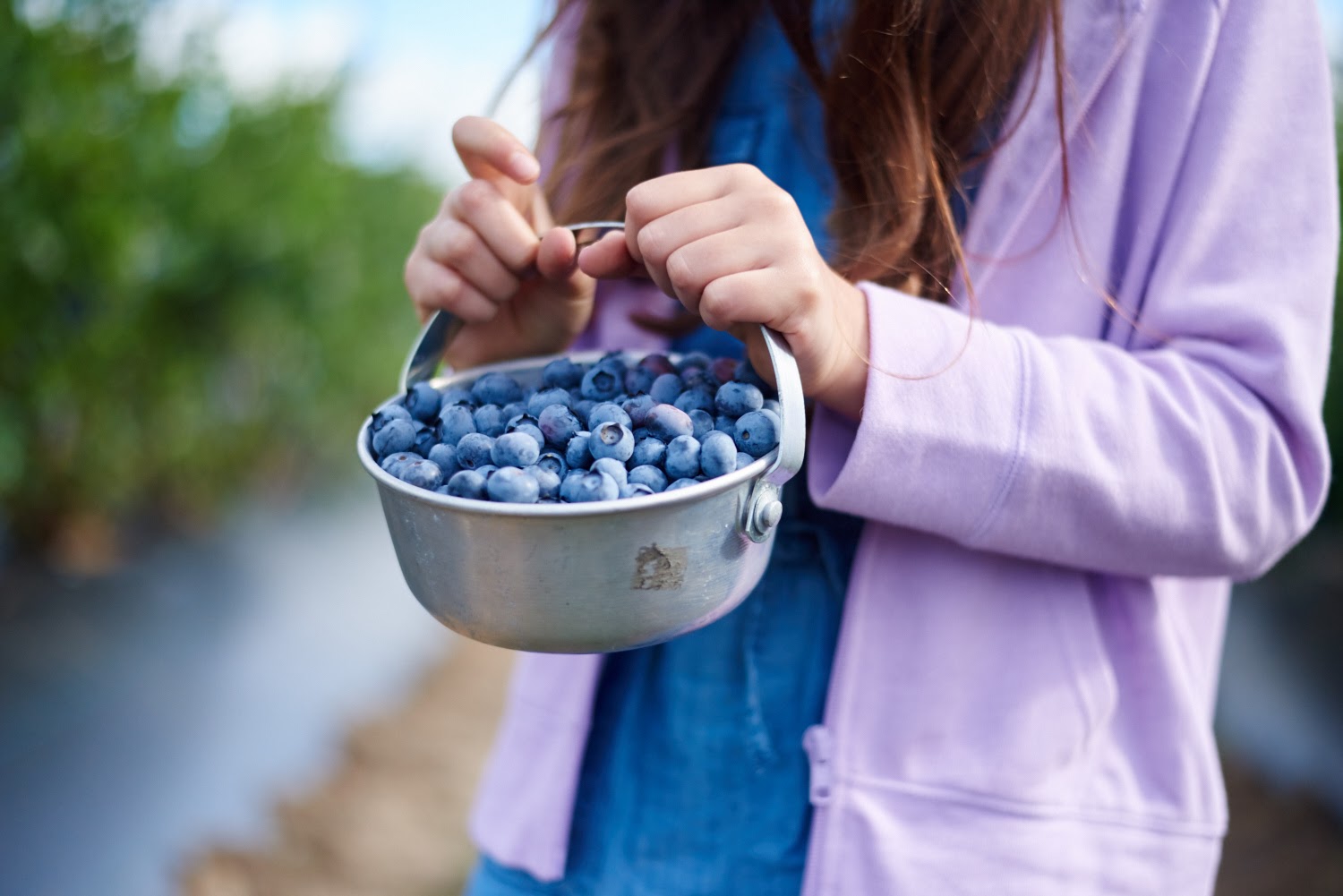 With the start of the domestic peak season now upon us, USHBC wants to support U-pick operations that are reopening. Last summer, USHBC hosted a webinar covering best practices for U-pick operations to promote a safe and healthy environment for customers and employees amid the ongoing pandemic. It also included tips for effectively promoting a U-pick business and alternative sales models, including We-pick. Watch the full webinar here.
In the webinar, Kasey Cronquist, president of USHBC and NABC, was joined by Laura McDermott, a small fruit specialist at Cornell Cooperative Extension. Guests also included two Florida blueberry growers: Brooke Hill of Southern Hill Farms and Denton Chapman of Double C Bar Ranch. Hill is an experienced We-pick grower, while Chapman operates a U-pick model.