Topics in this issue of Behind the Blue: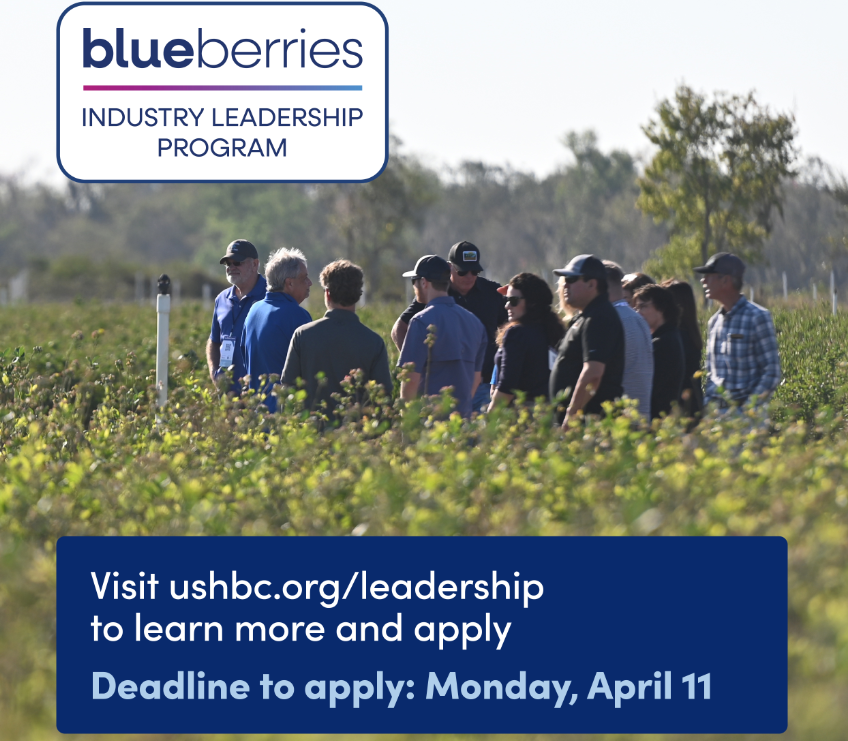 Are you a grower, processor, handler, exporter or buyer interested in expanding your career in the blueberry industry? There are less than two weeks left to apply for the first ever Blueberry Industry Leadership Program! Don't miss this unique opportunity for up-and-coming blueberry industry leaders – submit your application by April 11.
The Blueberry Industry Leadership Program will span one year and take an interactive approach through hands-on training, learning experiences, engagement with key industry players and exposure to the many components of the produce supply chain.
Participants will experience:
• Immersive personalized leadership training
• Knowledge sharing from industry veterans and thought leaders
• Innovation and technology deep dive
• Health and nutrition advancement training
• Presentation and media training
• Camaraderie that creates a lifelong support network and better understanding of the industry
Read more about the program in our press release and download a free flyer to share with anyone you think would be a good fit! If you have questions, reach out to Amanda Griffin at [email protected], cc: [email protected].
The USHBC is seeking nominees to fill USHBC state member and alternate positions for the 2023 to 2025 term. The nomination period began on March 28, 2022. Eight USHBC state member and alternate seats need to be filled for terms of office beginning January 1, 2023. Eligible producer nominees are those who produced 2,000 pounds or more of highbush blueberries in the United States from January 1, 2021, to December 31, 2021.
Council members and alternates will serve for a term of three years starting in 2023, and will be allowed to serve a maximum of two consecutive terms. Applications are also available online at ushbc.blueberry.org/forms, or can be requested by contacting the USHBC office by phone at (916) 983-0111 or by fax at (916) 983-9022.
Additionally, the USHBC Industry Relations Committee is seeking nominees to be considered for USHBC Importer #2, #3, and #4, Exporter #2 (Canada), Exporter #3 (Peru), and Exporter #4 (Mexico) positions on the council. Nominees are being sought for the three-year term, except for Exporter #3 and #4, which has an initial term of two years, beginning January 1, 2023.
Blueberry industry members interested in being considered for the USHBC Importer #2, #3, #4 or Exporter #2 (Canada) Member and Alternate positions are asked to complete a USHBC Importer/Exporter Nominee Application and send their completed application to the USHBC via fax at (916) 983-9022 or email to [email protected].
All nomination applications are due by Friday, April 29, 2022.
USHBC showed up in force last week at the first U.S. activation of the SIAL Future of Food show in Las Vegas. The team included USHBC President Kasey Cronquist, USHBC Vice President of Marketing & Communications Jennifer Sparks, SRG culinary team, and volunteers from several blueberry industry brands who served as Grab a Boost of Blue ambassadors. Thomas Avinelis, founder and managing partner at Agriculture Capital, represented blueberries from the main stage during a discussion about the future of organics.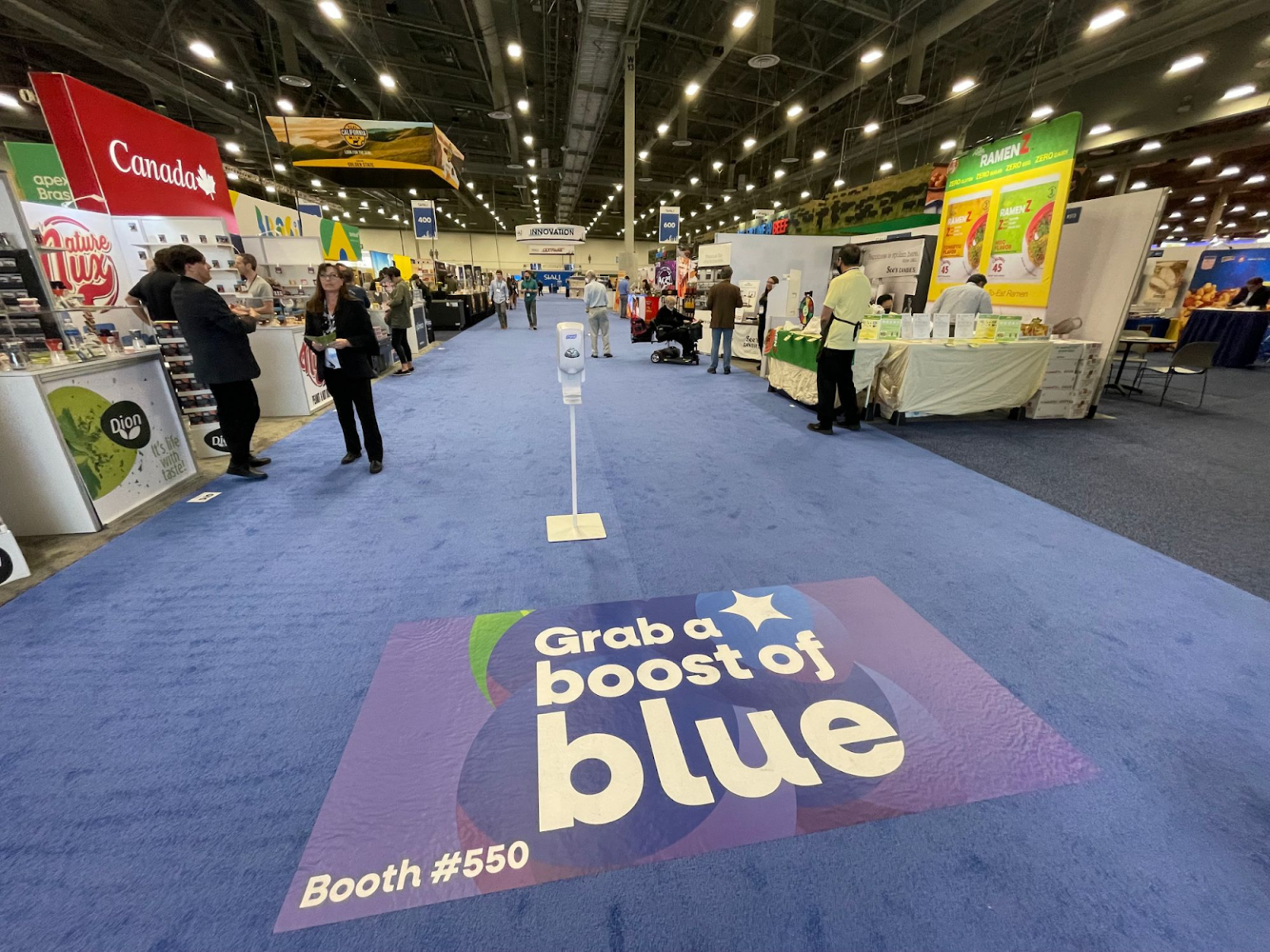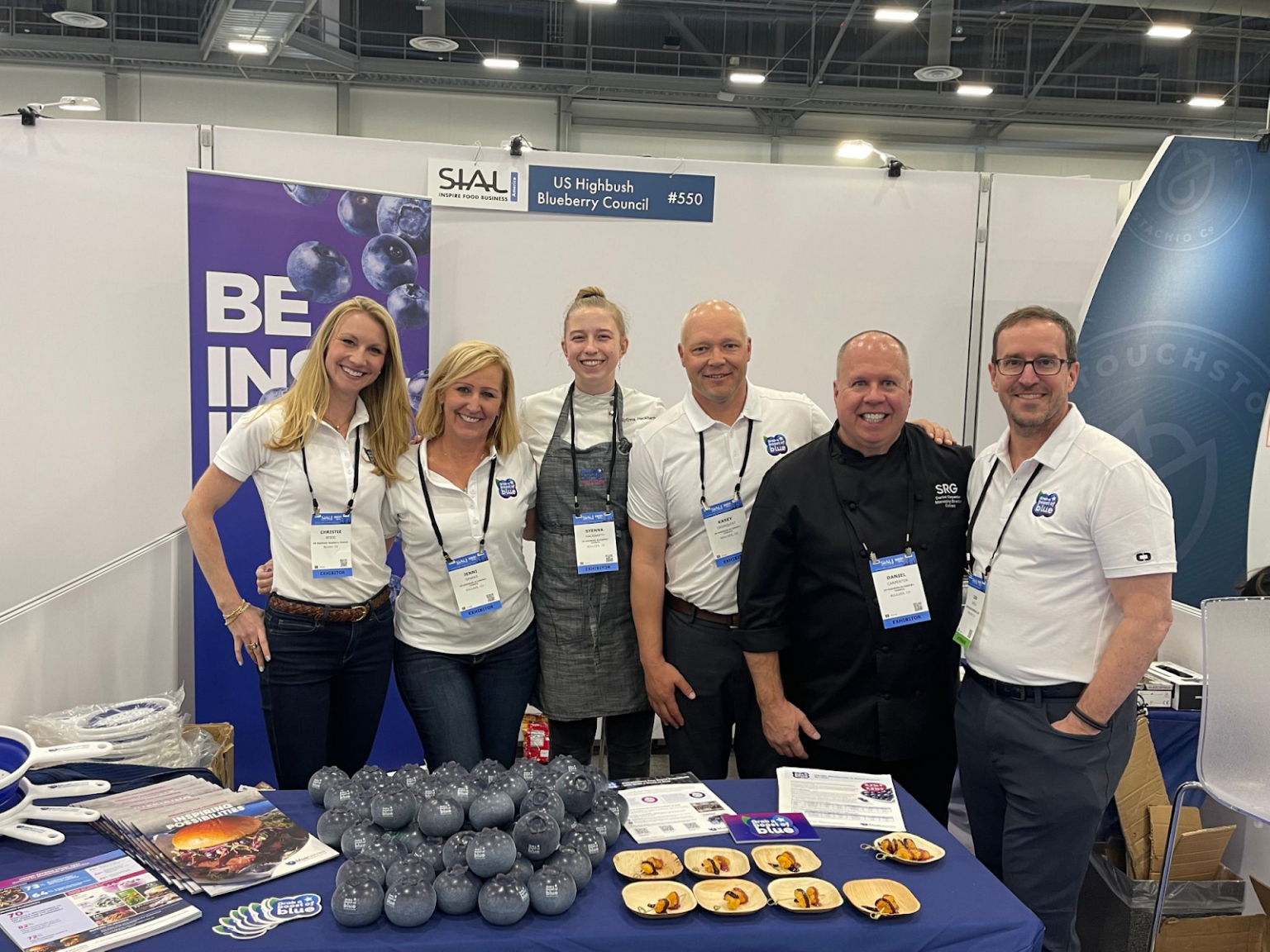 Throughout the week the USHBC team met with volume driving companies across the foodservice and retail channels to promote the benefits of using more blueberries. The team shared patron data that underscored consumers' desire to see more blueberries on menus, as well as shopper data that illustrated the opportunities for retailers to do more in-store and online with blueberries in the grocery realm. The points were brought to life through inspirational tastes of blueberry BBQ sauce, blueberry ranch dressing and blueberry chili crisp, as well as delicious double blueberry granola, and visitors to the booth walked away with fun blueberry keepsakes.
SIAL even featured blueberries front and center in their show floor visuals as well as print and digital marketing materials.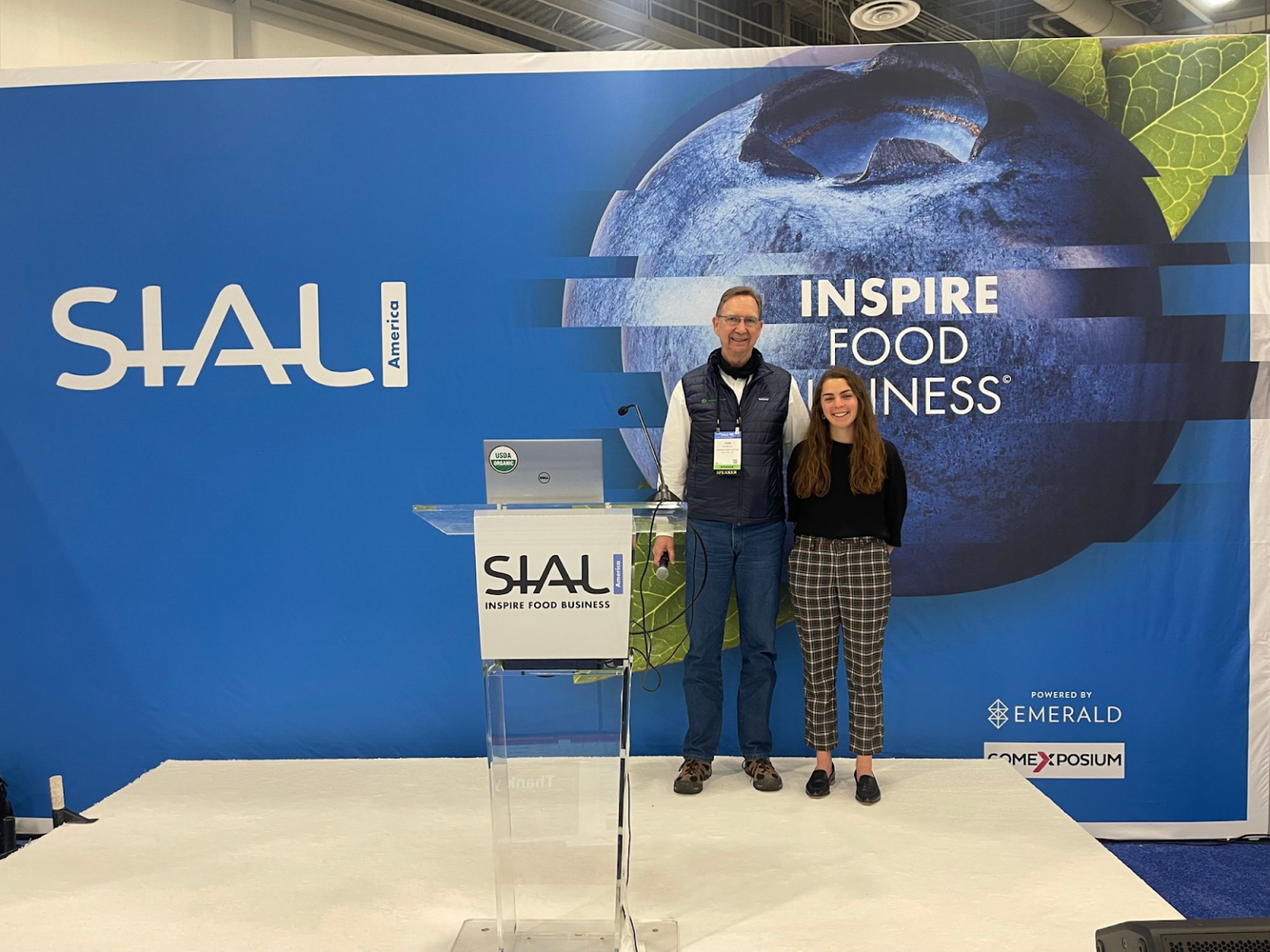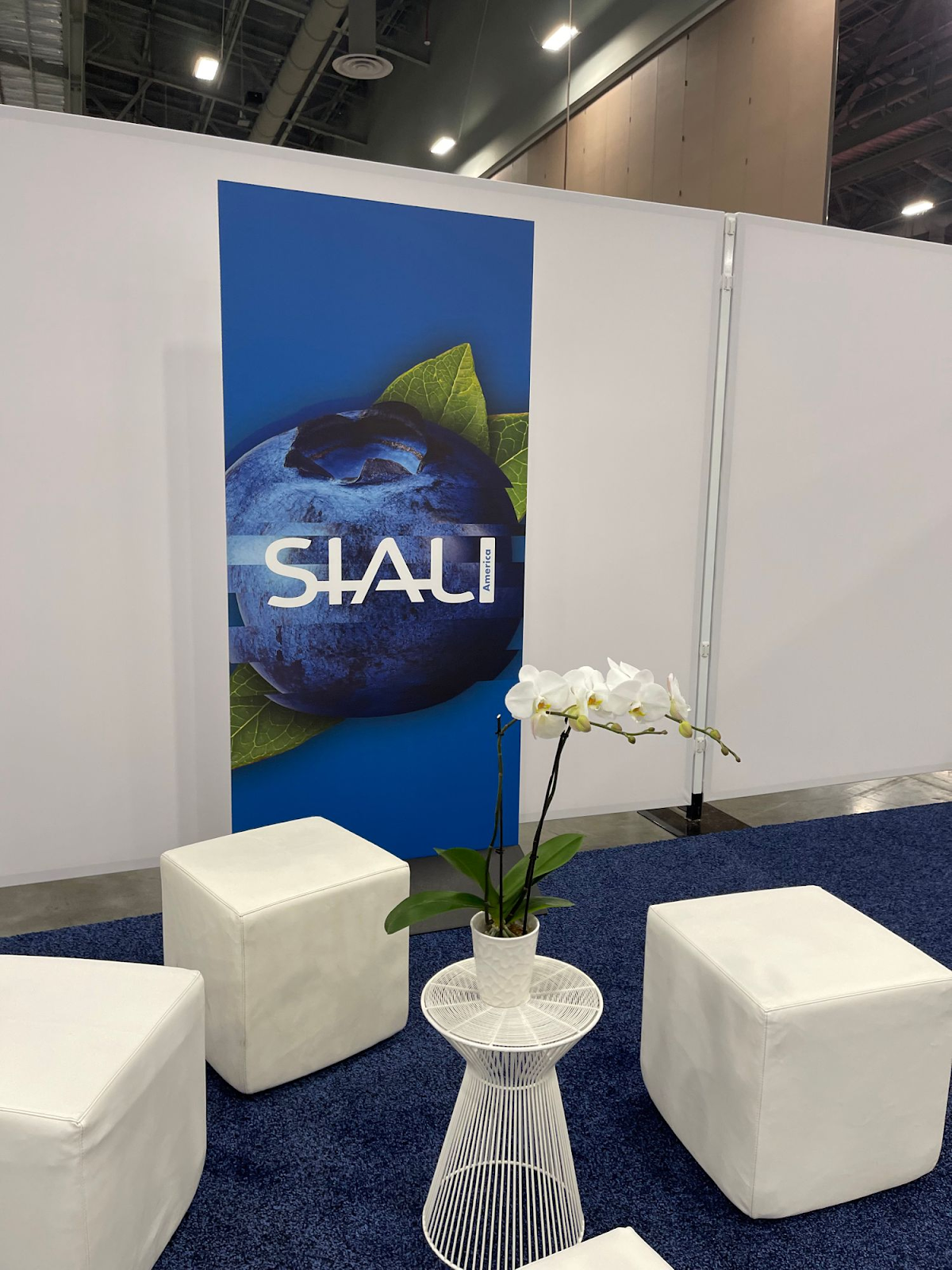 Additionally, Alicia Adler, USHBC vice president of global business development, spoke this week at the American Food Innovate Summit in Chicago. She highlighted how blueberries can add flavor, color, sweetness and nutrition to products from sweet to savory and across all formats. She also showcased the many formats of blueberry ingredients and how they can add functional performance across countless applications.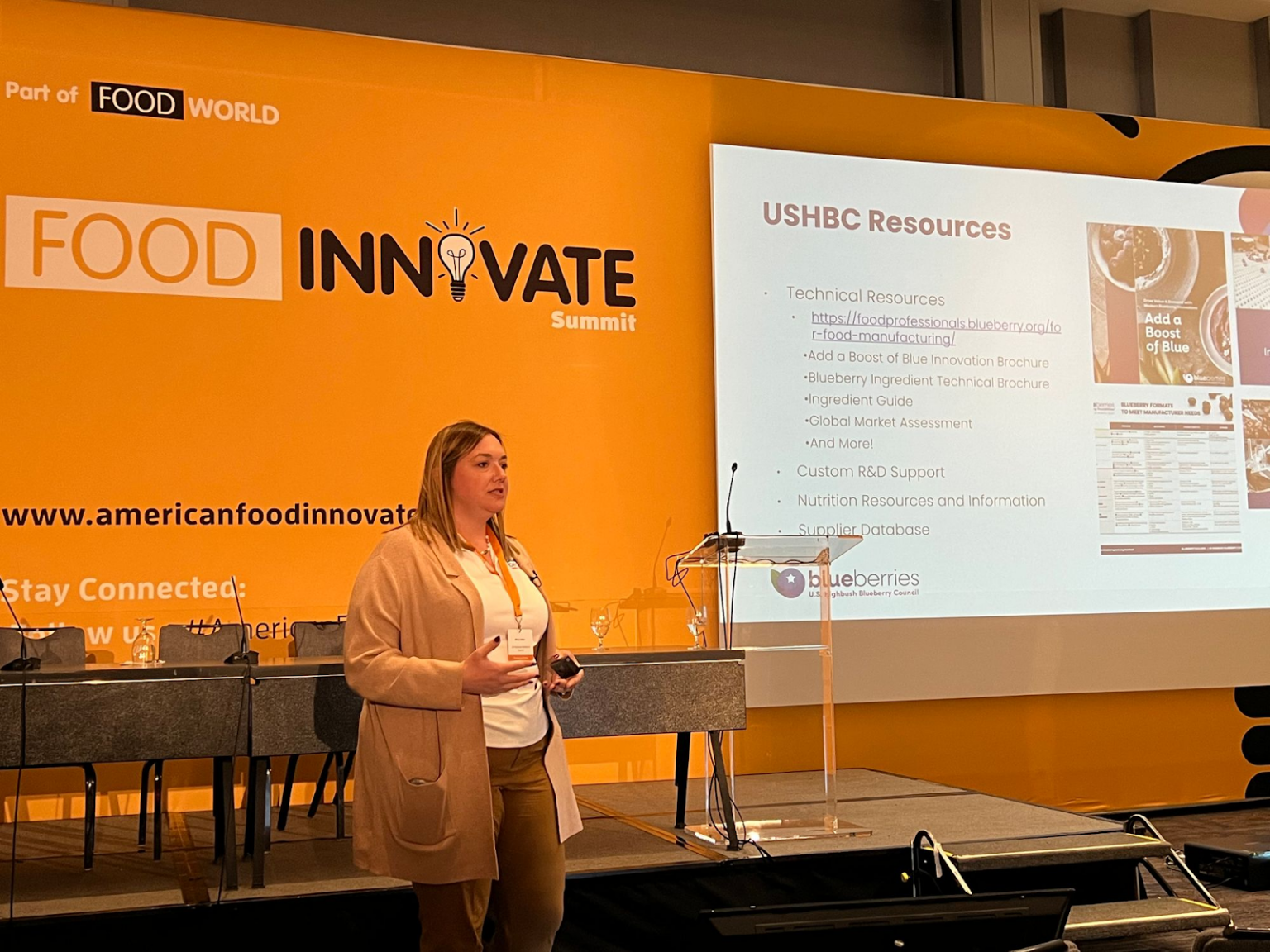 Are you attending Fruit Logistica in Berlin next week? Be sure to stop by our booth and say hello to our team! We'll be there April 5-7, in Hall 23, Stand C-05. Be sure to join us for a reception in our booth on day 2 of the conference, April 6, from 4-6 p.m. local time.