Topics in this issue of Behind the Blue: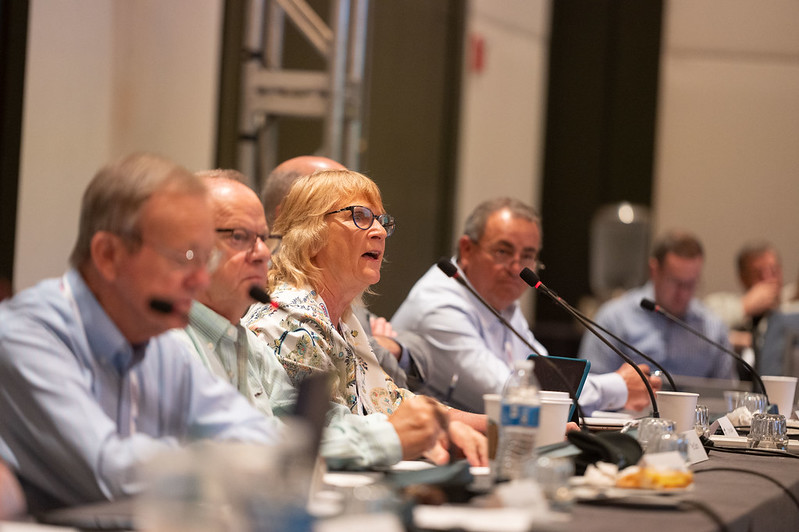 Don't wait – the deadline to apply to serve on USHBC's reconstituted committees, subcommittees, advisory boards and task forces is next Friday, Dec. 30! Apply now here!
Volunteering with USHBC is an excellent opportunity for those who are passionate about the future of the organization and want to support our vision to make blueberries the world's favorite fruit! We're seeking people of all backgrounds with varied industry experience to serve in a wide array of positions.
You can review all available opportunities on committees, advisory boards and task forces when you begin the application process. Every effort will be made to match an individual's experience and interests to available positions, and to provide an opportunity to contribute to USHBC and the industry through meaningful work in order to grow professionally and build relationships within the industry.
If you are already a volunteer for a committee, subcommittee, advisory board or task force, please complete the application to let us know you're willing to continue to serve.
There's simply no better way to serve the blueberry industry, create new connections and make an impact! Appointments, made by the USHBC chair, will begin in January 2023. Reach out to Amanda Griffin, vice president of engagement and education at [email protected] with questions.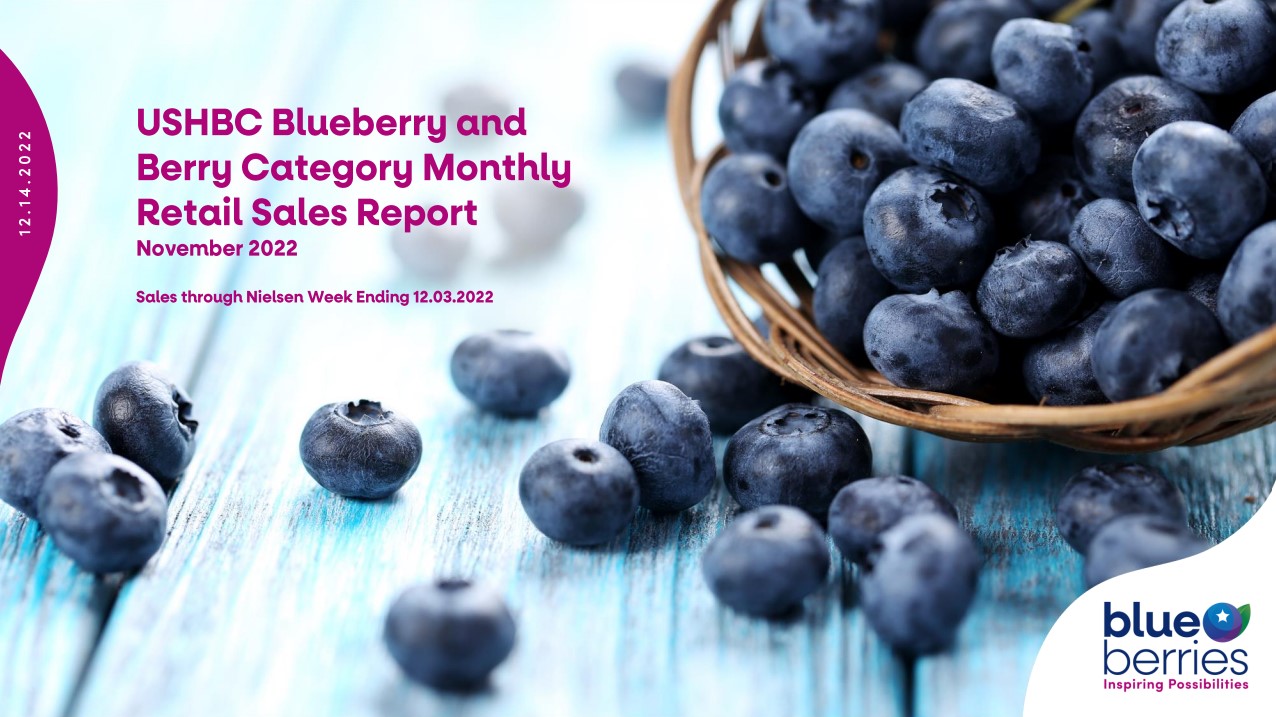 With an abundance of fruit and improved availability of organic supply, the November 2022 Nielsen report shows that total blueberry sales (fresh and frozen combined) are up +6% in volume and up +2% in dollars vs. 2021.
In November, total fresh blueberry sales were up +7% in volume and up +2% in dollars vs. year average (YA). After an extended period of limited supply, the fresh organic segment is playing an outsized role in driving sales; up by +17% in volume and up +3% in dollars vs. YA. The fresh conventional segment is also up +6% in volume and up +1% in dollars vs. 2021.
November marks the third month in a row for decreases in average price per pound for all fresh blueberries, making fruit more accessible to less frequent blueberry consumers (monthly or less than monthly users) who tend to be more price sensitive and more likely to be impulse buyers, relative to weekly, daily and daily+ user segments. At retail in November 2021, the price was $4.66/lb, which has decreased -5% to $4.41/lb. Fresh conventional blueberry prices have decreased -4% from $4.30/lb in November 2021 to $4.11/lb. Fresh organic blueberries' retail prices have decreased by -12% from $7.21/lb in November 2021 to $6.33/lb.
The frozen blueberry segment is down -2% in terms of volume, but up +6% in terms of dollars compared to November 2021. The frozen conventional segment is up slightly by +1% in volume and up +13% in dollars compared to last year. The frozen organic segment is down -20% in volume and -16% in dollars compared to last year.
The average retail price per pound for all frozen blueberries in November 2021 was $3.50/lb, up +9% to $3.81/lb in November 2022. Frozen conventional blueberry prices have risen by +11%, from $3.27/lb in November 2021 to $3.65/lb in November 2022. Frozen organic blueberry prices increased by +4% from $4.67/lb in November 2021 to $4.85/lb in November 2022.
Find monthly Nielsen retail sales data that measures U.S. consumer blueberry and competitive berry purchases here.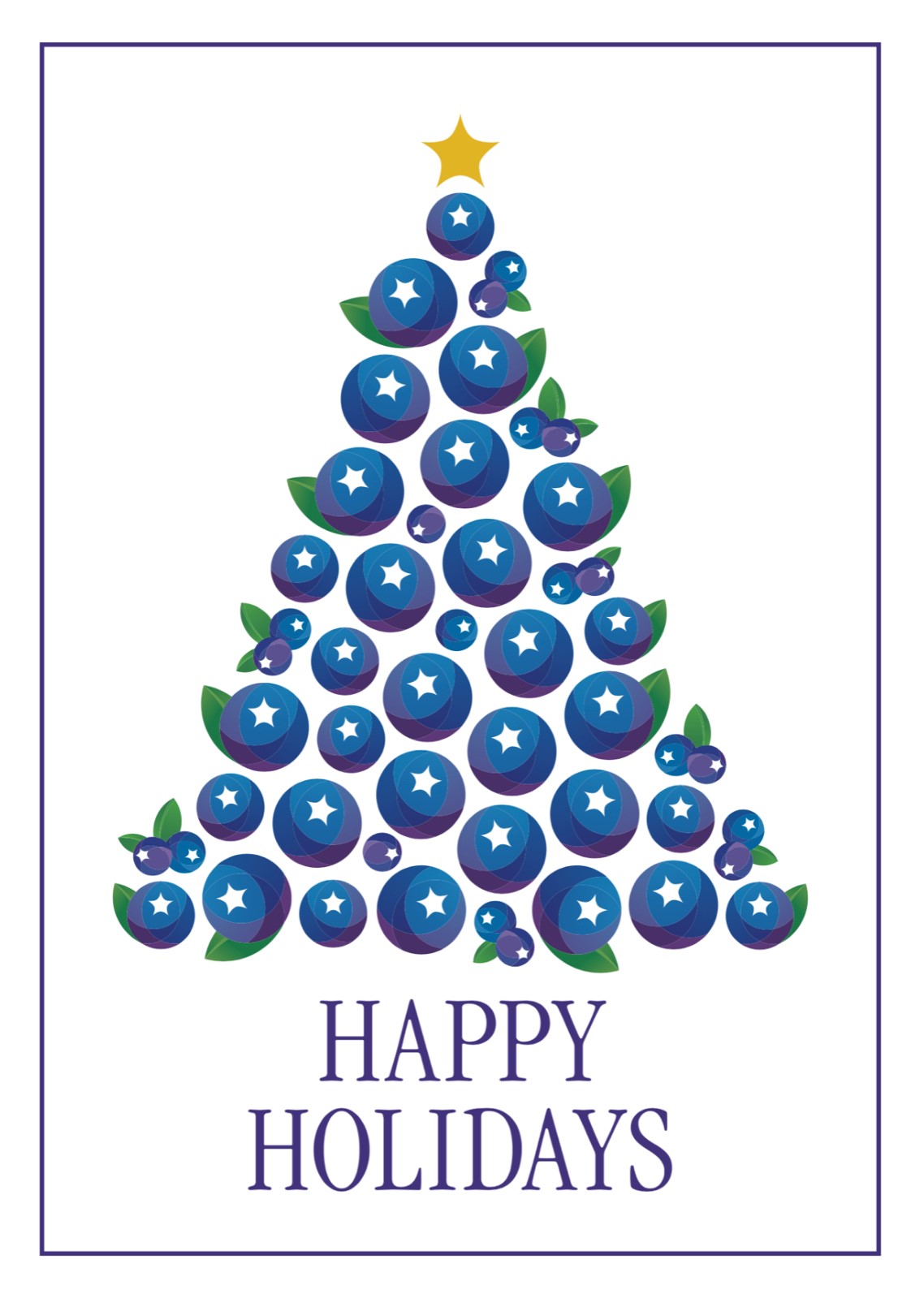 As the year comes to a close, we hope you enjoy a happy, safe and healthy holiday season.
2022 was an impactful year for USHBC and the blueberry industry as a whole, with strong support across the industry, impressive progress toward our strategic plan, engagement in philanthropic efforts and opportunities to make connections, among other successes.
Still looking for holiday inspiration? Don't forget to use the USHBC holiday toolkit to boost your holiday marketing plan!
We can't wait to continue the good work in 2023, and it starts by ringing in the new year on the biggest stage: the Times Square billboard in New York City! Our final Times Square ad is going live on Dec. 27 and will run through Jan. 1 for the Times Square ball drop. There, it will build excitement for the New Year's Eve countdown with blueberries and encourage viewers to grab a boost of blue.
Cheers to you!