Topics in this issue of Behind the Blue:
USHBC and NABC have appointed Amanda Griffin, a longtime nonprofit education, events and program management executive, as vice president of engagement and education. Griffin, who started on staff today, December 8, will serve as the lead for industry engagement, education and event activities to build awareness and participation for the two councils.
Griffin's responsibilities will include serving as a liaison to blueberry growers; advancing member engagement; launching a blueberry industry leadership program; identifying opportunities to partner with trade organizations, universities and government agencies; and leading USHBC and NABC events programming.
Griffin was previously the vice president of education and program management for United Fresh Produce Association where she led the programs and events staff, developed programming for produce industry professionals, directed its conferences and oversaw member education opportunities.
More about Griffin can be found here in this press release.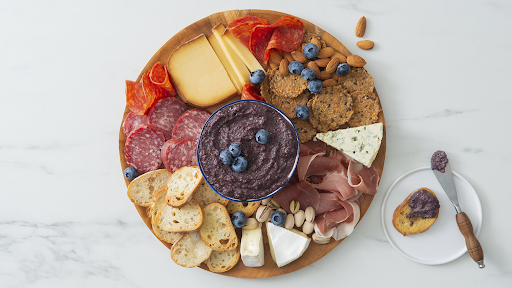 Join us this Friday, Dec. 10, at 10 a.m. PT for the USHBC/Technomic State of the Foodservice Industry presentation. We encourage you to take advantage of this opportunity to access key insights and learn what's next in foodservice. You can register using the link here.
As a member of Technomic's Foodservice Planning Program, USHBC gets access to their industry-leading foodservice data, forecast and reports. An additional benefit is that Technomic hosts this custom State of the Foodservice Industry presentation for our group, recapping 2021 industry performance and looking ahead to next year, with specific forecasts by sector and an overview of key trends and issues to watch. The information shared will not be made publicly available, so don't miss our exclusive event.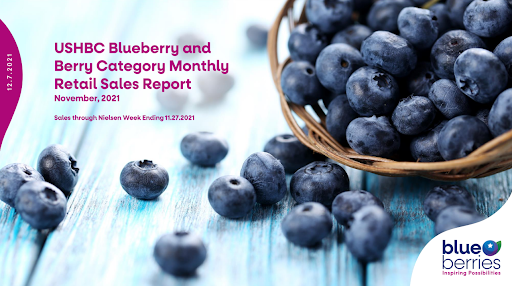 Our most recent Nielsen report for the week ending November 27 is available here. You'll see that November was another strong month for blueberry sales in the food retail channel. In fact, USHBC's Nielsen report shows that overall blueberry sales – fresh and frozen combined – in November are up +16.1% in volume and +5.8% in dollars vs. year average (YA).
Volume sales of fresh blueberries are being driven by strong gains in the conventional segment: up +25.2% in volume and +6.2% in dollars vs. YA. The organic blueberry segment is also up +10.3% in volume, and showing even more robust growth in dollars, up +14.7% in November 2021 vs. year ago.
The frozen blueberry segment continues to show soft volume and dollar trends vs. accelerated frozen sales in November 2020. Total frozen blueberry sales are down -12.1% in volume and -7.2% in dollars vs. YA. Despite these year-ago declines, frozen blueberry dollar and volume sales are still +16.6% and +5.6% respectively, vs. pre-COVID sales in November 2019.
These retail sales reports are intended to supplement our industry members' internal data, giving you a clearer picture of the marketplace and supporting more informed business decisions and plans. Summaries of the preceding month's retail sales performance are posted at the end of the second week of every month. Find the full list of reports at ushbc.org/nielsen-reports.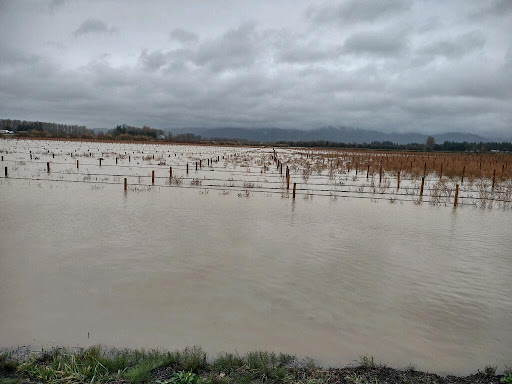 Over the past several weeks, there has been significant flooding in parts of the Pacific Northwest. The full impact is not yet known, but the blueberry industry in this region was affected. It's clear from initial reports and local grower testimony that the industry is working hard to mitigate the effects of this severe weather event.
According to the BC Blueberry Council, approximately 2,500 acres are flooded, and of these, 1,000 acres are severely impacted in Canada. For more information about the impacts of the flooding on berry crop production and what to expect in 2022, review this Berry Crops and Flooding report prepared by regional experts.
Kasey Cronquist, USHBC/NABC president, recently toured the Pacific Northwest region with Bryan Sakuma, Washington state council member, and Alan Schreiber, the Washington Blueberry Commission's executive director.
"I want to thank Bryan, Alan and the growers in affected areas for educating me on the impact of the flooding on their farms. With many of the plants in this region approaching dormancy, immediate impact on blueberry production in the region is difficult to estimate at this time, but the severity of the flooding was focused on a small percentage of the overall production acreage. We encourage growers to stay alert to disaster aid relief. Berry crop commissions, councils and local extension specialists should be able to connect growers with aid options as they become available."
Cronquist also noted, "Industry partners should expect further updates from growers and horticultural experts in the Pacific Northwest as they monitor and seek to minimize longer-term impacts of both the stress from the summer's heat dome, as well as this exceptional flooding."