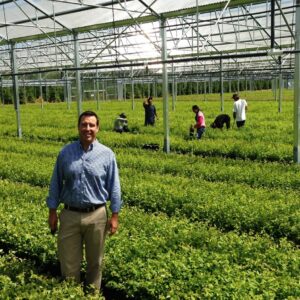 Over 40 years ago in Lowell, Oregon, Dave Brazelton started Fall Creek Farm & Nursery. Since then, Fall Creek has become one of the premier blueberry breeding companies in North America and the last name "Brazelton" is now known across the industry. In this episode, we're joined by Dave's son, Cort Brazelton, who is now making his own mark on the blueberry industry as the co-CEO of the nursery.
Host Kasey Cronquist, president of the U.S. Highbush Blueberry Council (USHBC), is joined by Cort Brazelton, co-CEO of Fall Creek Farm & Nursery. Cronquist sits down with Brazelton to discuss the current global blueberry market dynamics and the latest trends in blueberry genetics.
"One of our big goals as a company is to continue to keep the vast majority of our focus on serving the broad industry and ensuring that growers have access to competitive genetics." – Cort Brazelton
"[Highbush blueberries] stayed in that supply-building opportunity phase longer and it allowed us to keep doing a lot of the same things [we were doing at the beginning] without the pressure to innovate. Now we're entering a phase where we have enough product at all times of the year and the market is starting to get more selective." – Cort Brazelton
Topics covered include: 
Brazelton's role at Fall Creek Farm & Nursery and the history of the company.
The future of blueberry breeding and genetics, and the produce industry at large.
Reducing risk on the breeding side of blueberries.
Reflecting on Fall Creek's role in the evolution of the blueberry industry.
Crop Report
The Blueberry Crop Report is an update on crop conditions and markets throughout North and South America. In this episode, you'll hear from Luis Vegas in Peru and Juan Soria Morales in Mexico. This was recorded on Jan. 6, 2021.