USHBC is excited to announce the winners of the 2020 Blueberry Product Spotlight Program! The purpose of this partnership program is to celebrate innovative new products around the world that showcase blueberries at their best. Products were selected from around the world, based on prominent usage of blueberries in their product and Mintel's product innovation data, as well as consumer and industry trend research.
We asked you to vote for the products you found to be the most interesting and innovative, and the winners are…

Blue-B-Cue BBQ Sauce (U.S.)
Product Description: This Special Reserve Blueberry-Infused Barbecue Sauce is described as an amazing blend of real blueberries and sweet, smoky flavors – perfect as a condiment or glaze for pork or poultry. The award-winning product is all-natural, gluten-free and boasts no artificial flavorings, preservatives, or MSG. It retails in a 12-fl. oz. bottle.
Ingredients: natural tomato concentrate, sugar, blueberries (from frozen), organic tapioca syrup, vinegar, granulated garlic, spices, salt, natural flavor

Blueberry Greek Yogurt Smoothie (India)
Product Description: This lactose-free product is said to feature the added fuel of high-protein with real fruits for stimulating taste and is described as an ideal snack to tame hunger in no time – even while on the go. It is free from preservatives, suitable for vegetarians and retails in a 200ml recyclable pack.
Ingredients: Greek yogurt, water, blueberry syrup, pectin, sugar, pectin, citric acid, natural colors, added natural blueberry flavor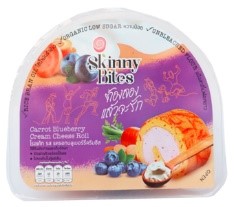 Skinny Bites Carrot Blueberry Cream Cheese Roll (Thailand)
Product Description: This organic, low-sugar bakery product is conveniently-packaged and individually-portioned. It's a sweet treat that offers delicious flavor without any of the guilt, for a life full of health and vitality.
Ingredients: cream cheese, blueberry (from frozen), egg, unbleached wheat flour, carrot, water, non-dairy cream, rice bran oil, organic sugar, punch powder, raising agent
Winners have earned a marketing partnership with USHBC valued at $10,000, including but not limited to activities such as retail promotion, digital advertising and professional product photography. In addition to providing resources to help drive global demand for real blueberry ingredients, we'll be sharing deeper insights from our Spotlight products in the coming months to inspire innovative thinking across the blueberry supply chain.
Stay tuned for more to come! Thank you to all who participated and congratulations to our winners!