Virtual Conference Sessions Now Available Online
Whether you want to tune in to sessions you may have missed or rewatch your favorite sessions from the NABC/USHBC Virtual Conference & Expo (yes, the content was that good!), you can now view them online. Just visit BlueberryEvents.org, click "Login & Dashboard" at the top right, and log in using your username and password to view the sessions. If you are not already registered, you can still do so to watch the sessions for free.
Read more about several conference session highlights below.

Welcome Session Featuring Michael Hyatt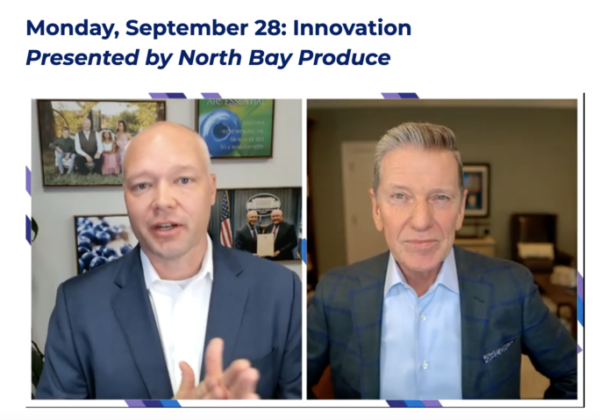 Michael Hyatt, a New York Times, USA Today and Wall Street Journal bestselling author, opened the Virtual Conference & Expo and shared his perspective on the blueberry industry and how having a clear vision will drive it forward. In this keynote address, sponsored by North Bay Produce, Hyatt reminded the audience to "Begin with the end in mind, and then reverse engineer it. Start with the what – don't start with the how. The how will become apparent only when you're clear with the what."
The session also touched on the fact that the next "blue wave" is dependent on innovation – we need to decide to be innovative and act that way. To get there, it's critical that our vision be clear, inspiring and practical, and make people's lives better. It's essential to find those overlapping interests and areas of alignment, and work together toward achieving them.
USHBC's role is to bring the industry together and continue to drive possibilities for the future of the industry through innovation and a clear vision.
View a recording of this session here (you will have to register or log in to watch).

Data-Driven Decision-Making
Now more than ever before, bringing data to the table is key in decision-making, and industry/trade organizations have been able to make progress in bringing an objective, data-driven view to retailers and member partners. Speakers during this conference session, sponsored by Naturipe Farms, included CarrieAnn Arias from Naturipe Farms, Catherine Cowan and Jessica Mahan from 84.51°, and Jason Riis, Ph.D., of Behavioralize.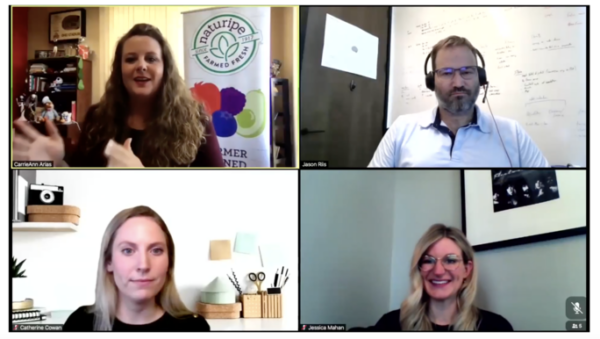 The speakers emphasized how repetition and context are both key to creating habits for blueberry purchasing. Marketers can help encourage these by creating inspiration and ease of consumption. This can include cross-marketing promotions, recipe innovation ideas, and promoting healthy products.
The problem with making it easy is that it sounds so obvious. Richard Thaler, the famous economist from University of Chicago, won a Nobel Prize for saying the way you change behavior is to make it easy. But making it easy is actually not easy – blueberry industry marketers and retailers need to continue to make it easy. Riis reminded the audience that "the first action happens at the basket. Habit is what needs to be nurtured here, and we need to make it easy."
View a recording of this session here (you will have to register or log in to watch).

Blueberries as Seen in the News


Supermarket Perimeter and Perishable News featured the 11 blueberry industry leaders who received a 20th Anniversary Award and were announced in the virtual celebration at the USHBC/NABC Virtual Conference & Expo.
Michigan Ag Today ran an article about Undersecretary for Trade and Foreign Agricultural Affairs Ted McKinney's keynote at the virtual conference and highlighted how foreign agricultural relations are benefitting the U.S. blueberry industry.