Virtual Conference Session Highlights
Recordings of the sessions will be posted online soon. In the meantime, these next few issues of Behind the Blue will feature a few highlights from the conference, so be sure to keep an eye on your email! You can also read more about several key sessions in the news articles below.
Thank you again to the entire blueberry industry for joining us last week at the first Virtual Conference & Expo! With 1,100 registrants, we can safely say there was a wealth of knowledge and insight represented.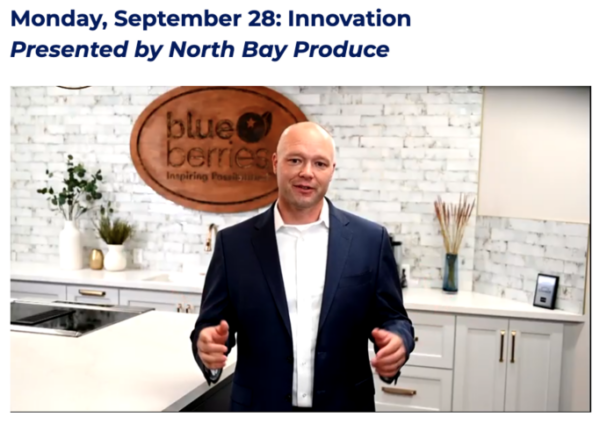 News Coverage from the Event
Fresh Plaza highlighted the numerous improvements still happening in blueberry breeding following the session with Dr. Michael Dossett, research scientist with BC Berry Cultivar Development Inc.
Produce Blue Book reported on the significant economic impact of blueberries, highlighting insights from Dennis Tootelian, emeritus professor of marketing and former director of the Center for Small Business in the College of Business Administration at California State University, Sacramento.
Fruit Growers News featured the new brand identity for the USHBC and NABC, revealed on the first day of the event, which more consistently clarifies the important roles of USHBC and NABC and how they work together to "inspire possibilities" to grow the blueberry industry.

In Search of the Perfect Blueberry with Todd Eagan
Todd Eagan, berries buyer for Costco, was one of the keynote speakers at the Conference. Todd was joined by Brian Bocock, VP of produce management for Naturipe farms and a member of USHBC's promotion committee. As the person responsible for Costco's berry category for the last 20 years, Todd's works to improve packaging specifications and vendor relations and has significantly grown the category's presence in stores.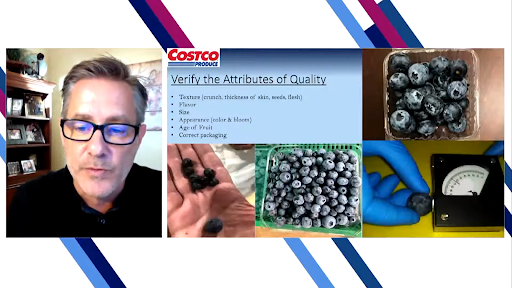 Todd discussed how growth at Costco aligned with the growth of the blueberry industry, and continues to align with future growth prospects. According to Todd, Costco is "laser-focused on what brings value" to its members, noting the "eating experience" being of utmost importance.
In 2020, organics has become a huge part of the business, now representing more than 40 percent of dollar amounts. 2018 was the first year Costco had a 52-week supply of organic blueberries. Costco chooses its suppliers based on quality factors such as texture, flavor, size, appearance, and packaging.
Todd also stressed that "the need for partnerships is more crucial than ever before…Without those partnerships it can become transactional way too quick."
This content will be available online soon. In the meantime, register at blueberryevents.org so you can be notified as soon as it posts!

Innovation in Retail: How COVID-19 Has Changed the Path to Purchase
USHBC's Rapid Response program was implemented following the distribution challenges faced by the industry in March and played a key role in driving increased sales during the April through June time period. Speakers from USHBC partners Instacart, Shopkick, and MNI-Harpoon shared insights on how the food shopper has changed post-COVID. Increased emphasis is being placed on e-commerce and digital search and social media tools in reaching and motivating blueberry consumers:
72% are visiting stores less often, and doing more stock ups
Recent surveys show that as many as 55% of Americans used online grocery services in 2020 – up from 36% in 2018 and 15% in 2015
89% of Instacart users consider it to be an ESSENTIAL service.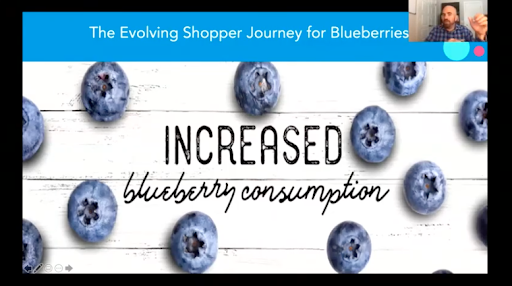 USHBC is working closely with blueberry industry partners, retailers, and digital services like Shopkick and Instacart to reach consumers more efficiently to ensure blueberries are on l consumers' shopping lists and that they understand blueberry health and taste benefits.
This content will be available online soon. In the meantime, register at blueberryevents.org so you can be notified as soon as it posts!

Voting Closes Soon for the 2020 Blueberry Product Spotlight Winners
Selected through research, voted on by the industry: USHBC needs your help selecting the final 2020 Blueberry Product Spotlight winners! Please click here to review the finalists and vote for the three products you believe are the most innovative. Voting closes at the end of the day this Tuesday, October 13th.
Learn more about the program and product selection process.