Topics in this issue of Behind the Blue:
Recently, USHBC/NABC President Kasey Cronquist and Vice President of Global Business Development Alicia Adler attended the Washington Small Fruit Conference. They shared an overview of USHBC's marketing plans and cast a vision for the future of the blueberry industry.
Cronquist spoke about progress on initiatives detailed in USHBC's new Strategic Plan 2021-2025, including the compelling content that's being used in foodservice and food manufacturing programs to drive volume for blueberries. He also highlighted several other resources for industry stakeholders, such as the 2022 Grab a Boost of Blue promotional calendar (see below for a preview), USHBC's robust data and insights center and the weekly industry podcast, "The Business of Blueberries."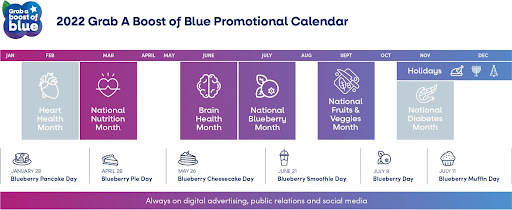 Adler outlined global market opportunities for the U.S. blueberry industry and provided updates on key regulatory issues facing Pacific Northwest exporters.
For more information about USHBC's global opportunities, visit our For Exporters page on our website.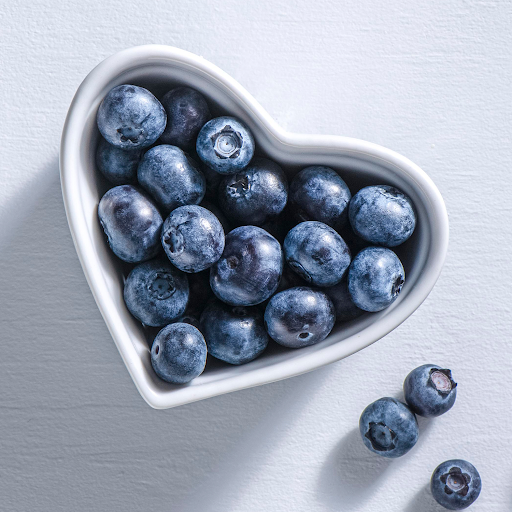 A new study published in Clinical Nutrition and supported by the USHBC found that the equivalent of one cup of fresh blueberries, consumed as 26 g of freeze-dried blueberries, may reduce the acute cardiometabolic burden of energy-dense meals. Or, simply put: The new research further supports that blueberries may benefit heart health.
As part of USHBC's programming engaging health professionals, the study findings will be leveraged to promote blueberries as part of a healthy diet, continuing to boost blueberries' health halo to drive demand.
"This is the first study of its kind conducted in an at-risk population, adults with metabolic syndrome, a condition affecting nearly 40% of Americans and one in four adults in the UK,"1 2 said Aedin Cassidy, Ph.D., chair of nutrition and preventive medicine, and director of the Interdisciplinary Research Institute for Global Food Security at Queen's University, Belfast, and the study's lead investigator.
Learn more about the study here. For more information on how USHBC is working with health professionals, and to access resources to leverage with your own health influencers or audiences, visit healthprofessionals.blueberry.org.
1 Aguilar M, Bhuket T, Torres S, Liu B, Wong RJ. Prevalence of the metabolic syndrome in the United States, 2003-2012. JAMA. 2015;313(19):1973-1974. doi:10.1001/jama.2015.4260
2 https://www.heartuk.org.uk/genetic-conditions/metabolic-syndrome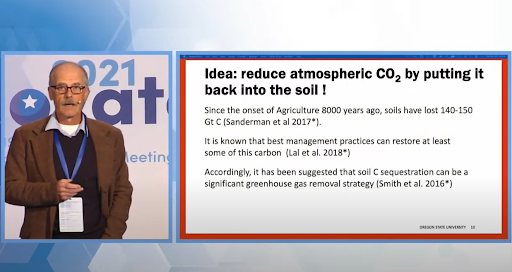 At Innovate 2021, Markus Kleber, professor of soil system science at Oregon State University, hosted a "Carbon Sequestration Lunch." The session provided an overview of carbon sequestration and detailed the potential benefits to blueberry growers and farmers everywhere.
Kleber explained that, as carbon dioxide (CO2) in the atmosphere increases, CO2 molecules absorb part of the energy from solar radiation, causing more warming in the atmosphere.3 This, of course, could have significant impacts on blueberry production across the globe. Despite improvements in reducing emissions, there is still a 0.6% annual increase in greenhouse gas (GHG) emissions globally.4
"Humans are intervening in the carbon cycle, and industrial agriculture has driven down the carbon in the soil," Kleber shared. "When you lose half your soil carbon, you're bound to see reductions in plant productivity.
"When we talk about carbon sequestration we are referring to the transfer and storage of atmospheric carbon to other pools, such as soil or plant biomass," he went on to explain.
Best management practices can restore at least some of this carbon5, and soil carbon sequestration can be a significant GHG removal practice.6
Despite various challenges, there's strong public interest in finding carbon sequestration solutions. Growers should recognize and take advantage of this interest, both through marketing and farming practices. Increasing soil carbon can be beneficial for overall soil health.
As part of the 2021-25 strategic plan, USHBC will review global sustainability considerations of relevance to the entire blueberry supply chain and develop an overall approach for how to build these considerations into USHBC's programs and industry practices.
Click here to view a replay of the Carbon Sequestration Lunch.
3 https://scied.ucar.edu/learning-zone/how-climate-works/carbon-dioxide-absorbs-and-re-emits-infrared-radiation
4 https://iopscience.iop.org/article/10.1088/1748-9326/aaf303
5 https://www.jswconline.org/content/73/6/145A.short