Topics in this issue of Behind the Blue: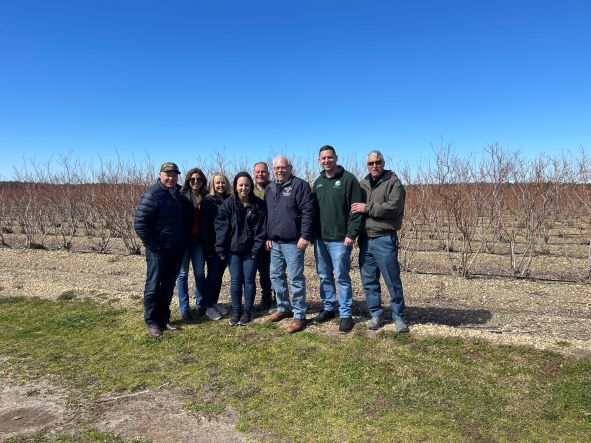 This week, USHBC President Kasey Cronquist and Vice President of Engagement and Education Amanda Griffin paid a visit to growers in New Jersey. This mid-Atlantic state has remained at the heart of the blueberry industry, ever since the fabled days when Elizabeth White, with the help of Fredrick Coville, a USDA botanist, commercialized the first blueberries in New Jersey in 1916.
After covering a lot of ground in the fields and on farms, Cronquist gave an update on the progress being made by USHBC and NABC on behalf of the growers during the Blueberry Open House meeting day in Hammonton. 
Paul Macrie III was recently presented with a Certificate of Appointment by USDA Secretary Tom Vilsack, as the New Jersey grower representative on the USHBC council.
Thank you Paul Macrie III, Denny Doyle, Art Galletta, Dave Arena, Brandon Raso, Joe Bernardo, Skip Consalo, Chelsea Consalo, Jeff DiMatteo, Joseph Berenato and the rest of the New Jersey producers we met with for sharing your commitment and passion for growing blueberries!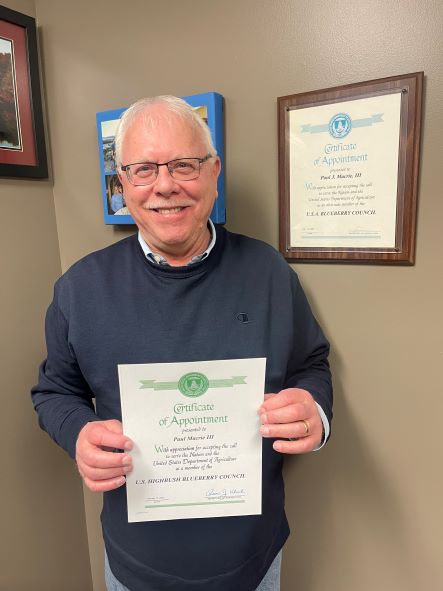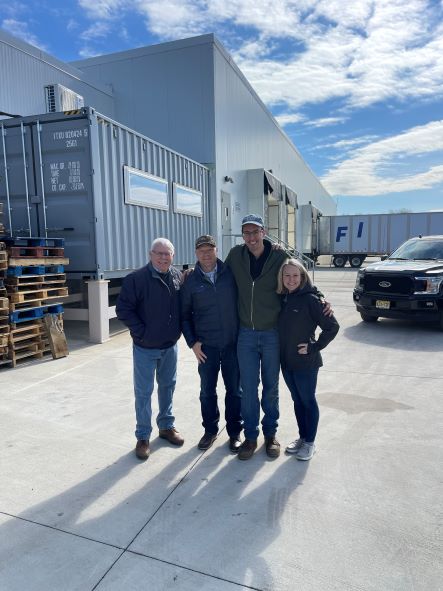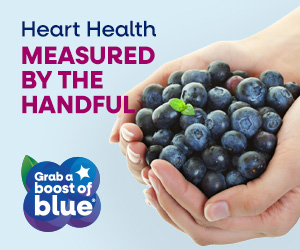 In February, USHBC participated in American Heart Month during the Healthy Heart, Happy Heart power period to reinforce the importance of eating blueberries frequently for their heart health benefits. To extend the reach and scale of this power period, USHBC activated partnerships with its Blue Crew Ambassador network, which curated heart-health focused social content. This was complemented by partnerships with WebMD, SmartBrief and Produce for Better Health.
Notably, USHBC launched a heart health landing page for consumers, featuring an interactive digital quiz that served up a heart-check certified recipe. A comprehensive heart health toolkit was also developed that included tip sheets for health professionals, turn-key social and digital content, and a poster for use at retail. Several heart health activations also took place at various retailers nationwide.

Looking ahead, USHBC will continue to strengthen its partnership with the American Heart Association by participating in its annual Wall Street Run & Heart Walk in NYC in May 2023.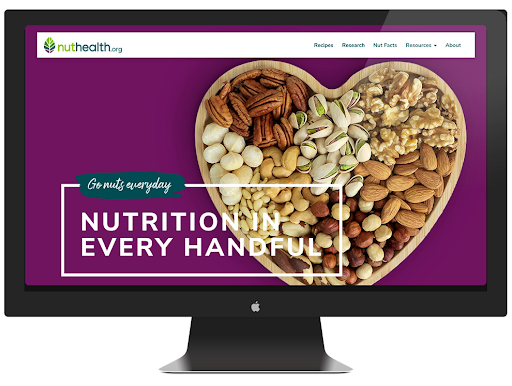 USHBC has prioritized promoting and funding nutrition research for more than 20 years. Leslie Wada, Ph.D., RD, senior director of nutrition and health research, explained that berries are particularly interesting to researchers due to their bioactive compounds, however nutrition guidance tends to recommend certain food groups rather than individual foods or nutrients. How can we continue to enhance recommendations for all berries, including blueberries, and their role in healthy diets?
To provide perspective from a food group outside of the berry industry, Maureen Ternus, MS, RDN, from the International Tree Nut Council Nutrition Research & Education Foundation (INC NREF), shared key insights and learnings from the tree nut industry at the recent Blueberry Convention in San Diego. INC NREF, formed in 1993 and made up of members from associations representing nine individual tree nuts set out to reverse the negative image of nuts by funding nutrition research. These efforts complemented research efforts of the individual tree nut organizations (e.g., almonds, walnuts, pistachios). Early on, INC NREF decided that it was more important to promote the nut category collectively, instead of individual nuts. This meant INC NREF-funded research on mixed nuts had to include at least seven of the nine tree nuts and all groups must agree with the study and align on the budget.
By 2000, INC NREF decided it needed to integrate nutrition research into policy conversations. The organization teamed up with Georgetown University Center for Food and Nutrition Policy on a Demeter Dialogue "Making the Claim for Nuts." Despite concern about total fat at the time, the FDA approved the first qualified health claim for nuts in 2003, giving credibility to the nutritional value of nuts. In 2007 INC NREF hosted the Nuts and Health Symposium, where a group of researchers identified the priorities of healthy diet, heart disease, diabetes, weight management and phytonutrients.
Unlike nuts which had to reverse the negative connotation with fat, all berries contain phytonutrients (including anthocyanins) that other types of commonly consumed fruit do not. Anthocyanin intake is associated with brain and heart health benefits and among berries, the anthocyanin content of blueberries is one of the highest.
Session participants gained inspiration for the future of blueberry nutrition research and advocacy efforts, especially as we think more about the overlap between all berries in the berry patch. Advancing the need for more specific recommendations for berries, including blueberries, in authoritative dietary guidance could encourage greater diversity of fruit and nutrient intake in support of improved diet quality and health for all Americans.
Stay tuned for more detailed recaps of educational sessions in the weeks ahead!