USHBC Shares a Look at the Restaurant of the Future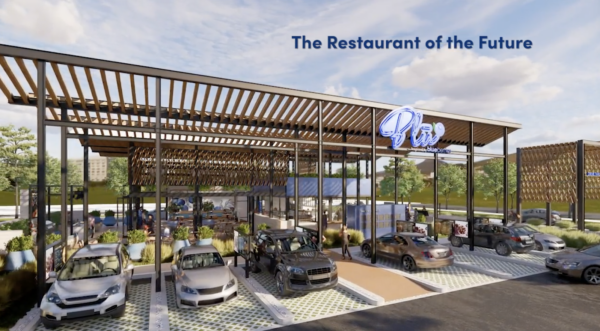 With all the changes and challenges this year has brought to the foodservice industry, many operators are assessing how to reconfigure their restaurants to better facilitate curbside pickup, delivery orders, grab-and-go items, increased outdoor dining, and drive-through service.
In its continued efforts to reach chefs and foodservice professionals with blueberry menu inspiration and establish thought leadership within this important audience, USHBC unveiled its new video, How Blueberries Deliver for the Restaurant of the Future this week. Created by USHBC's foodservice agency partner SRG, which specializes in environmental design work in this space, the video was shared as part of USHBC's sponsorship of The Flavor Experience, held virtually Dec. 1-2 and hosted by USHBC partner, Flavor & the Menu magazine.
Conference attendees align strategically with USHBC's target audience of 200+ high-volume commercial and noncommercial chefs, making this an important connection for the blueberry industry.
The video, featuring 3D architectural renderings that illustrate how restaurant footprints can adapt to best meet evolving patron and operator needs, and on-trend blueberry culinary applications, debuted during USHBC's sponsored session. The blueberry-inclusive recipes that are showcased meet the increased needs of operators for products that hold well for delivery or grab and go, work across the menu, are shelf-stable or long-lasting, are cost-efficient, and fit with flavor trends patrons seek out.
"In order to stand apart from the more traditional cooking and product application demos, we thought about what operators really wanted and needed to know, and how we could truly support them at this time," said Jennifer Sparks, USHBC and NABC vice president of marketing and communications. "This combination of operational and culinary information is highly differentiated and valuable to chefs, and sets USHBC up well as we enter into our one-on-one meetings with select operators during and after the conference."
Following the conference, the prerecorded presentation will be used as an engaging and efficient asset across future virtual events and outreach, further reinforcing the inspiring possibilities of blueberries in foodservice.

Assessment Deadline and Podcast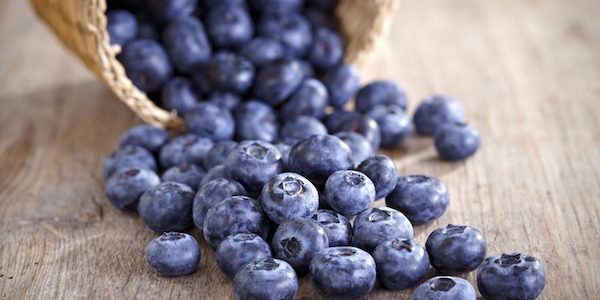 We'd like to thank all growers who completed the 2020 assessment by Nov. 30. If you have not completed the assessment, reports are still being accepted. You can find the assessment form here. Keep in mind that a late payment charge will be imposed for any amount not received by Dec. 31.
Adam Winland, financial controller for USHBC and NABC, discussed the changes to the assessment process for 2020 on "The Business of Blueberries" podcast last week. "We are perfecting this process and looking toward the future," Winland said. "We want to make sure that [the process] is as fine tuned as possible."
Host Kasey Cronquist, USHBC and NABC president, chatted with Winland about his new role, what to expect from the blueberry assessment and how the assessment showcases the return on investment for blueberry growers.
"Part of what I want to do as a financial controller is be as transparent as possible with everyone involved so they know where the money is going," Winland said.
You can listen to the whole episode here or wherever you get your podcasts.

20th Anniversary Awards Spotlight: Rod Cook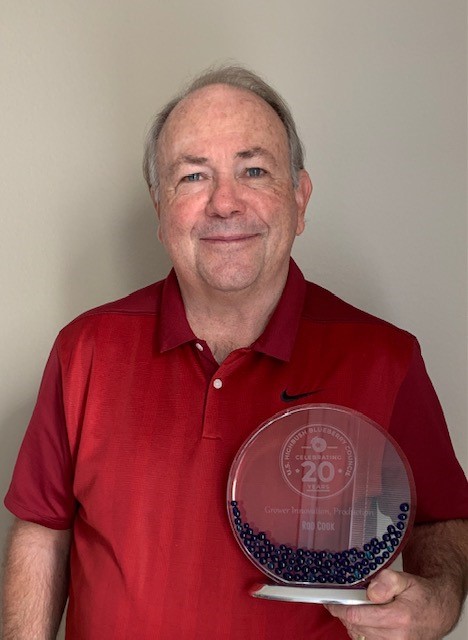 During this year's NABC/USHBC Virtual Conference & Expo, USHBC honored 11 pioneers whose work has helped the blueberry industry grow and flourish over the last two decades. One of those winners was Rod Cook, president of Ag-View Consulting and chairman of the USHBC Technology and Innovation Committee, who won for Grower Innovation under the Production subcategory.
Rod is committed to keeping growers up to date on what technology can do for them. Rod's many accomplishments include directing the committee's work on a sensor that has improved the handling of mechanically harvested blueberries. He also created the Technology Symposium that attracts growers from around the world to learn about the latest innovations.
He has acted as a liaison between blueberry growers and technology firms and university researchers in efforts to improve all aspects of growing and harvesting. He has also been an advocate for podcasts and webinars that keep a pipeline of information open between technological advances and the field. All this is a continuation of a vision that has distinguished his career. Rod has been involved with innovations involving growth regulators, storage, and cooling, and was the first to market blueberries on Amazon's "Storefront." Rod learned early on that one grower or company cannot succeed while the rest of the industry withers. As a result, the health of the overall industry has always been his priority.
"I firmly believe that the only way we as individuals can succeed in whatever we do is to work with those around us," Rod said during his acceptance speech. "In this industry, to work with other marketers, to work with other growers, whatever their background, whatever their location, and try to find pathways to push the entire industry ahead." Congratulations again to Rod. See the full list of award winners here.

Blueberries As Seen in the News*
Bake Magazine (12K reach) ran an article on how "blueberries and walnuts boost baked goods." The piece highlights the recent launch of the blueberry emoji and how USHBC is engaging with consumers through promotions and social media content to encourage use of the emoji and inspire blueberry purchases. The article also includes a quote from USHBC and NABC President Kasey Cronquist on the emoji launch and how USHBC is committed to helping blueberry professionals across the board grow demand and fuel consumer interest.
Fresh Plaza (4K reach) ran an article on USHBC focusing on expanding overseas demand of US blueberries in 2021. The piece highlights that exports from the U.S. are on the rise, especially with the Vietnamese, Philippine and Chinese markets opening within the past two years.
* These articles are for sharing purposes only. Specific views and opinions expressed in news articles do not represent the views of the USHBC.