The Blueberry Emoji Is Here: What Now?
There's been a lot in the news lately, and the biggest news for the blueberry industry came last week when blueberries made the leap from the kitchen to the keyboard. To get the blueberry emoji, all you need to do is run the latest software update on your device and it will appear on your emoji keyboard next to the other fruit emoji in the food section.
Why is this such a big deal? "Because it will help create awareness and those important reminders of the unique attributes of blueberries," says Jennifer Sparks, USHBC's vice president of marketing and communications. Consumers will enjoy using the new emoji to add to their shopping lists and create context and a pop of color in their texts and social media posts.
Upon the emoji launch November 5, USHBC immediately began sharing on social media, and is running a contest "to get consumers engaged in sharing the emoji, helping us spread the joy and encourage purchase," said Sparks.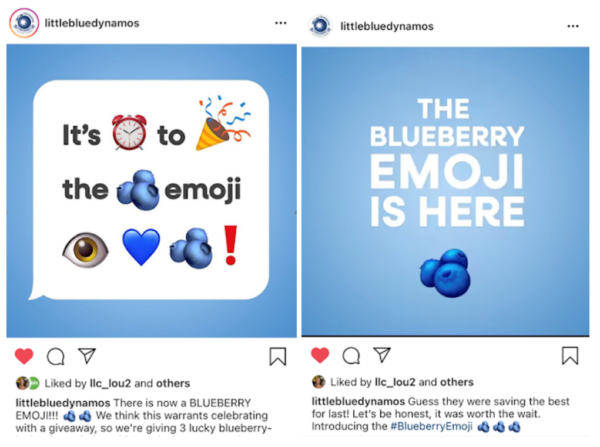 Because the new emoji benefits the entire industry, USHBC encourages all industry participants to get active and involved in spreading the news. The new emoji offers a number of ways to enhance marketing, communications and promotional initiatives for your business or operation. To make it easy – both in digital media and in print – USHBC created a Blueberry Emoji Toolkit, including:
How-to instructions for emoji best practices.
Pre-designed, pre-written social posts.
Downloadable, high-res emoji files for promotions.
All these activities are in service to one goal: helping consumers enjoy and share their love of blueberries. Every time the little cluster of berries pops up on someone's screen, it's like a mini-celebration of blueberries, and a reminder to buy. So we want to be certain all fans of blueberries know about the emoji and get in the habit of using it – keeping blueberries top of mind on a daily basis.
Driscoll's, Scenic Fruit and the BC Blueberry Council led the way in alerting their audiences about the new emoji.

Industry publications helped to spread the news and encouraged use of the Emoji Toolkit. The Packer (34K reach), Produce Blue Book (23K reach), Fruitnet (20K reach), Perishable News (15K reach), Supermarket Perimeter (6K reach) and Fresh Plaza (4K reach) ran articles on USHBC promoting the new blueberry emoji launch and toolkit.
You can start by encouraging your company team, friends and family to be blueberry ambassadors by sharing the new emoji on their social channels. Download the Blueberry Emoji Toolkit today, and show us how you're spreading this good news by including the hashtag #blueberryemoji in your social media posts and/or emailing us at [email protected]. We would love to hear your feedback on the toolkit and how we can help you in your blueberry marketing efforts.

Influencers Share Their Passion for Blueberries
While the industry is busy touting the new blueberry emoji, social media influencers are doing the same, lending valuable third-party credibility to our message.
The McFarlands (198K followers), a family well-loved for its funny video content on social media, recently posted a hilarious video sharing their excitement about "sacks of blueberries" in their latest grocery haul. In response, the USHBC promotions team reached out to offer them a blueberry care package, including blueberry costumes, that they showed off on Instagram over the weekend!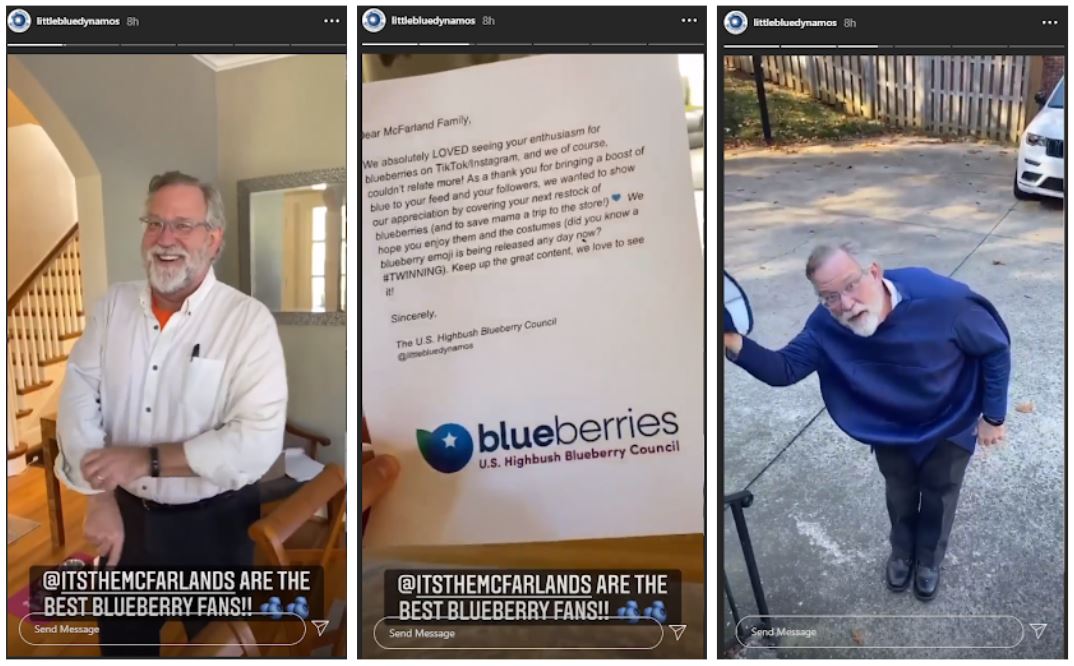 Another social media influencer with a huge following, and who has posted about his passion for blueberries before, is sharing his excitement about the new blueberry emoji and his continued obsession with blueberries. Entrepreneur Gary Vaynerchuk dedicated a post, tweet and series of Stories over the weekend to engage his 8.3 million Instagram followers and 2.2 million Twitter followers in his enthusiasm for blueberries.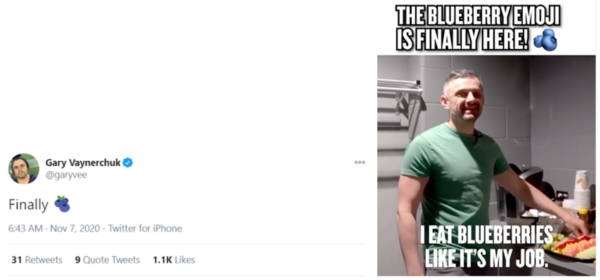 The USHBC's promotion team continues to find blueberry lovers and influencers on social media and works quickly to engage them. This further fosters their love for blueberries and willingness to share that love with their dedicated audiences.
USDA Increases Funding to USHBC For Export Market Development
The USDA Foreign Agricultural Service (FAS) has notified the USHBC that its 2021 Market Access Program (MAP) funding award will increase 44% to $299,195, up from $207,449 in 2020 and $211,540 in 2019.
"This increase is a huge win for USHBC's international efforts and is reflective of the industry's commitment to developing export markets for U.S. highbush blueberries. From the formation of the USHBC export committee in 2019 to the use of USDA FAS Trade Programs like MAP, Technical Assistance for Specialty Crops (TASC) and the Emerging Markets Program (EMP) to address technical barriers to trade, USHBC is making strides in export market development for U.S. blueberry growers," said USHBC Vice President Alicia Adler.
USHBC will use the additional MAP funds to expand promotions of fresh, frozen, dried and further processed blueberries in targeted export markets throughout Asia. Major markets include Japan, South Korea and emerging markets throughout Southeast Asia (including newly open markets like Vietnam and the Philippines).
USHBC submits a proposal known as the Unified Export Strategy to FAS each June. Funding is announced annually in November.