Register for Upcoming Webinar on Post-Harvest Handling and Storage Technologies!

On Thursday, Jan. 14, USHBC will host a webinar focused on advances in post-harvest handling and storage technologies designed to preserve shelf life within the supply chain. Post-harvest diseases can limit the shelf life of fresh blueberries, and gray mold caused by Botrytis cinerea is one of the most common. Please join us for an important discussion about recent advances in post-harvest technology available to fresh blueberry handlers.
Randy Beaudry, Ph.D., of Michigan State University will share his perspective on how post-harvest handling has evolved, where it's headed in terms of new technologies and what's on the horizon for fresh blueberries, including the use of sulfur dioxide and modified atmosphere packaging.
Also joining us will be Deon Hugo and Alwyn van Jaarsveld from Tessara, and Chris Kampsen from the Veritiv Corporation, who will discuss the effect of sulfur dioxide pads on product life extension, and share feedback from trial work done during the 2020 season in California, Washington and British Columbia.
To register for the upcoming webinar, click here.

Grab a Boost of Blue Toolkits Are Live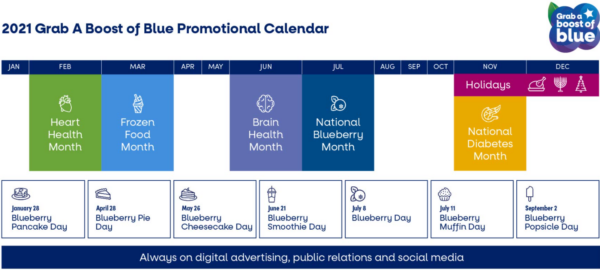 In case you missed it before the holiday, USHBC released two toolkits to leverage our new strategic positioning and call to action, Grab a Boost of Blue. Take a look at new online resources, tools and advice in USHBC's online toolkit hub here to help drive year-round sales, and let us know what you think. 

Since we launched the industry toolkit, new participating marketers and stakeholders have joined the movement to encourage consumers to Grab a Boost of Blue. They include:
Participating Marketers: California Giant, Naturipe, Wish Farms, Oregon Berry Packing Inc.
Participating Stakeholders: Chilean Blueberry Committee, East West Label Company, Sonoco, Oregon Blueberry Commission Inc.

Stay Tuned: USHBC Town Hall is Coming to Your State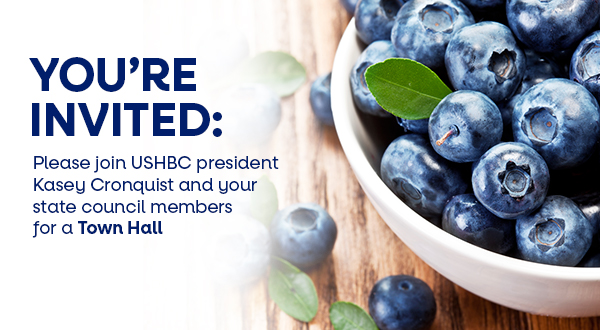 USHBC is excited to announce our 2021 Town Hall Tour. These town halls will be 45-minute open forums, each with a maximum of 15 participants.
To kick off the new year, USHBC is providing an opportunity for industry members to share what's top of mind – both what's going well and any concerns you have. During the town halls, USHBC President Kasey Cronquist will share a brief overview of 2021 programs and use of assessments, and will then turn the mic over to attendees.
If you're interested in participating, please be on the lookout for registration information landing in your inbox in the next few days.
"In any other year, I'd be connecting with council leadership and making travel plans to visit with you all in person," said Cronquist. "I think it's more important than ever to be sitting down and having a conversation about USHBC efforts so we can foster collaboration across our great industry. We'll just have to do it virtually, for now."

Blueberries As Seen in the News*
At the end of 2020, Kasey Cronquist had a conversation with Ashley Davenport of Michigan Ag Today to discuss the challenges and opportunities for the blueberry industry in 2020, and what's ahead in 2021. Some highlights from 2020 include the NABC/USHBC Virtual Conference & Expo, the launch of "The Business of Blueberries" podcast and the release of the blueberry emoji. Read the full story here.
On Sunday, Jan. 3, Dr. Sanjay Gupta appeared on CBS Sunday (13.8M reach) to discuss his recommended steps to a healthier brain. The neurosurgeon, CNN commentator and author of the book, "Keep Sharp: Build a Better Brain at Any Age," had dedicated his career to studying the brain and the onset of Alzheimer's. Dr. Gupta shared the benefits of an overall healthy diet and called out berries, notably blueberries, mentioning "their good taste and the healthy chemicals they release." With 80% of the U.S. population under consuming fruit per the new 2020-2025 Dietary Guidelines for Americans, it's critical that we continue to promote blueberry intake as a smart way to meet daily fruit consumption goals.
The Packer (30K reach), Perishable News (10K reach) and Supermarket Perimeter (6.6K reach) ran articles on USHBC kicking off 2021 with the launch of Grab a Boost of Blue. The pieces highlight that the campaign is designed to promote blueberry use and consumption throughout the day and year. The articles also include a link to USHBC's online resource hub for industry professionals and retailers.
* These articles are for sharing purposes only. Specific views and opinions expressed in news articles do not represent the views of the USHBC.