New Emerging Health Study
A new USHBC-funded research study, published in the Journal of Nutrition, investigated how serum from subjects consuming a diet enriched with blueberries would affect the cells responsible for muscle growth and repair. The emerging study, "Consumption of a blueberry-enriched diet by women for 6 weeks alters determinants of human muscle progenitor cell function," was conducted at Cornell University.
To learn more about the study and other health research, review this press release and visit ushbc.org/health/. As the global leader in nutrition and health science investment, USHBC works with doctors, nutritionists, fitness experts and other influencers to fund and publicize scientific research. This innovative research pipeline includes projects on heart health, cognitive aging and insulin sensitivity, and other benefits that help make blueberries the favorite choice of consumers.
Economic Impact Report of U.S. Highbush Blueberry Industry
A new economic impact study released last week provides data that illustrates the powerful financial force of the U.S. highbush blueberry industry. It is important to note that these projections are based on annual average expenditures, which means that this impact is expected to occur each year that such spending occurs. According to research conducted by Dennis Tootelian, Ph.D., emeritus professor of marketing at California State University, Sacramento, growers collectively generate more than $4.7 billion in annual economic impact, translating to more than $12.7 million flowing into the U.S. economy every day of the year. The report further underscores the extent that the industry stimulates business activity, creates jobs and contributes mightily to the country's financial landscape.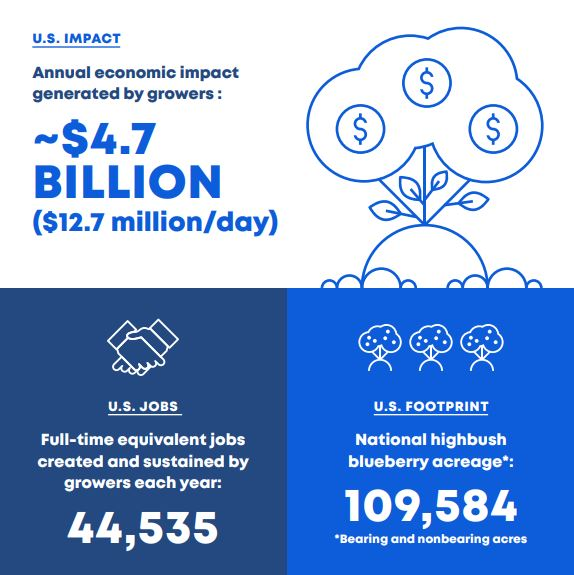 In addition to the national report, state-level economic impact reports, fact sheets and infographics are also available for California, Florida, Georgia, Michigan, New Jersey, North Carolina, Oregon and Washington. Learn more about the study findings in this press release.
National Blueberry Month Round-Up
On Friday, July 31, the U.S. Senate passed a resolution designating July 2020 as National Blueberry Month, echoing the proclamation from U.S. Secretary of Agriculture Sonny Perdue in March. Senate resolution (S.Res. 656) was sponsored by Sen. Debbie Stabenow (D-MI) and co-sponsored by senators Patty Murray (D-WA), Maria Cantwell (D-WA), David Perdue (R-GA)  Angus King Jr. (I-ME), Susan Collins (R-ME) and Kelly Loeffler (R-GA).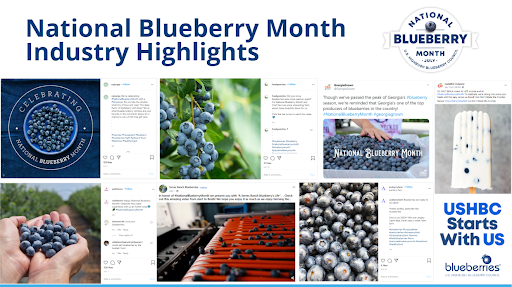 More than 70 organizations promoted National Blueberry Month in July, including Ace Berry Farm, Naturipe Farms, Wish Farms and more. Thank you to those in our industry who celebrated this holiday to its fullest. Click here for a snapshot of National Blueberry Month industry highlights.
Register here: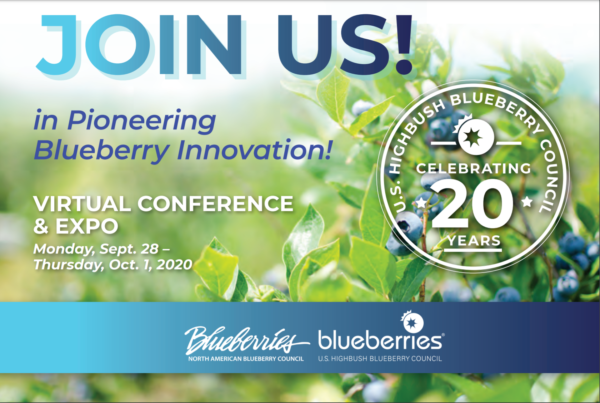 Don't forget to subscribe to our podcast!