Topics in this issue of Behind the Blue:
USHBC's Data & Insights Center helps convert blueberry production and market information into relevant data points and actionable insights for industry stakeholders. Launched earlier this year, the Data & Insights Center now includes USDA shipping price and movement data, and retail category performance, powered by Category Partners. Stakeholders also now have access to a robust Analytics Dashboard, which provides usable data such as total movement, average FOB price/lb., movement change YoY, total shipments per week and more.
To get full access to the Analytics Dashboard, take a few minutes to sign up for a free account on Impexium, USHBC's new digital management software. Once registered, you can choose from three data sources – USDA, Nielsen and Retailer KPIs – and view trends and changes over time.
Subscribe to receive additional blueberry industry insights by clicking the Boosting Demand With Blues Retail Newsletter and Data and Insights interest boxes here.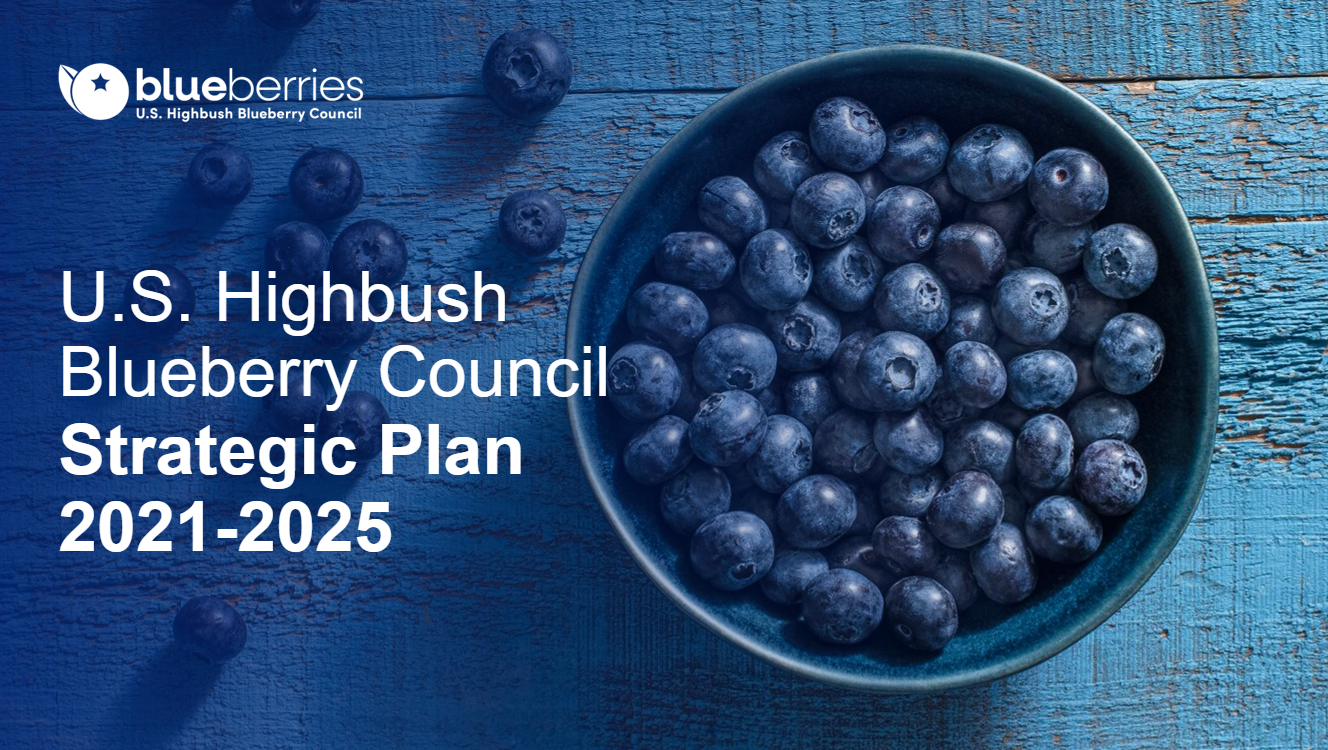 In a short amount of time, blueberries have been elevated from the rest of the berry patch as a beloved and worldwide symbol of wellness. It's up to the entire industry to keep the momentum moving forward, and we'll discuss how during the upcoming Innovate 2021: USHBC+NABC Tech Symposium and Fall Meetings when we present the USHBC 2021-2025 Strategic Plan in detail.
The new strategic plan updates several key sections of the current plan, including moving from four strategic pillars into five, refreshing USHBC's vision and mission, and expanding programmatic goals. The updated strategic pillars are integrated marketing communications, health and nutrition, industry services, global business development, and innovation and technology.
The strategic plan will chart the future of the blueberry industry, including:
Implementing a unifying strategy to ensure the industry continues its rapid growth. USHBC is the only organization 100% focused on growing the volume of blueberries sold in the U.S. and around the world.
Growing the size of the blueberry category through continued investments in consumer marketing, health-benefit research, public relations, access to new global export markets and the cultivation of year-round supply.
Continuing our commitment to centering the growers in everything we do.
To learn more, be sure to join us at Innovate 2021: USHBC + NABC Tech Symposium and Fall Meetings. The strategic plan will be presented during Kasey Cronquist's President's Report on Thurs., Sept. 30.
The program and lineup of speakers for Innovate 2021: USHBC + NABC Tech Symposium and Fall Meetings, Sept. 27-Oct. 1, is now available in full online. Blueberry industry stakeholders are invited to attend virtually for a week packed with education, inspiration and opportunities to advance blueberry industry business. The event features speakers discussing tech, innovation, marketing, genetics, health research, soil science, pollination and more.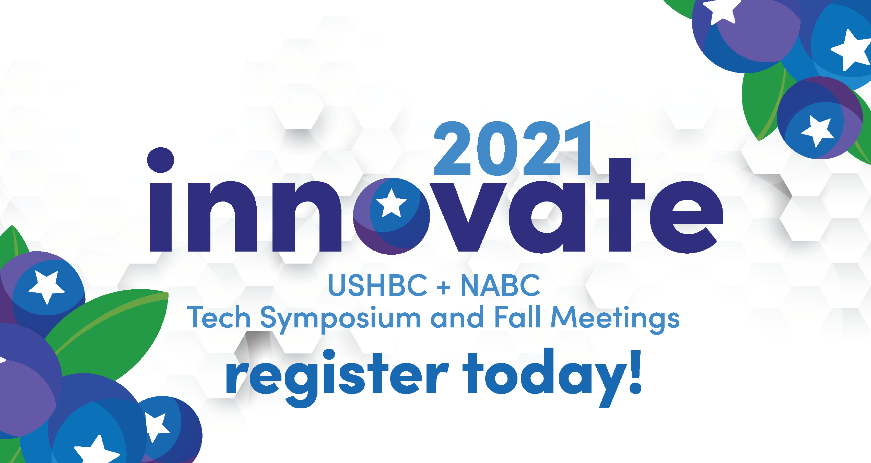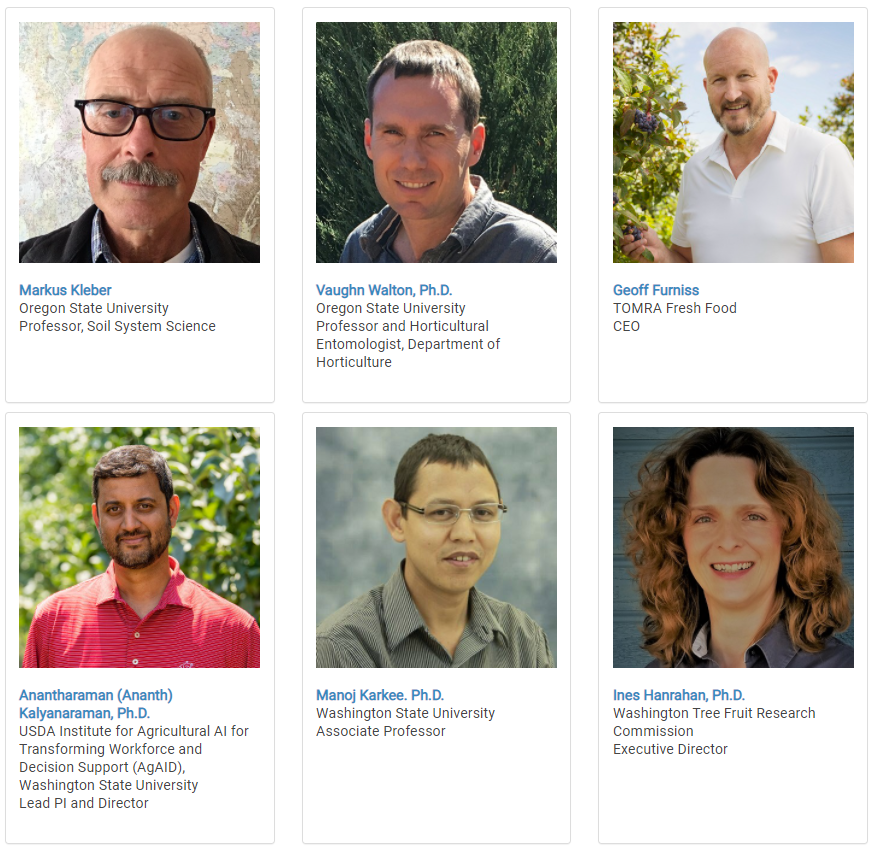 The event's featured keynote speaker is Dr. Ananth Kalyanaraman, professor and Boeing Centennial Chair in computer science at Washington State University (WSU), and the lead principal investigator and director for the newly established AgAID Institute. Dr. Kalyanaraman will share why a shift in the way we build artificial intelligence (AI) systems is a must for complex agricultural ecosystems, and how the AgAID Institute is partnering to develop innovative AI technologies for ag application.
During the robotics-focused segment of the Tech Symposium, you'll hear from the following speakers:
Dr. Vaughn Walton from Oregon State University on robotic insect control.
Dr. Ines Hanrahan from the Washington Tree Fruit Research Commission and Steve Mantel from Innov8.ag on the development of the "Smart Orchard" project.
Gary Thompson from GUSS Automation on the future of autonomous orchard sprayers.
Dr. Joseph Davidson from the Oregon State University Department of Engineering and Andrew Herr from Littau Harvester on robotic pruning.
The day-by-day program can be found here (scroll down to Schedule Overview and click Full Schedule).
Mon., 9/27: Welcome Reception
Tues., 9/28: Tech Symposium
Wed., 9/29: Tech Tour
Thurs., 9/30: USHBC & NABC Meetings
Fri., 10/1: Blueberry Field Tours
Daily presenting sponsors include Naturipe, Fall Creek Farm & Nursery, Hortifrut, MBG Marketing and Munger Farms.
While the event is at capacity for in-person attendance, interested stakeholders can register to participate virtually via a la carte pricing, listed here.