USHBC/NABC New Brand and Logo: Inspiring Possibilities

You might notice something new at the top of today's issue of Behind the Blue. At the NABC/USHBC Virtual Conference & Expo on Monday, the U.S. Highbush Blueberry Council (USHBC) and North American Blueberry Council (NABC) revealed a new brand identity that communicates each council's individual role in a cohesive way. The team aligned on what's become referred to as "the kaleidoscope berry" treatment, with the brand line of "Inspiring Possibilities."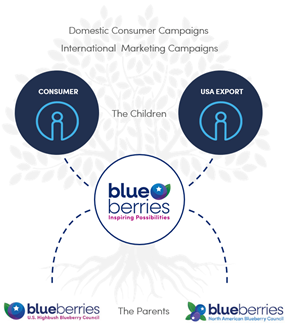 To ensure we bring a balanced perspective to our constituents, we fuse visionary thinking with pragmatic solutions. We seek to inspire our growers, industry partners and consumers while striving to expand our knowledge base. And we embrace change with curiosity, constantly evolving with a new global economy, exploring new opportunities for blueberries and positioning the industry successfully for the future.
With a full brand identity guidebook, including fonts, colors, patterns, photography and tone of voice guidance for copywriting, the new brand will play a critical role in clarifying and differentiating the roles of both councils moving forward. Blueberries: Inspiring Possibilities unifies all touchpoints and messaging across all USHBC and NABC programs.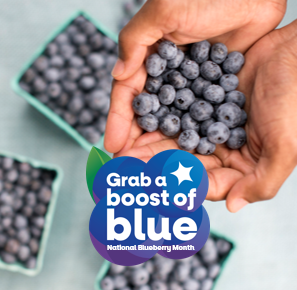 For marketing and promotions, the Grab a Boost of Blue brand mark was also revealed – a new consumer call to action, consistent with the organizational branding, and motivating to consumers. Boost of Blue will be used in advertising, at point of sale, in social media channels and even on packaging to remind the consumer of the healthy boost of deliciousness they get from a handful of blueberries. The Grab a Boost of Blue brand platform was tested with consumers:
96% liked the design and call to action – identifying with this message as relevant to them.
In pre- and post-purchase intent measures, exposure to the logo and message increased consumers' purchase intent for both fresh and frozen blueberries.
Stay tuned for more resources to be updated on the website soon.

Congratulations to the 20th USHBC Anniversary Award Winners!
The blueberry industry is truly a group of innovative thinkers and doers – from the field all the way to the consumer, and every link in between. On Wednesday at the NABC/USHBC Virtual Conference & Expo, USHBC presented 11 awards to individuals who have gone above and beyond in their respective fields, nominated by their peers and fellow stakeholders in the industry.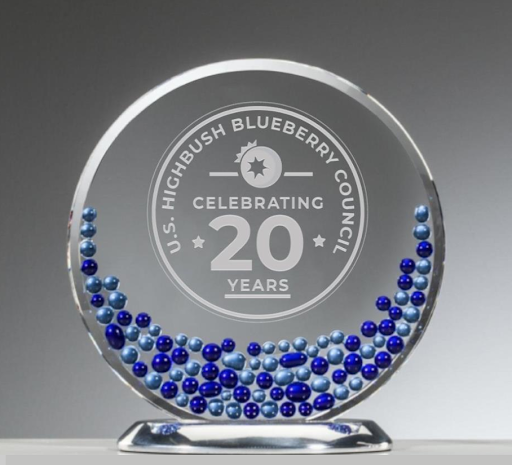 The winners are:
Grower Innovation, Production: Rod Cook, Ag-View Consulting
Grower Innovation, Sustainability: Tom Avinelis, Agriculture Capital
Grower Innovation, Good Practices: Mike Makara, former chair, British Columbia Blueberry Council
Grower Innovation, Community Involvement/Outreach: Lorrie Merker, MBG Marketing
Marketing and Promotions for Consumers and Health Professionals: Kirk McCreary, former chair of the USHBC Promotion Committee and former MBG Marketing CEO
Food Manufacturing/Advances in Blueberry Products: Joe Meduri, Meduri World Delights
Frozen: John Shelford, Naturipe Farms
Export/Global Community Relations: Bryan Sakuma, Sakuma Brothers Holding Company
Merchandising/Retail: Darrell Piliego, Publix Super Markets
Foodservice: Andrew Hunter, Chef Andrew Culinary Development
Genetic Research and Breeding with Nursery Propagation: David Brazelton, Fall Creek Nursery

That's a Wrap: Media Highlights From the Virtual Conference & Expo
Thank you to industry sponsors, partners and of course, virtual conference audience members for joining in this week of pioneering blueberry innovation! In case you missed the virtual event, you can read more about some highlights in the articles below.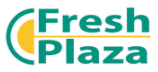 The Packer (31K readers) ran a story on the "Data Driven Decision-Making" session, which highlighted the role of retail sales data and household purchase behavior data in understanding what drives growth in food categories. The speakers unpacked how shoppers use loyalty programs, what drives decision-making and what we can learn from shoppers' behaviors.
Produce Blue Book (10K readers) featured a story on Todd Eagan's keynote, "In Search of the Perfect Blueberry." As the berries buyer for Costco, he's worked to improve packaging specifications and vendor relations, and has significantly grown the category's presence in stores.
Fresh Plaza (122K readers) ran a story about Monday's session, "Innovation in Retail: How COVID-19 Has Changed the Path to Purchase." This session focused on the shifts in consumer behaviors, emerging trends such as the rise in frozen blueberries and online shopping.