Wednesday Kicks Off National Blueberry Month!
Are you ready to start promoting and celebrating blueberries all throughout July? Check out USHBC's free toolkit of creative resources here that includes a ready-to-use National Blueberry Month seal, social media posts and recipe photos. Post or reshare content from our Instagram, Twitter and Facebook channels – we'll be rewarding participation with blueberry swag all month!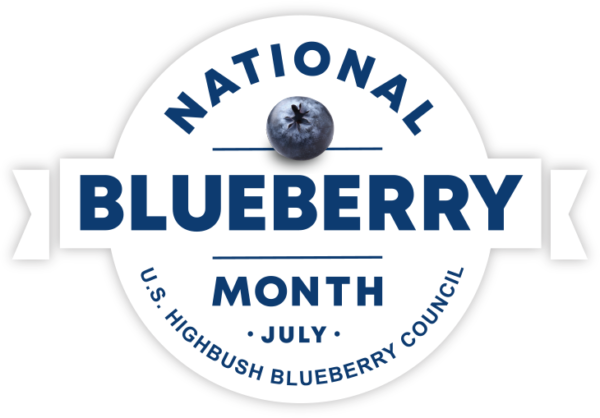 Rapid Response Program Delivers Results
As one part of the Rapid Response plan, USHBC launched a program with Ibotta, a money-saving shopping app aimed at incentivizing blueberry purchase. The campaign ran April 24-May 20 and has generated:
More than 8,000 verified blueberry purchases, 7,000 trips to the grocery store and 475,000 brand engagements (completed views of a blueberry video, excerpts show below).
A solid 25% redemption rate, well within the expected benchmark range of 19%-30%.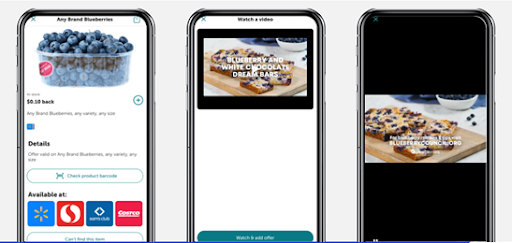 As part of the Rapid Response plan, USHBC also engaged Shopkick, an incentive-based shopping app, on May 14, and we'll continue to use it into July. To date, there are more than 6,000 validated blueberry purchases with a projected 146,000 units sold. The program is running at 15% sales conversion rate – significantly better than the 4% that was projected. In addition, through Shopkick, the campaign received 600% more impressions than expected. A significant advantage of these digital tools is the ability to deliver brand messaging in immediate proximity to a potential purchase occasion. The images below from Shopkick show how USHBC uses our compelling visuals within this platform to engage consumers and drive purchase of blueberries.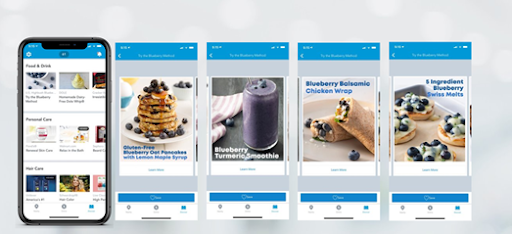 Blueberry Content So Successful PBH Wants More
USHBC's No-Bake Blueberry Coconut Energy Balls recipe May social promotion was among Produce for Better Health Foundation's (PBH) top 10 highest-performing paid member promotions since March 1, 2020. PBH even included it for free in their consumer e-newsletter, reaching 61,000 readers. And following the success of the health professional webinar, "The Meal-Snack Phenomenon," PBH is creating a July content series of the same name that will feature a blueberry-focused article and the Blueberry Lemon Ricotta Rice Cakes recipe.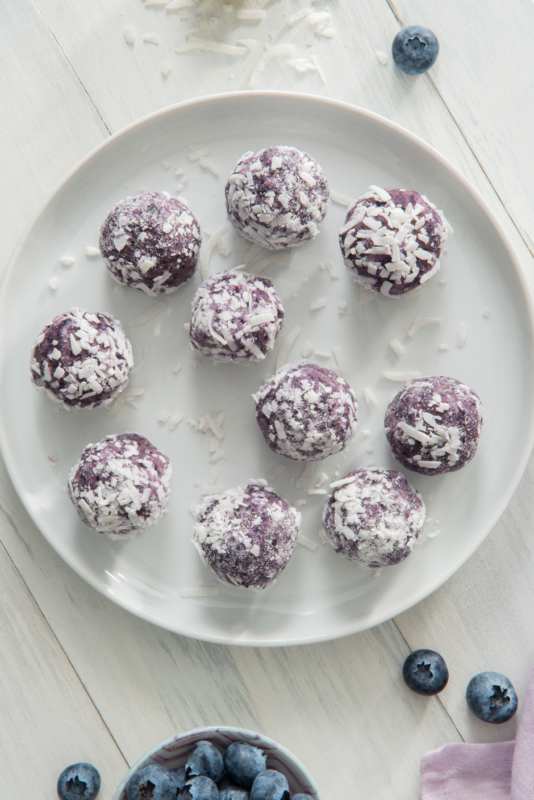 Finally, there will be another webinar on June 30 with PBH, hosted by USHBC and presented by Blue Crew member Mary Ellen Phipps, MPH, RDN, LD. The webinar will focus on the latest research on how the pandemic has shifted consumer eating habits, creating an opportunity for blueberries and simple snacking strategies as a solution to support good health.
USHBC Connects at United Fresh 2020 LIVE!
A big thank you to all who visited our virtual booth at United Fresh LIVE the week of June 15. Over 500 visitors stopped by USHBC's virtual space, and the networking receptions provided an additional way to "meet" with those connected to and interested in the blueberry industry. It was exciting to be a part of the produce industry's first major virtual event, and we saw many familiar faces from Sun Belle, California Giant, Camposol, Naturipe, North Bay Produce, Peterson Farms and more.
In Case You Missed It: 
Our second podcast episode is now live and available for listening here, featuring guests Brian Bocock, vice president of sales at Naturipe Farms; Adam Brohimer, president of Category Partners; and Grant Prentice, senior vice president & director of strategic insights at FoodMinds.
Are you interested in receiving weekly blueberry production and sales data? To begin receiving this critical analysis of Nielsen retail sales information, please subscribe here and find our most recent reports at ushbc.org/nielsen-reports.
If you couldn't join our "U-Pick Blueberries in 2020" webinar last week that featured Cornell small fruit specialist, Laura McDermott and growers Brooke Hill and Denton Chapman, you can watch the recording here.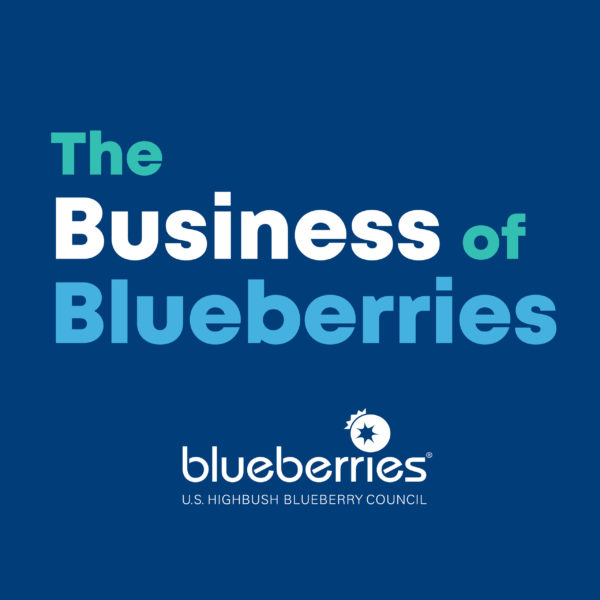 Blueberries in the News
Naturipe Nutrition Expert Jenn LaVardera, RD, contributed to a piece in Real Simple on the "top 5 ways blueberries improve your health," which featured a USHBC-funded study on blood pressure. This outlet reaches 2.2 million readers. Eat This, Not That! ran an article on the health benefits of blueberries by health influencer Lauren Manaker MS, RDN, LD, CLEC, CPT, and mentioned USHBC-funded studies, such as the most recent diabetes study. Produce Business featured an article on "holiday and seasonal celebrations" for produce with quotes from USHBC President Kasey Cronquist about National Blueberry Month.