USHBC 2019-2020 Impact Report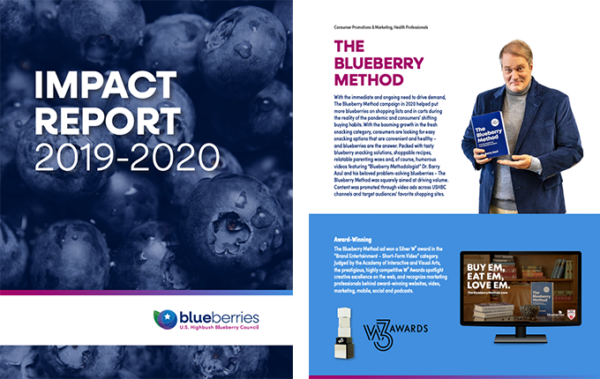 Now available for viewing is the 2019-2020 USHBC Impact Report, a comprehensive resource detailing USHBC's efforts over the past two years across every part of our program. The report highlights the strategic refresh and programming underway, which is all focused on driving domestic household penetration and demand for blueberries worldwide. Like an annual report, it addresses the priority areas and pillars of focus, but is intentionally designed in a more dynamic and consumable way for our audience of growers, handlers, marketers and industry stakeholders.
Thanks to the collaboration across our industry and a strong guiding vision, USHBC is perfectly poised to drive the next "Blue Wave" and move toward an era of continued growth and innovation.
We're looking forward to sharing more tools and assets in the coming months to help industry members continue their success.
Registration Open for the NABC/USHBC Spring Conference & Meetings!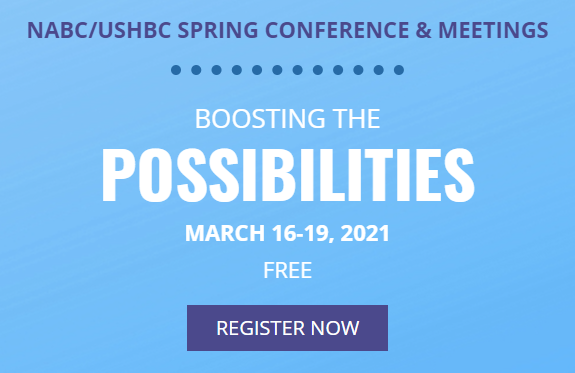 Join the USHBC and NABC in boosting all the possibilities for blueberries at the FREE virtual conference, March 16-19. Register here! 
The event will include industry showcases, interactive education, critical committee meetings and fun activities where you'll learn more about the most pressing and important topics related to the blueberry industry.
As the fall online event showed, virtual conferences are incredibly valuable, and we've got a host of new initiatives to help drive demand that you've just got to hear about and be part of. Because together, we're boosting the possibilities, pushing the blueberry health halo and leading the way on growing consumption.
Have a topic you'd like to see covered in a conference session? Email us at [email protected].
Learn about becoming a sponsor of the NABC/USHBC Spring Conference & Meetings here.
'The Business of Blueberries' Reaches 10K Downloads!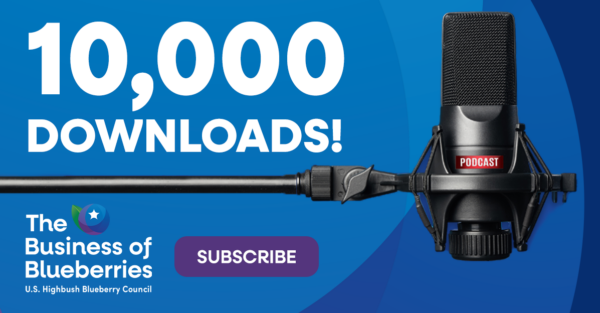 "The Business of Blueberries" podcast reached another significant milestone last week by accumulating 10,000 total downloads since launching in June! The podcast reached this landmark with the release of episode 31, titled "Coordinated Effort to Improve Blueberry Genetics."
In this episode, hosts Kasey Cronquist and Rod Cook were joined by Massimo Iorizzo, Ph.D., associate professor in the North Carolina State University Department of Horticultural Science; Jim Hancock, Ph.D., professor emeritus at Michigan State University and recent recipient of the NABC Duke Galletta Award; and Patricio Munoz, Ph.D., assistant professor in the Horticultural Sciences Department in the University of Florida. The group discussed the exciting opportunities presented by the Vaccinium Coordinated Agricultural Project (VacCAP).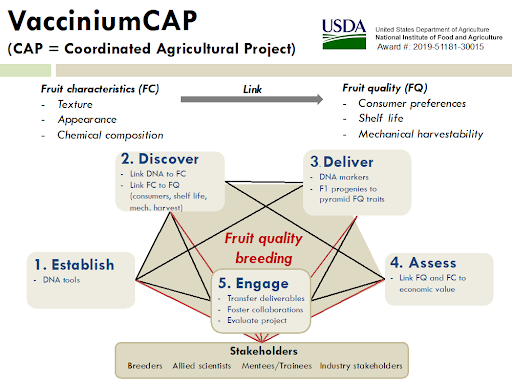 VacCAP is a massive undertaking to identify the ideal blueberry in terms of consumer preferences, shelf life and mechanical harvestability. With over $25 million invested from federal funds, participating institutions and its stakeholders, VacCAP has massive positive implications for the future of blueberry breeding.
"At the end of this project, we'll have an accurate concept of what consumers really like in a blueberry and we will have developed tools to accurately assess that fruit quality," Hancock said.
The podcast features an in-depth discussion about VacCAP, including a full overview of the project, what VacCAP hopes to accomplish for blueberry breeding and how researchers are creating the genome of the ideal blueberry.
"We want to understand the relation between the quality and the willingness to buy," Iorizzo said on the podcast. "The question is, does quality play a role in a consumer paying more for certain blueberry types?"
Check out our podcast page to listen to this episode and make sure to subscribe to listen to all future episodes of "The Business of Blueberries."
Know someone who'd be interested in this podcast? Please forward this email and encourage them to sign up to receive live updates when new episodes are released.
National Blueberry Pancake Day is January 28!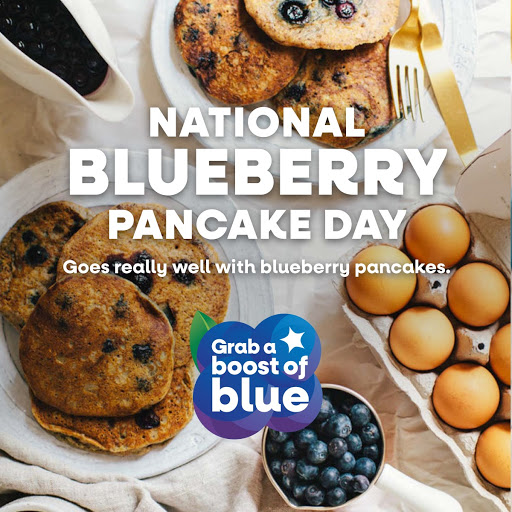 National Blueberry Pancake Day is on January 28, and USHBC created a graphic that can be used in consumer promotions to commemorate this holiday on social media. It's just one of the many moments in our promotional calendar inspiring consumers to Grab a Boost of Blue. In addition to these fun food holidays for consumers, our year-round marketing plan is packed with six "power periods" for building upon key buying periods and seasonal trends.
To access this asset and more, and take a look at what else is coming up, visit our Grab of Boost of Blue Industry Resources page.
Blueberries As Seen in the News*
Medical News Today (14.2M reach) ran an article on medical myths related to sugar, with one myth calling out avoiding fruit while dieting due to the sugar content. The piece debunks the myth by highlighting that fruit contains a range of important vitamins and minerals, and references a study that found that blueberries enhanced insulin sensitivity. The piece further highlights that the study was funded by USHBC.
Supermarket Perimeter (6K reach), Produce Blue Book (23K reach), The Packer (34K reach) and Perishable News (15K reach) ran articles on USHBC's Grab a Boost of Blue consumer marketing campaign launch. The coverage highlights the official launch of USHBC's comprehensive campaign, which focuses on six promotional power periods and is designed to motivate consumers to eat and enjoy more blueberries. Each piece also includes a quote from Kasey Cronquist.
* These articles are for sharing purposes only. Specific views and opinions expressed in news articles do not represent the views of the USHBC.