Topics in this issue of Behind the Blue: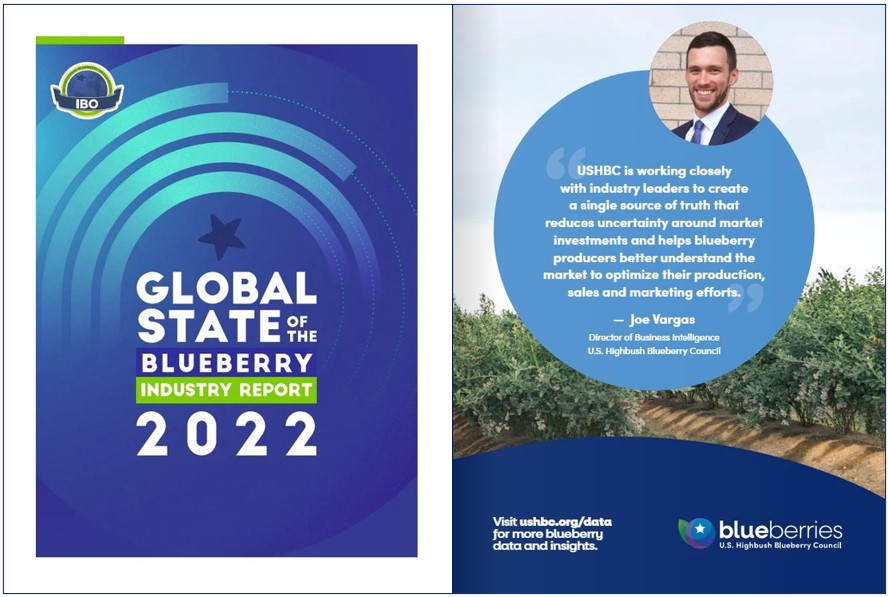 USHBC has contributed to the IBO Global State of the Blueberry Industry report. Based on data analytics and numerous interviews with experts from across the global blueberry supply chain, this in-depth report provides invaluable information on trends and new developments taking place in this fast-growing industry worldwide. Included in the 2022 report is a health research update; industry trends; planting and production data; figures and commentary on global highbush blueberries; and key growing regions.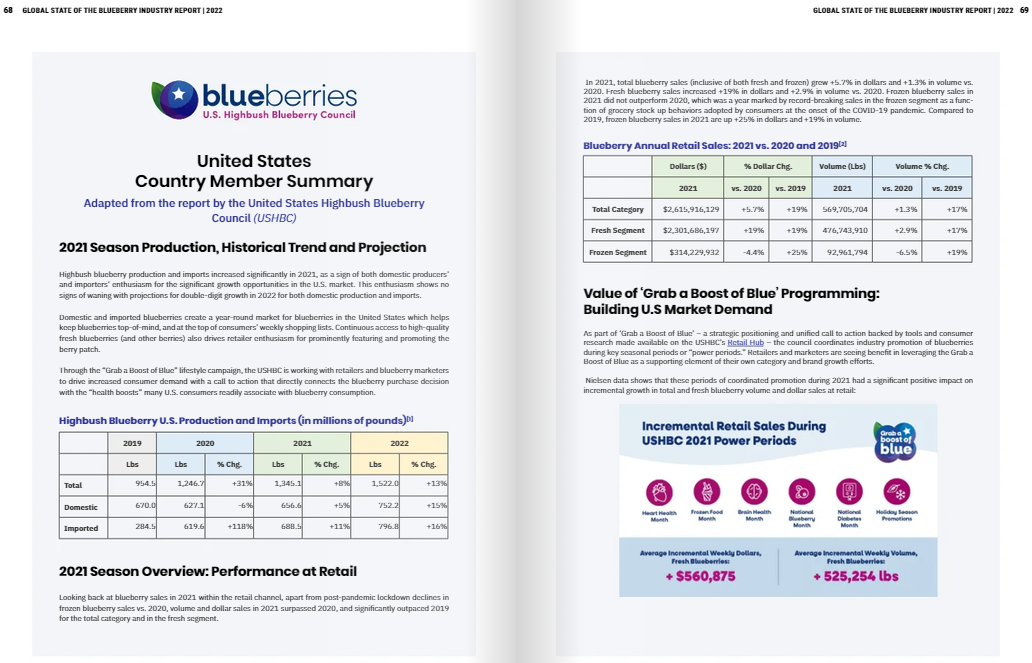 The IBO is a global organization that brings together leaders from around the blueberry world in all segments of the industry, including blueberry producers and marketers, affiliated business, social groups and governmental organizations worldwide.
USHBC's participation reflects our commitment to providing the blueberry industry with robust data and information to continue to grow the blueberry industry. For access to more global insights and actionable information from USHBC, visit the Data and Insights Center.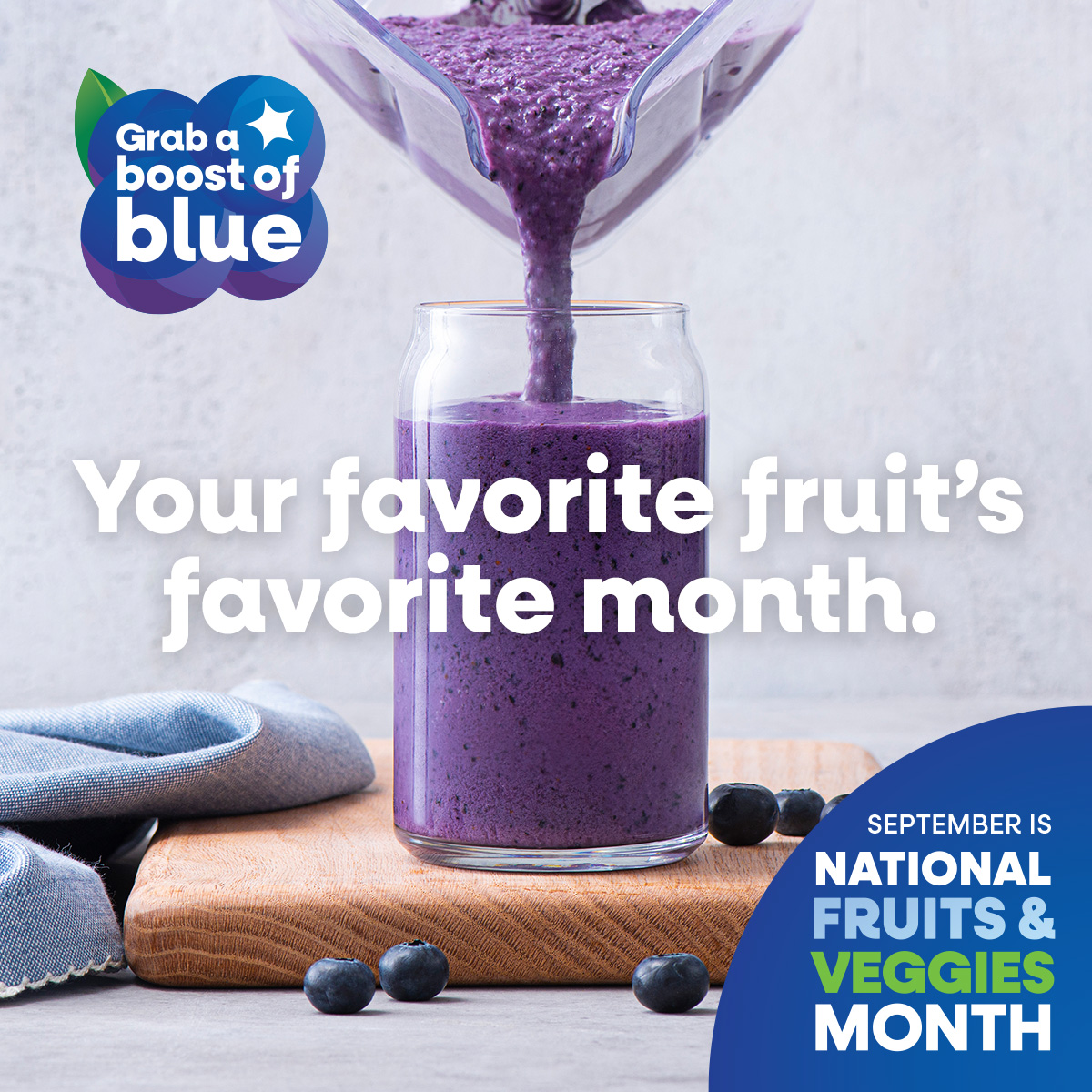 USHBC and the Produce for Better Health Foundation (PBH) are joining forces to encourage consumers to grab a boost of blue every day during September for National Fruits & Veggies Month (NFVM). Throughout the month-long campaign, USHBC is highlighting the role blueberries can play as part of an overall healthy diet and lifestyle with new recipes, nutrition information, research and more.
USHBC is activating its long-standing partnership with the PBH in September to commemorate PBH's fourth annual National Fruits & Veggies Month celebration and help elevate fruits and vegetables to a national priority. Throughout the month, USBHC is joining PBH in Celebrating the Roots of Our Food, aligning blueberry content with four key themes: make it easy, back to basics, fruit and veggie hacks, and fruit and veggie care.
The partnership includes an exclusive blueberry-focused content series across PBH's digital ecosystem, featuring recipes and a custom question on PBH's expert advice page. This content series will be enhanced by display ads in PBH's consumer e-newsletter, banner ads and a USHBC profile on fruitsandveggies.org. To complement these efforts, PBH Have A Plant® Ambassadors and Blue Crew members Manuel Villacorta and Cara Harbstreet also are posting social content about NFVM and blueberries. You can get involved by sharing NFVM-related content in September, whether in a social media post, in a consumer-facing newsletter or in other communication.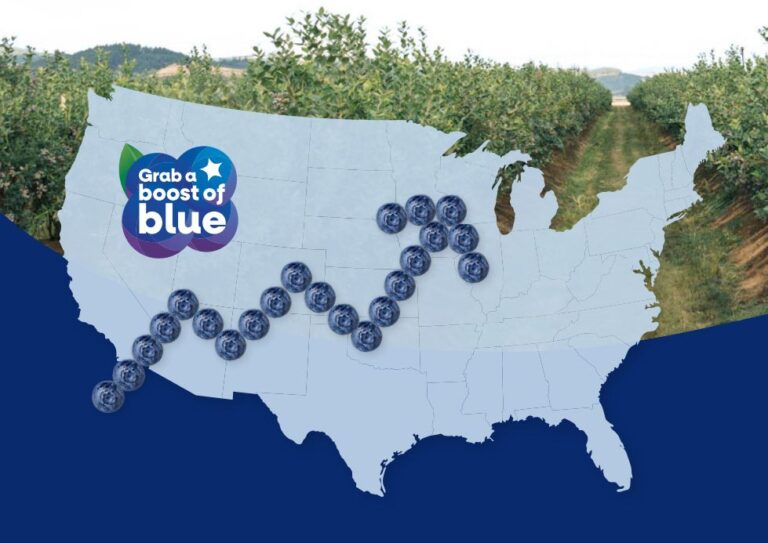 Joe Vargas, USHBC director of business intelligence, and the USHBC team are working closely with Bytecode IO and the United Blueberry Task Force to build an industry dashboard and deliver advanced data to the blueberry industry. With The Blueberry Summit now less than a month away, the industry reveal is just around the corner!
The project will include additional opportunities for industry stakeholders to get involved. At The Blueberry Summit, we'll launch the opportunity to have a seat at the table and be part of the effort moving forward. Visit us there to sign up and get involved.
Last week's podcast episode took a deep dive into this project and the data-driven future for the industry. Listen to the full episode to learn more!