Heart Health Month Resources to Promote Blueberries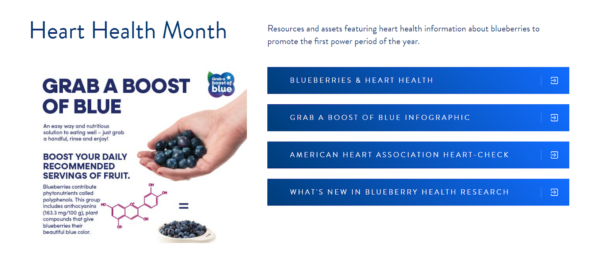 If you haven't yet, be sure to check out the resource toolkit for Grab a Boost of Blue, USHBC's new strategic positioning and call-to-action. The online toolkit features new resources, tools and advice to help you capitalize on our marketing plan with six "power periods" for building upon key buying times and seasonal trends – kicking off with Heart Health Month this February. Take a look at four informative resources to help you promote blueberries and their benefits for heart health in your channels next month:
Post-Harvest Handling Webinar Recording Now Available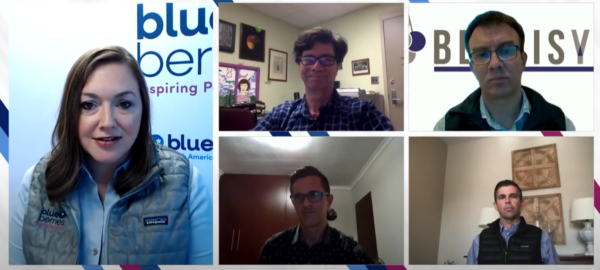 On Thursday, Jan. 14, USHBC hosted a webinar focused on advances in post-harvest handling and storage technologies designed to preserve shelf life within the supply chain. Alicia Adler, vice president of global business development for USHBC, was joined by Randy Beaudry, Ph.D., of Michigan State University, Deon Hugo and Alwyn van Jaarsveld from Tessara, and Chris Kampsen from the Veritiv Corporation.
Thanks to those who joined us for this important discussion about recent improvements in post-harvest technology available to fresh blueberry handlers! Missed the webinar? Watch the full recording here.
Relaunch of USHBC Monthly Blueberry Retail Sales ReportIn 2020, as part of our renewed commitment to delivering strategic value to the industry, USHBC published weekly reports summarizing blueberry retail sales performance. Recognizing the value of this data, USHBC has relaunched access to monthly summaries of blueberry and berry category retail sales performance. Here's the most recent report for Nielsen week ending Jan. 02, 2021.
Previous industry reactions to these reports were very positive, with members indicating that these reports effectively supplemented their own internal data, helping them understand the marketplace, and make better business decisions and more informed negotiations and plans.
You'll see that the report provides a high-level summary of:
Blueberry, berry category and produce category performance.
Overall dollar, unit and volume sales trends for frozen and fresh.
Trends by pack size.
Trends by Nielsen region.
Summaries of the preceding month's retail sales performance will be posted at the end of the second week of every month in 2021.
In Q1 2021, we'll launch USHBC's redesigned industry relations website that will include a range of information and tools useful to blueberry marketers and retailers. Once the new industry relations website goes live, these monthly reports will be included there.