USHBC Encourages Consumers to Celebrate Heart Health Month with a Boost of Blue(berries)
It's February, which means it's time to celebrate blueberries' heart healthy benefits for American Heart Month! The U.S. Highbush Blueberry Council is rolling out a month-long promotional campaign to encourage consumers to Grab a Boost of Blue by sharing recipes, nutritional information and other visual digital content with audiences to reinforce blueberries as a deliciously simple, snackable and healthy option. For more information about the campaign, view our press release. To download Heart Health Month resources for use on your own website, communications and social media channels, visit our Grab a Boost of Blue industry resource hub.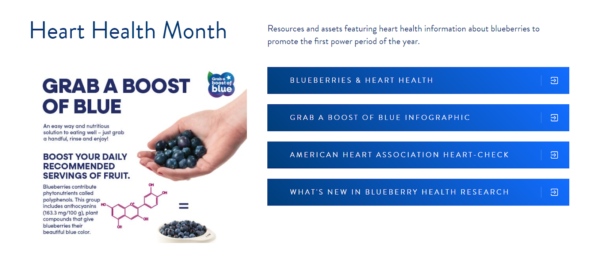 Our Blue Crew members, including health professional partners and program spokesperson, Maya Feller MS, RD, CDN, will contribute original content to the program, such as videos, blog posts, new blueberry recipes and social media content, as well as media articles and appearances.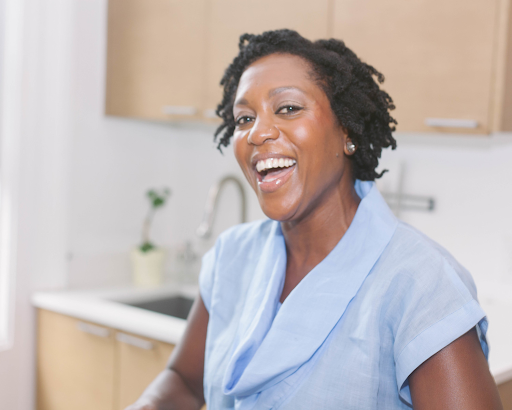 The February promotion is the first of six "power periods" that are part of Grab a Boost of Blue, a strategic positioning and call to action backed by new tools and consumer research for retailers. In connection with promotions throughout the year, Grab a Boost of Blue is designed to tap into consumers' passion for blueberries and increase consumption. Join our growing list of participating blueberry industry stakeholders by signing up here to become a licensee.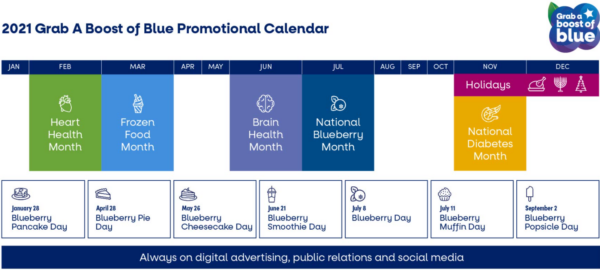 Are you planning to promote how blueberries are heart healthy this month? Let us know by tagging us on social media (Facebook/Instagram: @Blueberries; Twitter: @blueberry411; LinkedIn: U.S. Highbush Blueberry Council) or sharing with us at [email protected]. We'd love to promote your content in our future communications.
Inspiring Possibilities in Foodservice
We're excited to share the latest momentum from the foodservice program showcasing wins, in-progress chef discussions and other key updates focused on driving volume for blueberries at the foodservice level.
Menu placements have been secured with Grill Concepts Inc. (22 units) and Another Broken Egg Cafe (70+ units), and additional opportunities are progressing with Wendy's (5852 units), Tropical Smoothie Cafe (900 units), Aramark (500+ units), Twin Peaks (86 units) and Creative Dining Services (80+ units).
22 Blueberry Inspiration Kits were sent to high volume chefs following the first two chef roundtable sessions. These kits included samples of a variety of blueberry formats for the chefs to trial in their kitchens, including frozen, canned, dried and powdered. The kits also included the new Inspiring Possibilities foodservice collateral piece, which has already been met with unanimously positive feedback from Wendy's, Aramark, Dairy Queen and more.
The How Blueberries Deliver for the Restaurant of the Future video and presentation was shared with 450 operators at the 2020 Virtual Flavor Experience in December, where it was met with very high engagement and operator interest. In addition, on January 13, it was presented to another 60 chain chefs at the Global Culinary Innovators Association through their monthly chef webinar, and again, was extremely well received.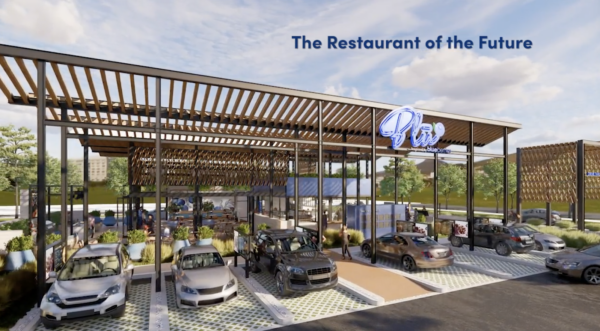 Complete the Industry Leader Survey Today
USHBC wants to know more about your perceptions and opinions of our organization, as well as the kinds of industry information you want to hear about. This input will not only ensure that your voice is heard by our board, it will also help us ensure we have programs that benefit you the most.
To begin the survey, please click on this link.
The survey is being fielded by Rockland Dutton Research & Consulting, an independent market research and consulting group based in Centreville, Maryland. Your answers are completely anonymous, confidential and will be combined with those of other respondents. The survey takes 7-10 minutes to complete.
We greatly appreciate you taking the time to share your thoughts with us.
Blueberries As Seen in the News*
MindBodyGreen (742K reach) ran an article on Blue Crew member Mary Ellen Phipps' new book. The piece features Phipps' Blueberry Cheesecake Overnight Oats recipe, which includes frozen blueberries.
The Packer (34K reach), Fresh Plaza (4K reach) and Perishable News (15K reach) ran articles on USHBC seeking nominees for regional member positions. The coverage highlights the nomination time frame, where to apply, the nomination process and what USHBC is looking for.
* These articles are for sharing purposes only. Specific views and opinions expressed in news articles do not represent the views of the USHBC.