Grab of Boost of Blue Sees Early Success, Usage in Online Retail Spaces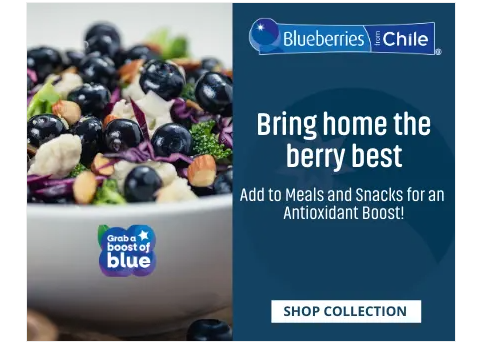 USHBC's new strategic positioning and call to action, Grab a Boost of Blue, coupled with smart promotions throughout the year, is designed to tap into consumers' passion for blueberries to inspire and motivate them to enjoy more of the fruit they love, in more ways and more often. While the new positioning is still in its early stages, the campaign is already seeing success in the online grocery space. 
Last week, the Chilean Blueberry Committee (CBC) launched a campaign using the Grab a Boost of Blue logo. The logo is being used in the Food Lion grocery chain's "To-Go" retail space to promote blueberries from Chile. This is just the first program using Grab a Boost of Blue assets that the CBC plans to implement this year.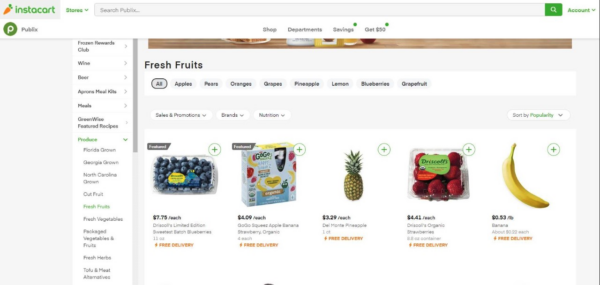 "The new logo's strong call to action works perfectly with our sales-driven retail programs," said Karen Brux, managing director of the Chilean Fresh Fruit Association. "With most communication now taking place online, we look forward to incorporating the 'Grab a Boost of Blue' messaging into retail web banner and digital ad campaigns, motivating shoppers to add blueberries to their shopping cart, whether online or in-store."
Additionally, USHBC launched a campaign in partnership with Instacart starting on January 2. In just a few weeks, attributed sales totaled $113,820.62, moving 21,138 units of blueberries, with a return on advertising spend rate of 15.9x.
If you're interested in using Grab a Boost of Blue in your own marketing campaigns, online resources, tools and advice are available in USHBC's online industry toolkit hub to help you capitalize on this new consumer promotion program and drive year-round sales. For your retailer partners, pass along our toolkit hub designed specifically for them on our retailer site here.
Register Now for a USHBC Virtual Town Hall for Your Region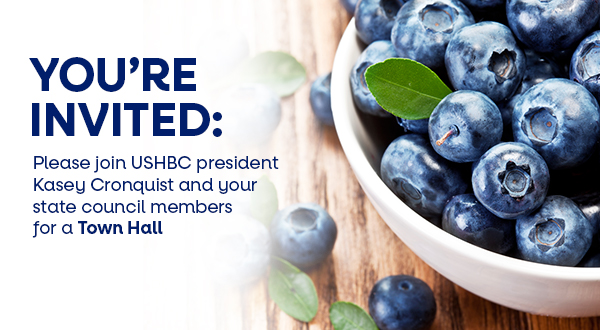 In case you missed the invitation from USHBC President Kasey Cronquist last Friday, we wanted to let you know that USHBC is hosting a series of town hall sessions for industry stakeholders in each major growing region in the U.S. and internationally. Each town hall will be a 45-minute open forum, with a group of no more than 15 people, to ensure conversation and give everyone an opportunity to ask questions and voice any concerns about USHBC and the blueberry industry. 
Your participation will help influence the changes needed to support and grow our industry. Listed below are dates for each state (international growing regions will be scheduled soon), with morning and afternoon options.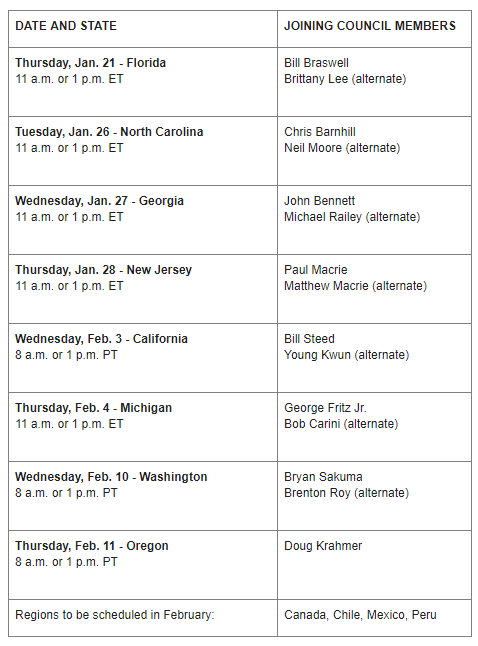 If you're interested in participating, please register now at this link.
20th Anniversary Awards Spotlight: John Shelford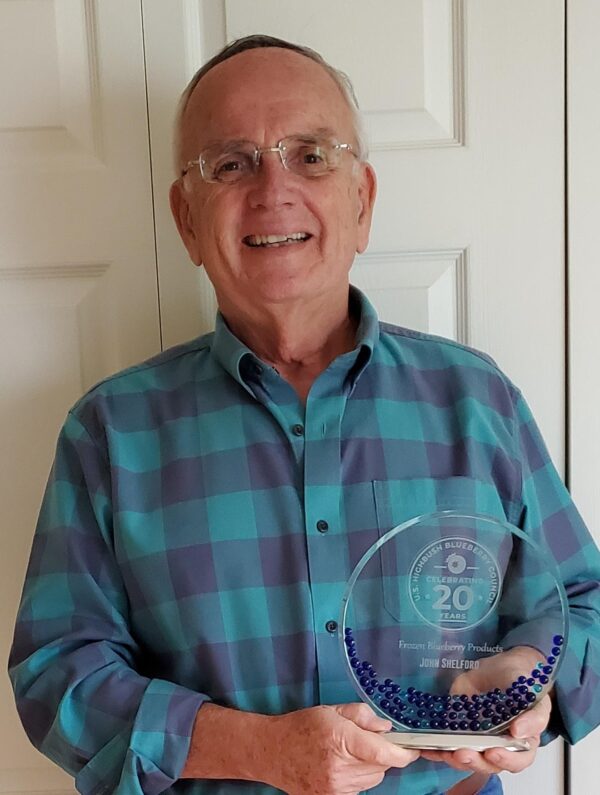 During the 2020 NABC/USHBC Virtual Conference & Expo, USHBC honored 11 pioneers whose work has helped the blueberry industry grow and flourish over the last two decades. One of those winners was John Shelford of Naturipe Farms who won in the Frozen Blueberry Products category.
John has spent more than four decades in the blueberry business. He has excelled in every aspect of the industry since joining Michigan Blueberry Growers Association in 1976 as assistant manager. He became general manager and vice president of the association in 1983. In the mid-1980s, he led the change to packing and selling frozen blueberries in lieu of raw process. He helped MBC understand the need for individually quick-frozen fruit in the marketplace, and engaged MBG in IQF fruit processing as far back as 1990.
What many would consider John's most significant achievement in his tenure with MBG was his role in the formation of Naturipe Farms – then called Global Berry Farms. John led the amazing growth of that company and helped create a sister company focused on frozen sales.
John continues as a strategic adviser to Naturipe and acts as a consultant in several other areas of the fruit industry, especially in analyzing and reporting on trends in frozen blueberry marketing and cold storage reporting. John served the USHBC as an importer member or alternate since its inception until 2010, and continues to serve as a member of the Promotion Committee.
"It has been an amazing journey since arriving in Michigan on the third Monday in April of 1976," John said during his acceptance speech. "At that time, the vast majority of consumers did not know or had ever tasted a blueberry…the blueberry industry has dramatically changed."
Congratulations again to John. See the full list of award winners here.