Grab a Boost of Blue Toolkit Hub Launches
USHBC's new strategic positioning and call to action, Grab a Boost of Blue, coupled with smart promotions throughout the year, is designed to tap into consumers' passion for blueberries to inspire and motivate them to enjoy more of the fruit they love, in more ways and more often!
What makes this new strategic positioning effective in garnering attention and increasing demand?
GRAB = Motivates a strong call to action (easy, versatile, durable, convenient).
A BOOST = Promotes energy, health, great taste.
OF BLUE = Captures the unique blue color that's a visual feast for the eyes and pops off the plate!
New online resources, tools and advice are now available in USHBC's online toolkit hub here to help you capitalize on this new consumer promotion program and drive year-round sales. Our marketing plan is packed with six "power periods" for building upon key buying times and seasonal trends – kicking off with Heart Health Month this February!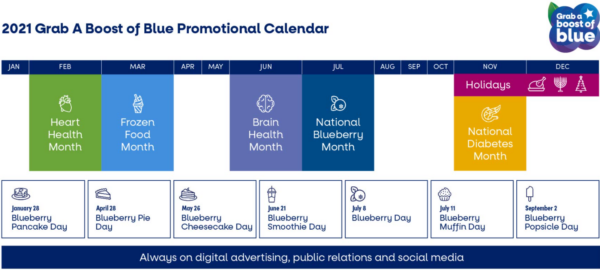 These new resources and assets will be used in advertising, point of sale, social media, public relations and packaging to point consumer attention to the healthy boost of deliciousness they get from a handful of blueberries. USHBC also launched a separate toolkit resource hub tailored to retailers, highlighting how Grab a Boost of Blue resonates with shoppers and that blueberries can drive the bottom line.
Join us in moving beyond creating awareness of this healthy bunch of blue delight to turning blueberry consumers into blueberry enthusiasts. Together, we'll inspire the world to experience, delight in and share the benefits of blueberries!

20th Anniversary Awards Spotlight: Tom Avinelis, Agriculture Capital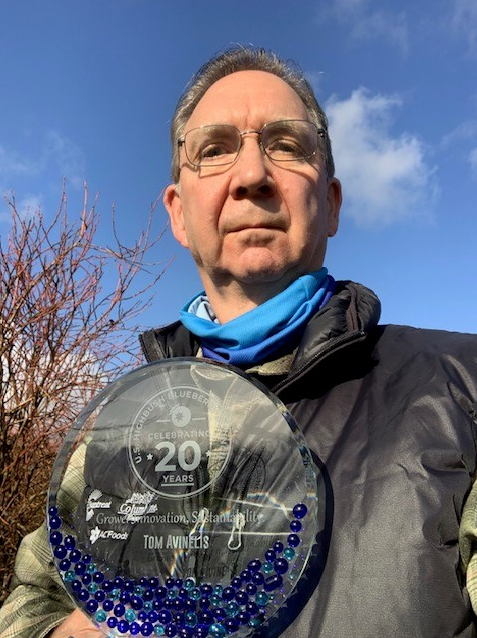 During this year's NABC/USHBC Virtual Conference & Expo, USHBC honored 11 pioneers whose work has helped the blueberry industry grow and flourish over the last two decades. One of those winners was Tom Avinelis, co-founder of Agriculture Capital, who was recognized for his work in Grower Innovation: Sustainability.
Sustainability and stewardship have been the hallmark of Tom's career, which has spanned four decades. Tom is the co-founder of Agriculture Capital where he works to bring institutional capital to build sustainable agriculture and longtime stewardship of the land. Agriculture Capital is one of the largest organic blueberry growers in the U.S. and operates blueberry packing and frozen processing facilities. At Agriculture Capital, Tom's focus on stewardship has had incredible cumulative environmental impact.
His company has focused on restoring biodiversity and increasing wild pollinator colonies, which has provided cost savings, increased crop volumes, created more resilient plants and fostered even more delightful fruit flavor and quality. In 1990, Tom co-founded AgriCare, a farm management services company, with his wife, Karen, and went on to spend two decades providing professional farm management services with a focus on stewardship of the land in blueberries, tree nuts, table grapes and citrus. Tom was also CEO of Homegrown Farms, helping the organic-focused marketing company grow into one of the largest organic produce marketing firms in the United States in blueberries, citrus and stone fruit. Tom has also been a vocal advocate for blueberry growers and has worked tirelessly to bring growers together to create a stronger industry.
"I am truly honored and humbled by this award and very thankful for the ongoing sustainable efforts of USHBC and NABC, for the benefit of all in the blueberry industry," Tom said during his award acceptance remarks. "The heart and core of what we have always done has been about regeneration, building farms that are healthier today and for tomorrow's generations."
Congratulations once again to Tom. See the full list of award winners here.

Happy Holidays from USHBC!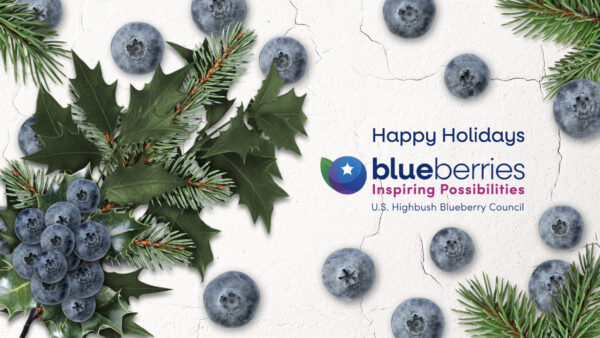 We'll be back with Behind the Blue the first week in January, and look forward to announcing several exciting new upcoming initiatives to kickoff the year. In the meantime, we hope you and your family have a wonderful holiday and healthy end to the year.

Blueberries As Seen in the News*
Fresh Plaza (47K reach) ran an article on the "Year overview 2020: October." The piece highlights various tropical and citrus commodities that were predominant in the headlines in October, and calls out USHBC for discussing data mining that could be used to sell more blueberries.
* These articles are for sharing purposes only. Specific views and opinions expressed in news articles do not represent the views of the USHBC.