The Blueberry Method is Award Winning!
The Blueberry Method campaign kicked off in Spring 2020, focusing on one ultimate goal: drive demand and volume for blueberries. Featuring the humorous Dr. Barry Azul and his simple, yet effective, advice to "buy, eat and enjoy blueberries," The Blueberry Method ad won a Silver W³ award in the "Brand Entertainment – Short-Form Video" category.
The prestigious W³ Awards spotlight creative excellence on the web, and recognize marketing professionals behind award-winning websites, video, marketing, mobile, social and podcasts. The W³ Awards program is highly competitive and is sanctioned and judged by the Academy of Interactive and Visual Arts, an invitation-only body consisting of top-tier professionals from a "Who's Who" of acclaimed media, advertising and marketing firms.
The video ads featuring Dr. Barry Azul and the Blueberry Method campaign targeted overwhelmed young families and fun-loving freshness fans, inspiring them to keep blueberries top of mind wherever they watch or engage with content, news or entertainment (YouTube, Facebook and smart TV apps like Hulu, Food Network, HGTV and more). To date, these ads have been viewed in completion more than 5 million times, and resulted in more than 2 million engagements (clicks, likes and shares) performing higher than industry benchmarks for view-through and click-through rates.

Virtual Chef Roundtable Features Blueberries in Global Cuisine
USHBC's foodservice program, led by partner agency Sterling Rice Group's Culinary Council, recently hosted a Virtual Chef Roundtable with Flavor & The Menu magazine themed around global cuisine applications for blueberries. Participating were 10 chefs representing high-volume operations from all over the country, including On The Border; Outback Steakhouse; Carrabba's Italian Grill; Bonefish Grill; Levy Restaurant Group; California State University, Sonoma; Google cafes and several "contract feeders" who oversee the foodservice for hundreds of hospitals, businesses, schools and more.
USHBC presented several demonstrations that showcased versatile global applications using a variety of blueberry formats, including Blueberry Mediterranean Meatballs using dried blueberries and blueberry juice, an Israeli Couscous Salad with Pickled Blueberries using fresh and frozen and canned blueberries, and a Blueberry Miso Sauce using frozen blueberries.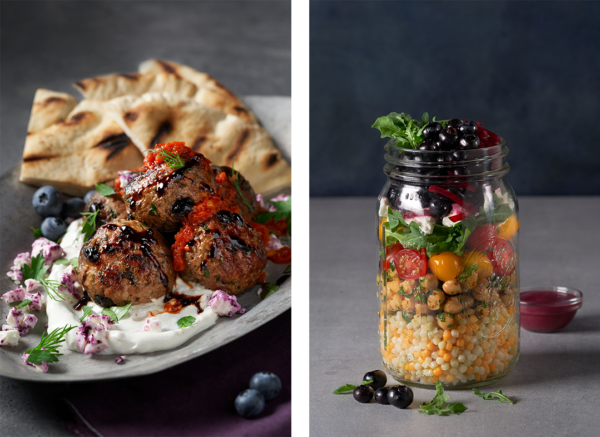 There was active engagement and conversation from the chefs during the roundtable session as they discussed blueberries as a notable solution to ease their patrons into more adventurous cuisines, while keeping them familiar and approachable. Several chefs reinforced that now more than ever, their patrons are demanding health-forward foods, and blueberries deliver.
All participating chefs are being sent a Blueberry Inspiration Kit that features the recipes that were demonstrated, plus samples of all blueberry formats so they can experiment in their own kitchens with applications that are tailored to their menus.
More than 4,850 units were represented by the chefs in attendance, and several more chefs who couldn't attend the session are also interested in learning more about how blueberries can increase value in their operations.

USHBC and the Return on Your Investment
During the NABC/USHBC's Virtual Conference & Expo's tech and the future session, Harry M. Kaiser, Ph.D., of Cornell University talked about the value USHBC has been bringing to growers in recent years. 
Kaiser noted that U.S. per capita blueberry consumption has steadily increased since 1970, reaching a peak of approximately 45 ounces per person per year in 2016. His study quantified the relationship between the promotion efforts of the USHBC and domestic demand for blueberries, based on the model of the economic theory of demand.
Kaiser found that if you increased the New Jersey average grower price by 10%, holding constant the other demand drivers, blueberry demand would decrease by 2%. If you increase the USHBC marketing budget by 10%, holding all else constant, we would expect blueberry demand to increase by 1%.
From 2014 to 2018, USHBC's promotion activities increased total blueberry demand by 571 million pounds in total, or 114.2 million pounds per year. This represents an annual average increase in blueberry consumption of 13.5%. Hence, as Kaiser notes, USHBC has had a positive effect on domestic blueberry demand. A 1% increase in promotion expenditures by USHBC on average increased the grower price by almost 0.6 cents/lb.
View a recording of this session here (you'll need to log in or register to watch).
And in case you missed it, all our sessions are now available on BlueberryEvents.org. Just log in or register to check out the insightful content from the event for free.