Blueberries Star in Top Foodservice Magazine Flavor & The Menu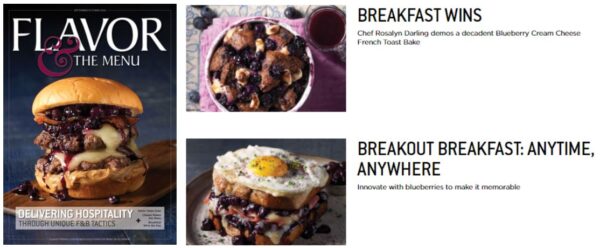 While it's been an especially challenging year for the foodservice channel, the U.S. Highbush Blueberry Council's (USHBC) foodservice program has worked to ensure blueberries remain top of mind for chefs and foodservice operators who are looking to add interest to their menus. This month, blueberries were the star in a striking photo on the cover of a top foodservice trade publication, Flavor & The Menu (120K readers).
The "PB&B" (peanut butter and blueberries) burger is a craveable concoction created to inspire foodservice operators to feature blueberries to draw in more customers by "giving them the comfort, intrigue and flavor they seek," and the foodservice program is leveraging this recipe and others to get blueberries on more menus. Read the full cover story article here, along with more blueberry content on the magazine's website.

New Marketing Boost Feature in BTB and Podcast
Each week's Behind the Blue newsletter and "Business of Blueberries" podcast will have a new feature, the Marketing Boost! USHBC and NABC's new vice president of marketing and communications, Jennifer Sparks, will be sharing general trends, blueberry promotion news and specific USHBC tools and resources that are available – all to help you generate awareness of the benefits of blueberries and increase demand to boost your business.
Today's issue is focused on authenticity. Think about the brands you gravitate to and the social media accounts or digital communications that garner your attention. What makes them stand out from the noise? Their ability to resonate with you, to speak your language, to meet you where you are.
In today's ever-changing and increasingly cluttered communications landscape, brands need to find ways to capture customer and consumer attention in a way that breaks through the clutter. So whether you're a grower reaching out to a supplier, a supplier reaching out to a retailer, a retailer or anyone in the blueberry industry trying to capture the attention of the consumer, your communications need to speak to your audiences in ways that resonate – or, in other words, show them that you know them.
A key point to remember in any promotion or communication is that the expectation of today's customer is that they will engage with a brand or company that makes it about them.
In fact, 80% of customers say experience is as important as the brand's offerings, and 72% of customers share a positive experience with more than six people a week. That's powerful!
When you can give the customer a more personalized experience, you make more meaningful connections. So as you go forward in your communications this week – whether to employees, suppliers, stakeholders or customers, communicate from the standpoint of: What's in it for them. You just might start to see a difference.
Want to be on the cusp of the latest news, trends and everything blueberries? Subscribe to The "Business of Blueberries" podcast and you'll never miss a beat.

What's New in Blueberry Genetics

During the NABC/USHBC's Virtual Conference & Expo's blueberry genetics and health research session, Cort Brazelton of Fall Creek Farm & Nursery and Michael Dossett, Ph.D., of BC Berry Cultivar Development Inc. walked through the latest innovations in blueberry genetic research.
Before diving in, Brazelton and Dossett paid tribute to the late Chad Finn, Ph.D., of the USDA Horticultural Crops Research unit in Corvallis, Oregon, who the blueberry industry unexpectedly lost last December. Finn developed many of the berry varieties commonly used in the industry throughout the PNW, notes the USDA/Oregon State University Berry Breeding Program. Dossett, his friend, gave a presentation in his stead on the latest in blueberry genetics.
Dossett detailed new blueberry varieties, both low- or no-chill varieties and mid- to high-chill varieties, submitted by University of Florida, Disrcoll's, Fall Creek, Berry Blue, USDA-ARS New Jersey and USDA-ARS Oregon. He noted several trends:
There is tremendous room for improvement at all chill-level varieties, and the industry continues to see improvement from blueberry breeders.
For quality, new breeds are firm, are larger in size and have a big, sweet flavor.
Many breeds are made to maximize yield, decrease diseases and increase labor savings. Growers are being offered an array of choices in a competitive environment. However, these changes come with challenges, including increased bruising and inconsistency in ripening times.
View a recording of this session here (you'll need to log in or register to watch). And in case you missed it, all our sessions are now available on BlueberryEvents.org. Just log in or register to check out the insightful content from the event for free.

Blueberries as Seen in the News
Supermarket Perimeter (6K readers), Michigan Ag Today, Fruit Growers News (16K readers), The Packer (34K readers), Perishable News (15K readers) and Fresh Plaza (4K readers) ran articles on USHBC/NABC's announcement of appointing Jennifer Sparks as the new vice president of marketing and communications, and Adam Winland as the new financial controller.