Topics in this issue of Behind the Blue:
BerrySmarts Fresh Insights Platform Launches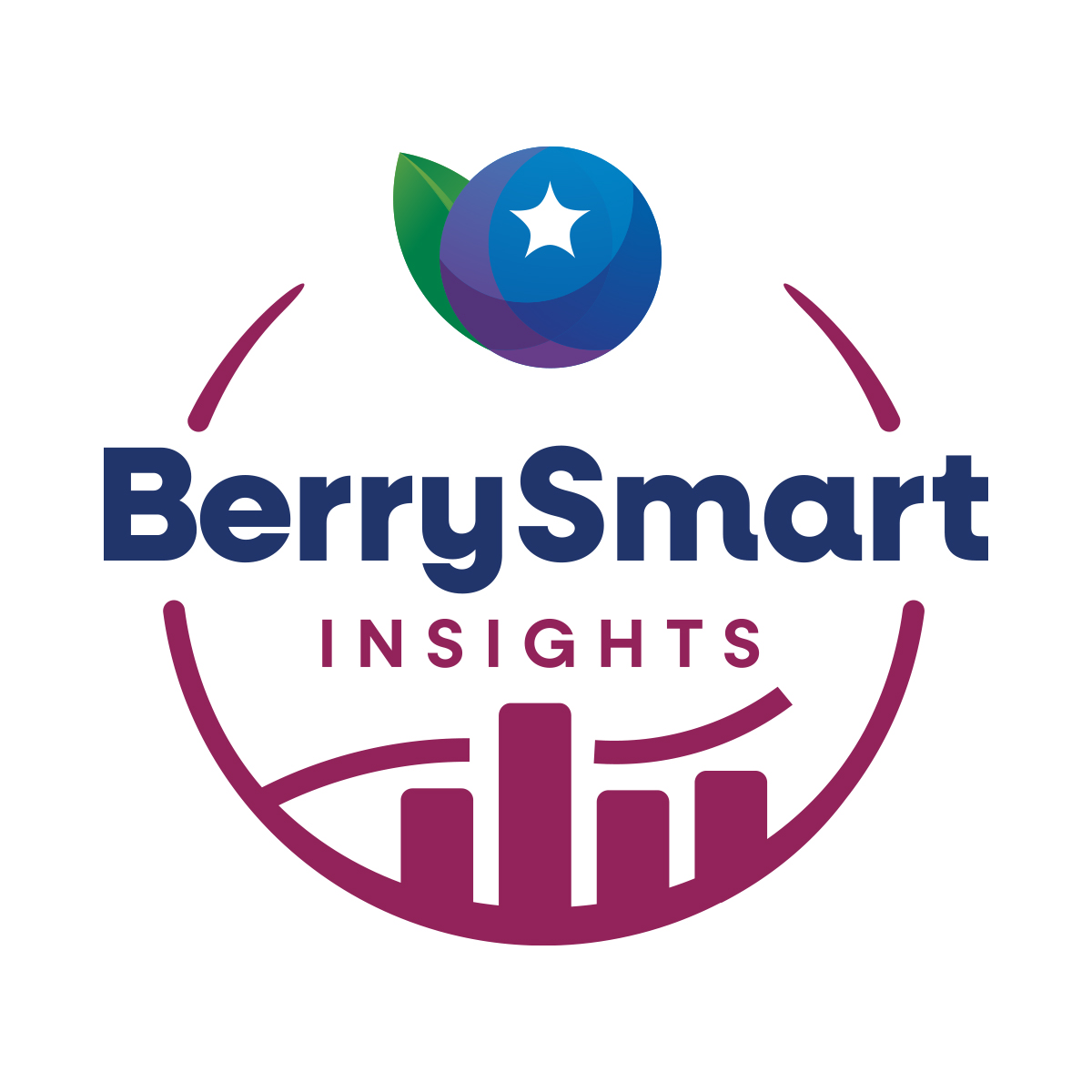 This week was a big week for the council! We're ecstatic and proud to launch the BerrySmart Fresh Insights Platform. This launch represents years of development and the fruition of a vision from a single key strategy in the USHBC's 2021-2025 strategic plan. As a part of our Industry Services pillar, the launch of the BerrySmart Fresh Insights Platform represents USHBC's effort to:
"Develop a voluntary production and historical price database exclusive to those who participate that more accurately measures production, inventory and pricing, with a weekly report on supply, demand, inventory and shipments."
This week's launch begins with seven pioneering companies, but like the other data platforms that have gone before blueberries, we're confident this program will continue to drive participation, business intelligence and industry growth. Thank you to the following companies for their leadership, support and participation in this groundbreaking project:
Berry Fresh
California Giant Berry Farms
Driscoll's
Family Tree Farms
H&A Farms
North Bay Produce
Wish Farms
Plus, Agrovision, Camposol and Giddings are transitioning their data systems to align with the BerrySmart Fresh Insights Platform.
The platform would not be where it is without the support of the NABC's MOU signatories who prioritized their support for the USHBC's data initiative. In addition to this week's new data platform announcement, these additional resources have helped supercharge our ability to deliver a world-class data platform for our industry's future success.
Under Joe Vargas' leadership, the BerrySmart Fresh Insights Platform can revolutionize how our industry sees itself, leverages data and drives profitability. As our director of business intelligence, Vargas has worked hard with our MOU signatories and others to prepare for this new program launch for the fresh market. A similar platform for the processed market is also underway.
If you'd like to learn more, are interested in participating or have questions, please reach out to Vargas, aka "Data Joe," at [email protected]
Blueberry Industry Leadership Program Travels to Mexico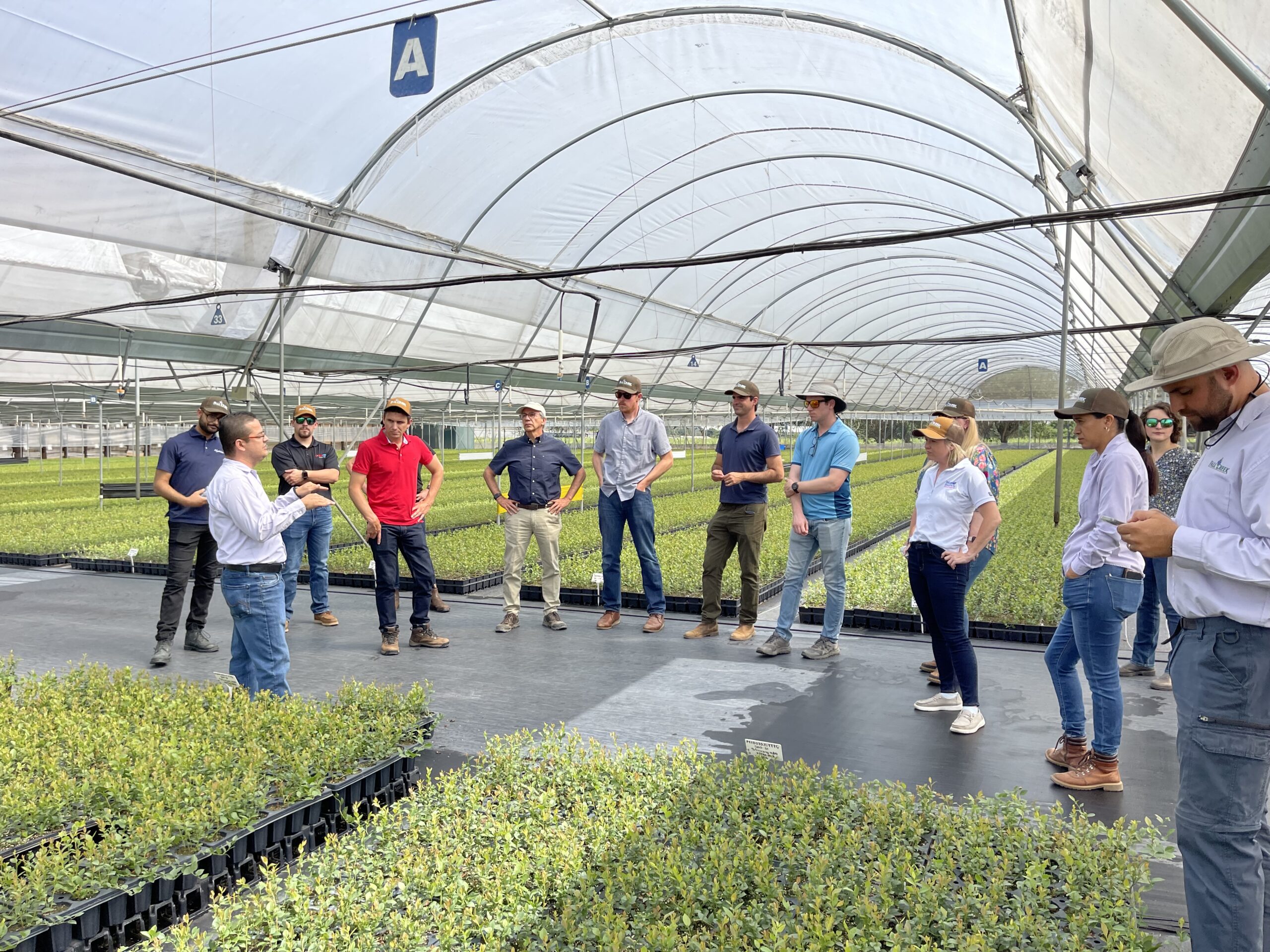 The inaugural class of the Blueberry Industry Leadership Program traveled to Guadalajara, Mexico, this week for its fourth class trip. Launched in March 2021, the program is designed to elevate up-and-coming leaders in the blueberry industry by providing in-depth training, industry education and connection to other ag leaders across the supply chain.
This week's class continued to build upon the program's hands-on curriculum with a visit to Fall Creek's nursery, including walking tours of the nursery's propagation area, production area, demo plot and berry fields. Working with Aneberries, the class will spend its final day visiting Bloom Farms where participants will meet owner Guillermo Romo and experience the farm's comprehensive propagation and production facilities, and no- and low-chill trial site. A special thank you to Fall Creek, Aneberries and Bloom Farms for hosting our program!
Do you know a next-gen leader in the blueberry industry? Applications for the second class of the Blueberry Industry Leadership Program are now open! The best candidates for the Blueberry Industry Leadership Program are passionate individuals seeking an active role in leading the next era of growth for blueberries. Growers (domestic and international), processors, handlers, exporters and buyers are eligible to apply. Visit our website or reach out to Amanda Griffin, USHBC vice president of engagement and education at [email protected], for details on the program. Applications are due June 16.
Passionate, Focused and Energized: USHBC Team Continues Vision of Empowering the Industry to Make Blueberries the World's Favorite Fruit!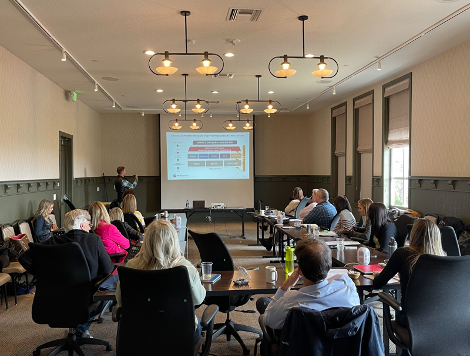 The USHBC team came together last week for three days of strategy, measurement and evaluation alignment, leadership training and team building as we work toward our vision of empowering the industry to make blueberries the world's favorite fruit. How will we accomplish this vision? Our approach is centered around a measurement framework that prioritizes results, not activity. This framework is used to measure and evaluate program goals like doubling blueberry exports to growing market opportunities (That's a lot of blueberries!)
We couldn't dream of accomplishing goals like this without USHBC's talented and passionate team members. In fact, as the industry grows, so has our team – allowing us to expand our internal capabilities and focus on inspiring possibilities for the future of the blueberry industry. Stay tuned to hear more about our team's work to drive demand for blueberries!
Thank you for your part in the collective effort to advance the blueberry industry – and don't forget to subscribe to our award-winning podcast!