Topics in this issue of Behind the Blue:
Do you know an up-and-coming leader in the blueberry industry? Applications for the second class of the Blueberry Industry Leadership Program open next Monday, May 1!
The program, launched in March 2022, is designed to elevate future leaders in the blueberry industry by providing in-depth training, industry education and connection to other passionate blueberry professionals across the supply chain. Professional development within the industry is a priority as members of the blueberry industry work together to make blueberries the No. 1 berry in sales volume and premium value.
The best candidates for the Blueberry Industry Leadership Program are passionate individuals who want to have an active role in leading the next era of growth for blueberries. Growers (domestic and international), processors, handlers, exporters and buyers are eligible to apply. Visit our website or reach out to Amanda Griffin, USHBC vice president of engagement and education, for more details on the program.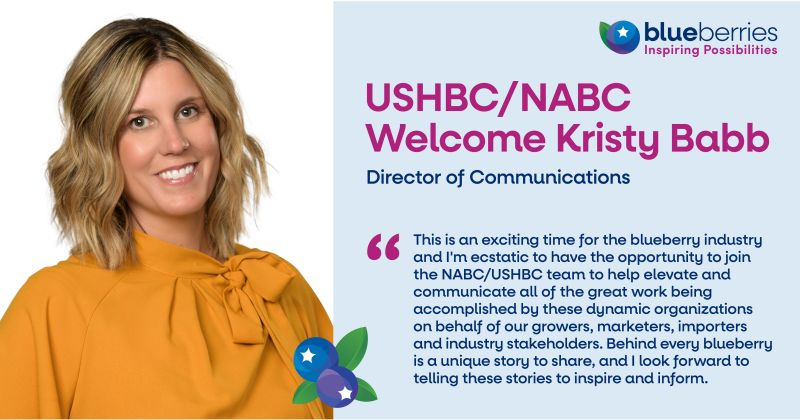 The USHBC team is growing! To elevate our industry engagement initiatives and mission to make blueberries the world's favorite fruit, we're excited to welcome our newest team member, Kristy Babb, as the council's new director of communications. 
Babb is a storyteller at heart and will play a key role in USHBC's mission to inspire and inform consumers, the industry overall and key stakeholders about the amazing health and lifestyle benefits of blueberries as part of our daily lives.
For questions or to give a warm welcome, you can reach Babb at [email protected], and read more in this press release.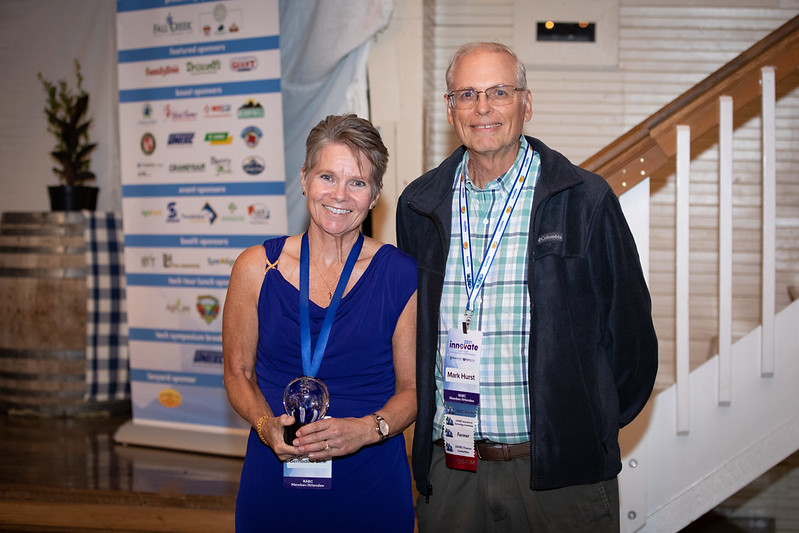 USHBC mourns the recent passing of our friend and industry leader Bernadine Strik, Ph.D. A veteran professor of horticulture and a berry crop specialist and researcher at Oregon State University (OSU), Strik led ground-breaking research that transformed the blueberry industry, improving yield and quality, machine harvest efficiency, pruning, optimization of production systems, plant nutrition and organic production systems in all berry crops.
She published over 240 scientific papers and was an accomplished author. In addition to her academic research, she operated a berry crop consulting business that aided growers and companies internationally and became known as "blueberry school."

Professional accolades aside, Strik was a benevolent, generous bright light to the blueberry industry and all who knew her. "Our industry has lost a great leader, mentor and friend," shared Kasey Cronquist, president of USHBC and NABC. "Bernadine has made an indelible mark on what the blueberry industry is today, and her legacy of innovation, research and passion will impact generations of blueberry growers to come."

In addition to being receiving the North American Blueberry Council's (NABC) Duke Galletta Award for excellence in horticultural research, Strik was elected a Fellow of the American Society for Horticultural Science (2007) and the International Society for Horticultural Science (2021), their highest honors, and received the OSU Alumni Association Distinguished Professor Award (2014) and the Chad Finn Ambassador Award from the American Pomological Society (2021). She was a true legend and champion of the blueberry industry, and she will be greatly missed.
April 28 is one of the best days on the calendar – It's National Blueberry Pie Day! To celebrate, USHBC has developed an engaging video for your use in promotions, and a library of recipes to keep blueberry fans inspired!
Blueberry pies are an iconic treat – one that many people associate with spring and summer. But blueberry fans know you can break out a blueberry pie recipe any time, for any occasion. With fresh and frozen blueberries available year-round, any day can be Blueberry Pie Day. Just like blueberries themselves, a delicious blueberry pie is always in season!
We've got easy blueberry pie recipes to save you time, recipes for blueberry pies featuring seasonal flavors, and even trendy air fryer pie recipes to leverage everyone's favorite countertop appliance. In fact, we've compiled a list with our top 10 favorites to help celebrate this fun blueberry day. For more marketing and promotion materials, check out our turnkey content page.