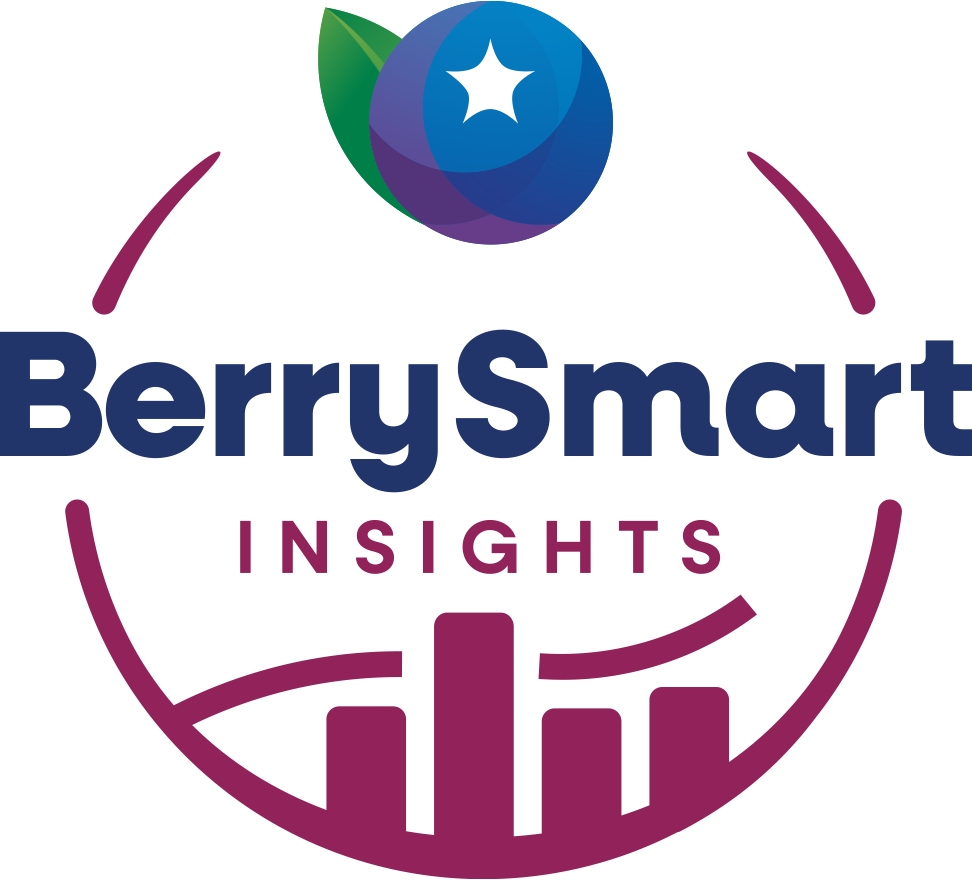 Global Information → Actionable Insights → Relevant Data
Sign up to get these insights directly in your inbox
You have a business to run, and the best business decisions are data-driven. At USHBC, we have access to blueberry production and market information all around the world. We help convert that information to relevant data points and actionable insights for your business.
Grocery Retail Sales Reports
Take a deep dive into the berry and blueberry category with volume and pricing data and trends.
Nielsen Monthly Retail Sales Reports
---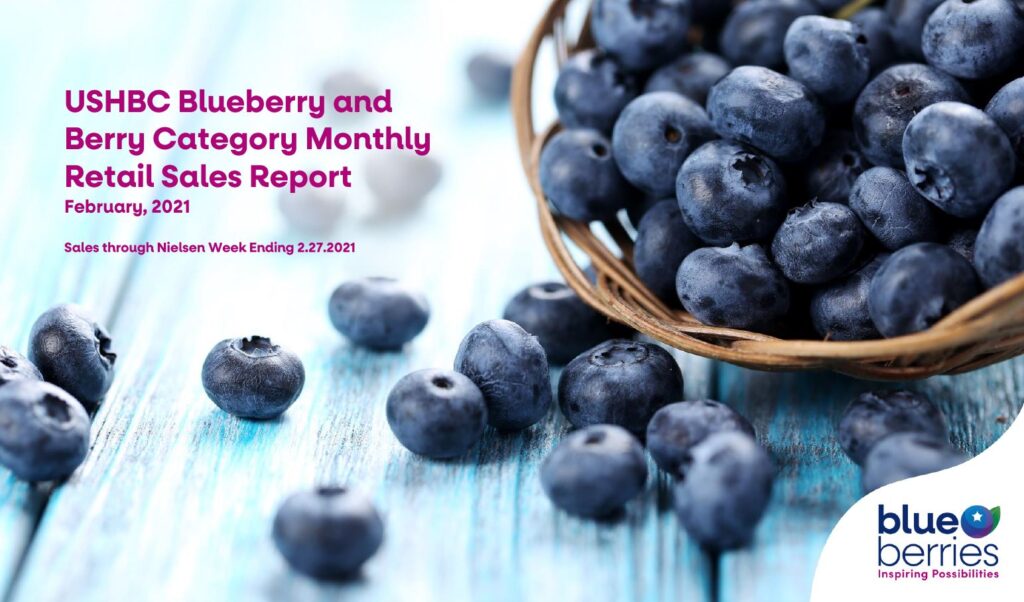 Nielsen retail sales data measures U.S. consumer blueberry and competitive berry purchases on a regular basis.
Quarterly Retail Reports
---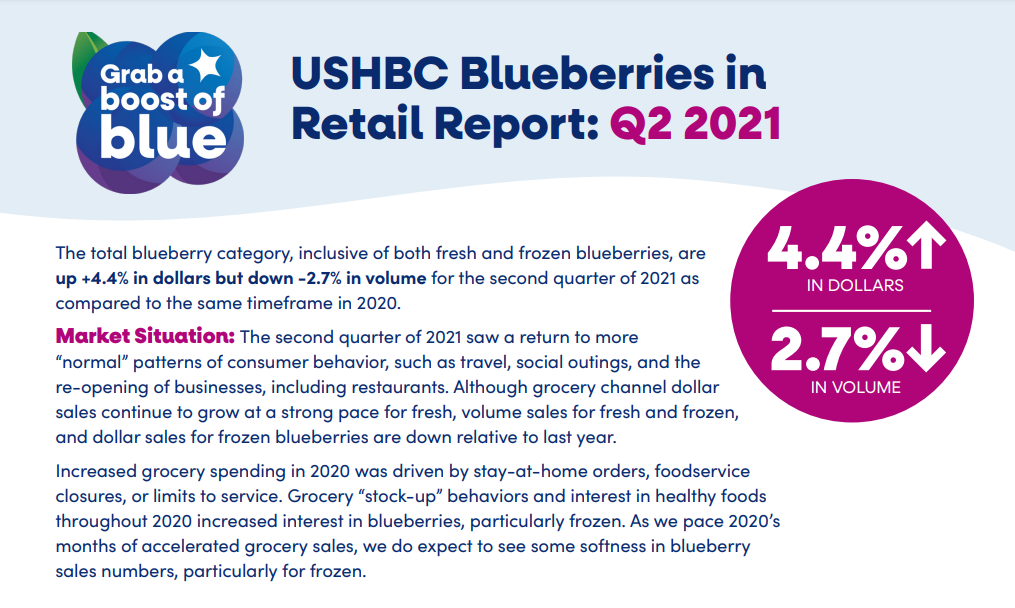 Comprehensive quarterly reports on the retail volume sales of blueberries, covering both fresh and frozen segments in 2021 and 2022.
Blueberry Industry Economic Impact Study
The blueberry industry is responsible for creating and sustaining more than 44,535 full-time equivalent jobs each year and generating $4.7 billion in total economic impact. The comprehensive findings include both national and state-specific data.
National Economic Impact Study
---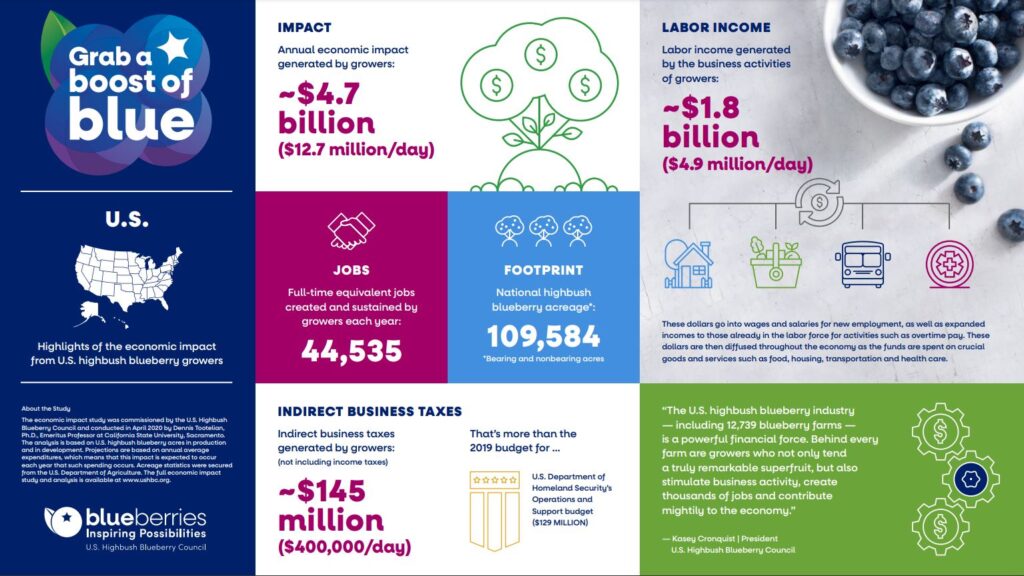 The work of the blueberry industry contributes significantly to the U.S. national economy in many ways: labor income, number of jobs, acreage footprint and more.
State-Level Economic Impact Data
---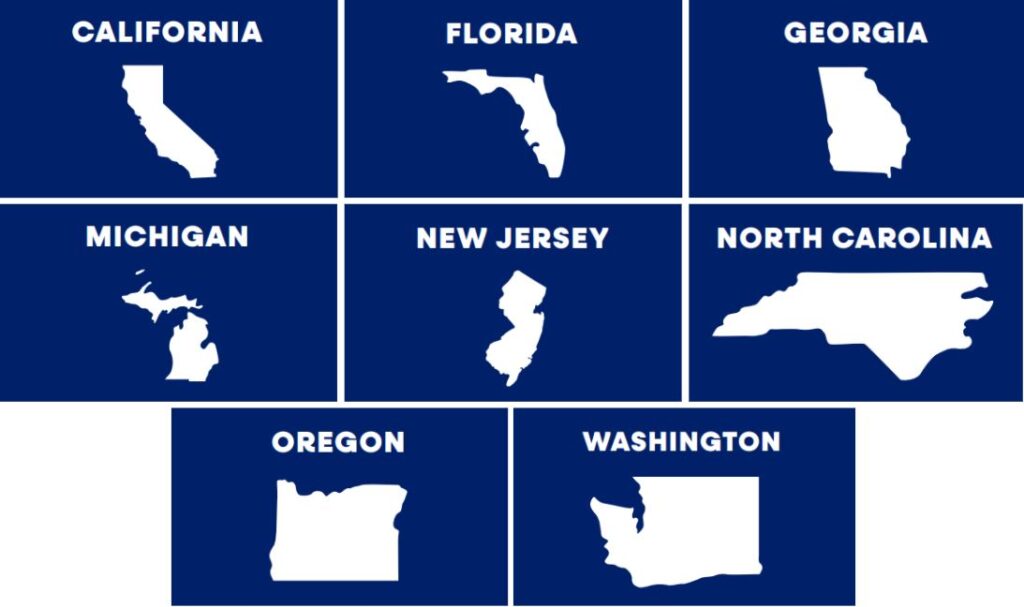 State-level data is available for the top U.S. blueberry growing regions: California, Florida, Georgia, Michigan, New Jersey, North Carolina, Oregon and Washington.
USHBC Impact Reports
Research demonstrating the value of USHBC and our efforts that drive demand for blueberries worldwide.
USHBC Program Impact Report
---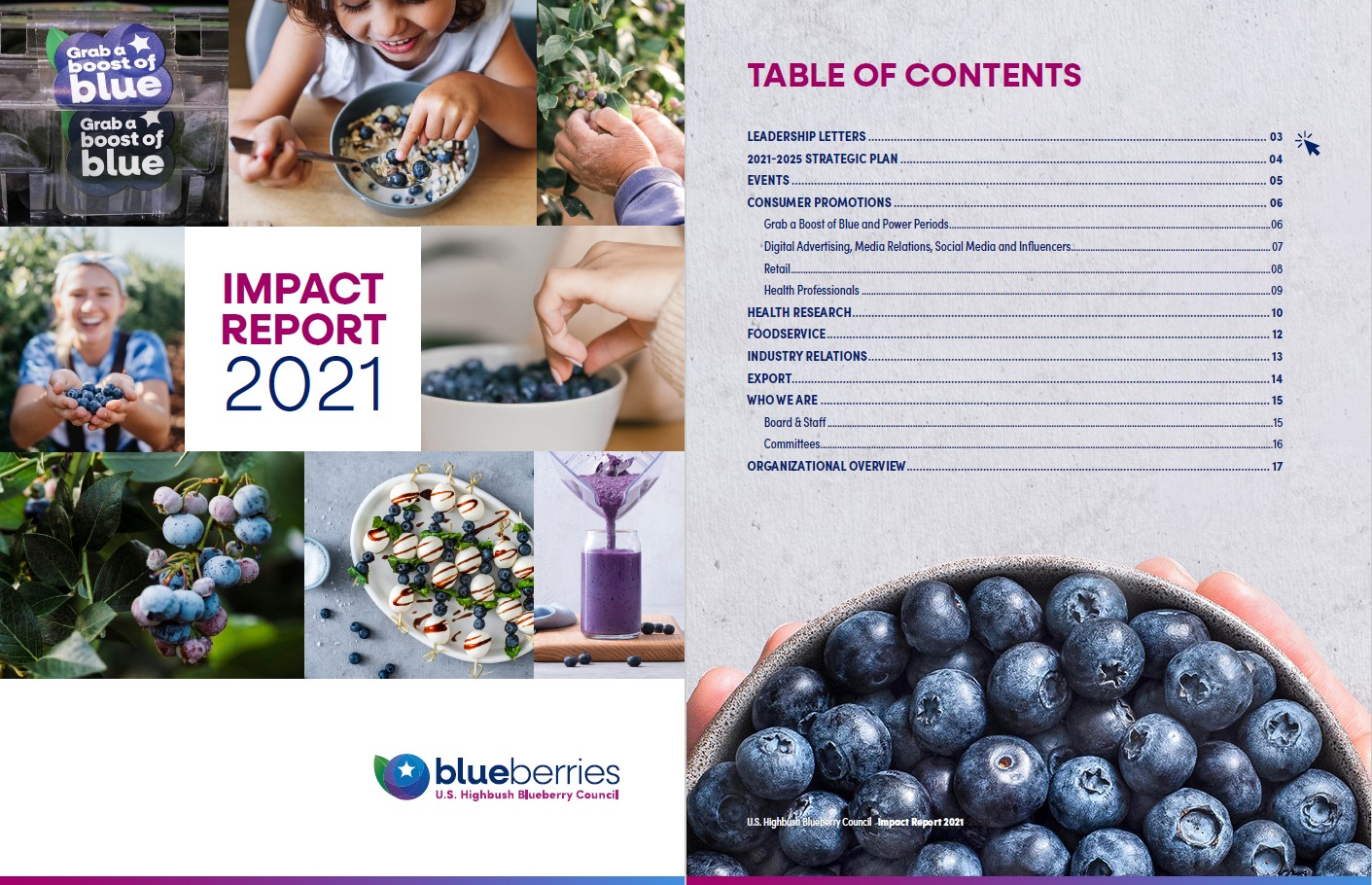 This comprehensive resource details USHBC's programs over the past few years on driving blueberry demand and domestic household penetration.
Economic Analysis of USHBC Value
---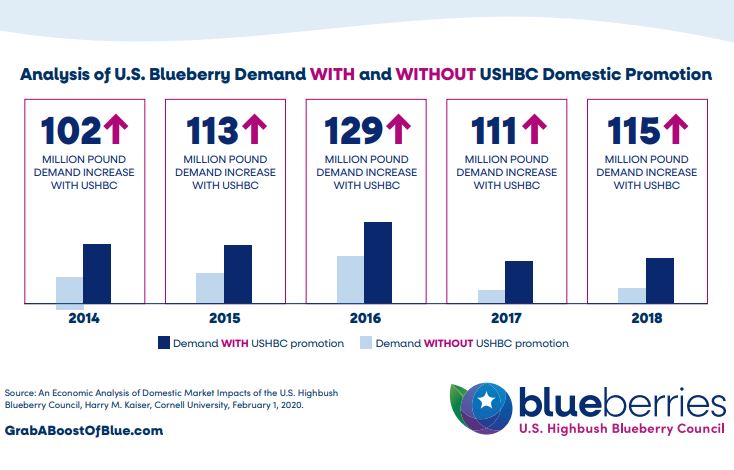 An independent study, conducted by Harry M. Kaiser of Cornell University, evaluated domestic market impacts of the USHBC's promotions programs.

Why USHBC Matters to the Future of the Industry
---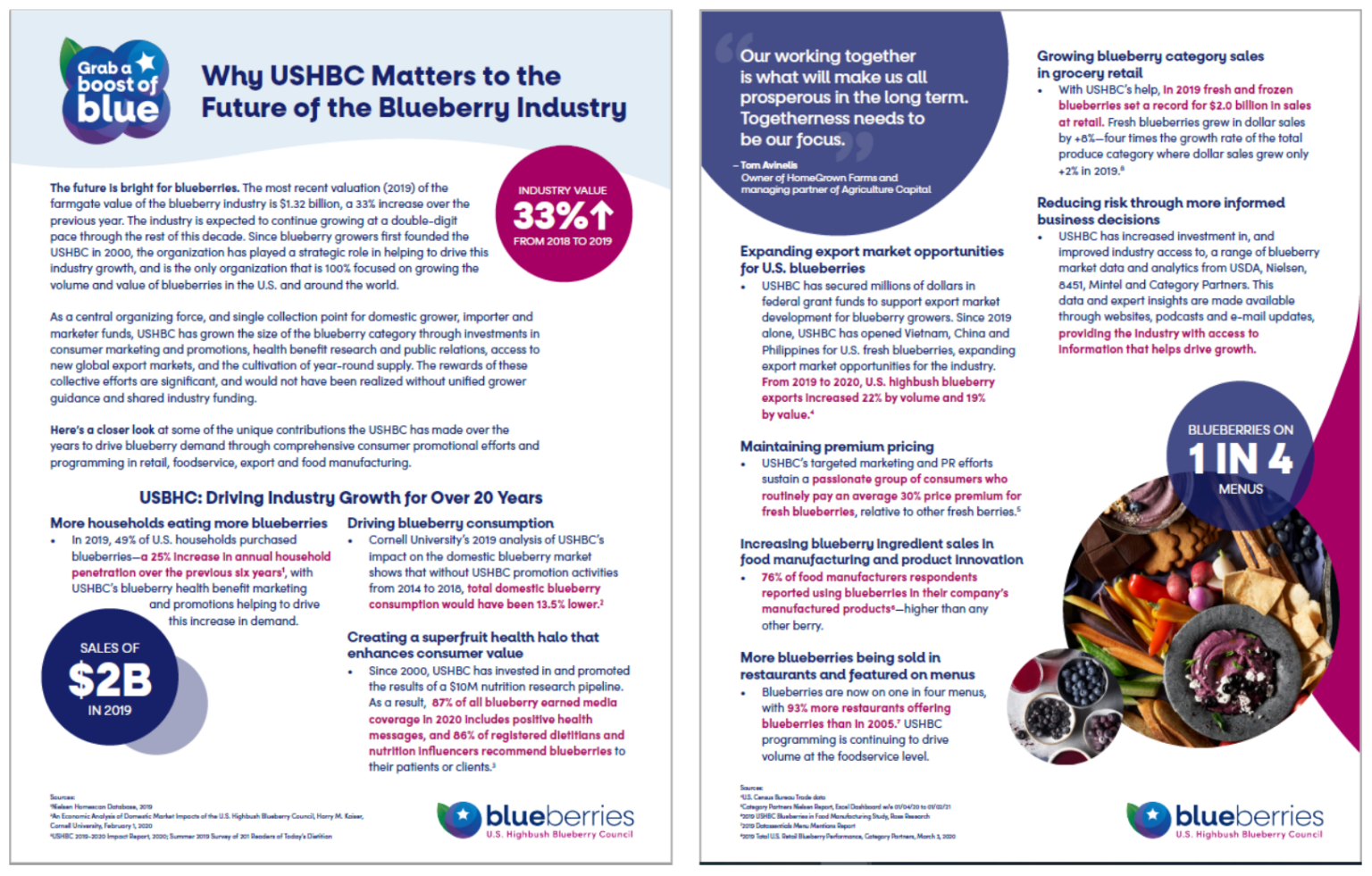 This fact sheet features many stats demonstrating the impact of USHBC driving blueberry demand and industry growth over the last two decades.
Consumer and Shopper Insights
USHBC's programming is directly informed by feedback from real consumers. Learn more about what we've gathered to boost your own marketing efforts.
Grab a Boost of Blue Testing
---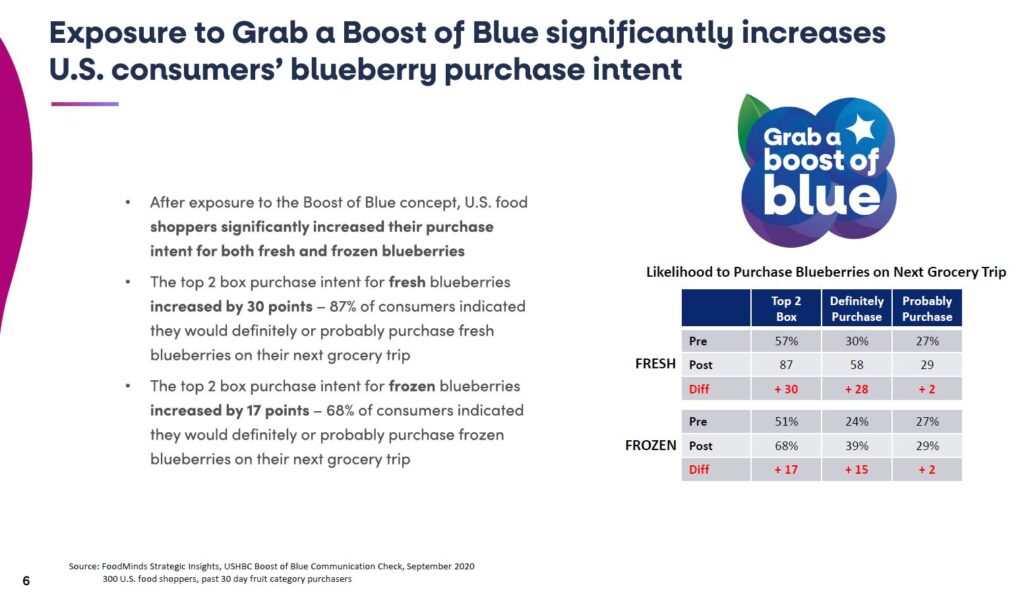 Research shows that Grab a Boost of Blue resonates with shoppers and blueberries drive the bottom line.
Consumer Usage and Attitude Survey
---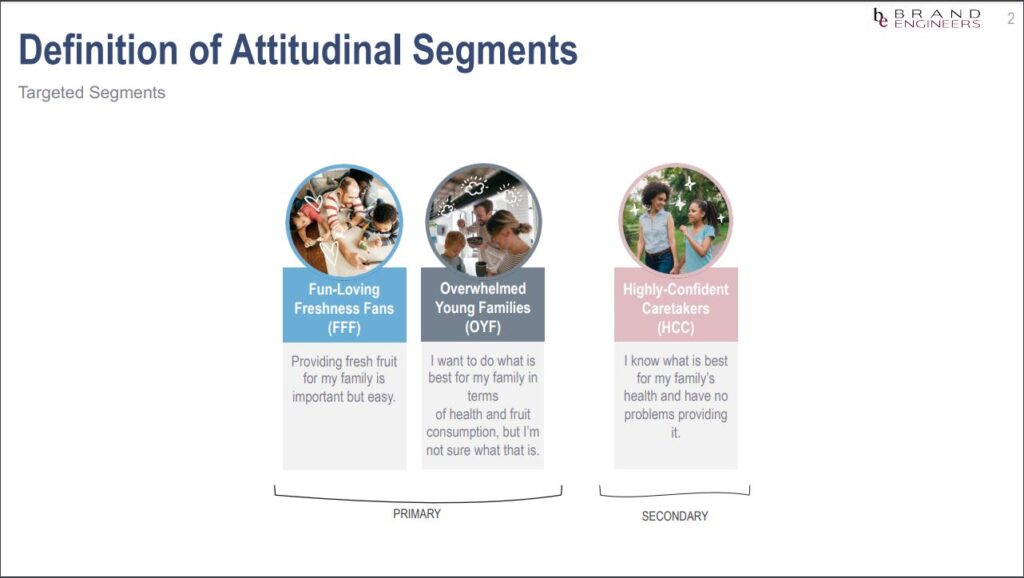 A deeper dive into what motivates our consumer target audience.
Foodservice Insights
Get an inside look at the data informing how we're driving more blueberry volume through foodservice channels.
Patron Demand Study
---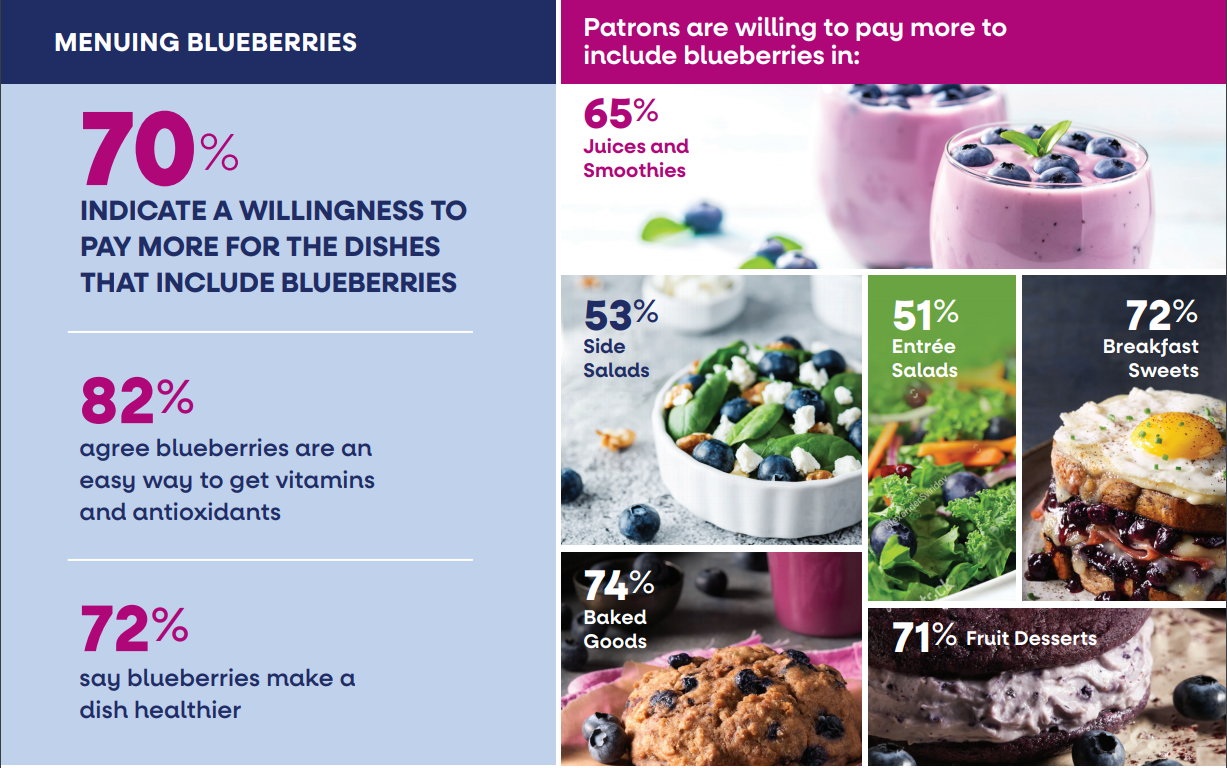 We surveyed 1000+ consumers to get a better understanding of how they want to see blueberries menued across all types of restaurants.
Volumetric Assessment of Blueberries in Foodservice
---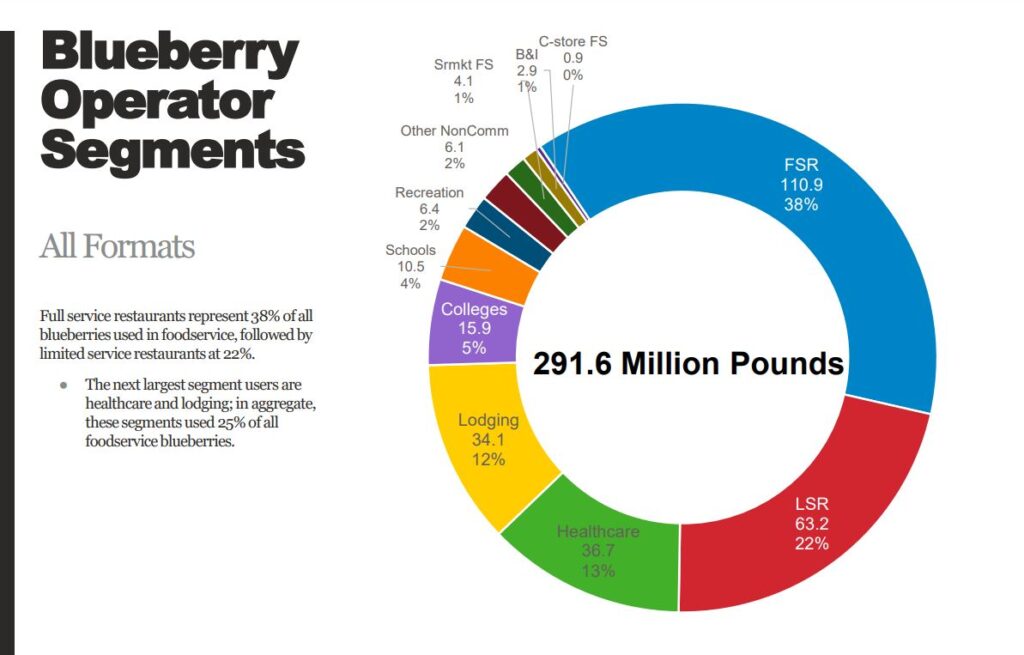 Volume data on the blueberry market in foodservice, evaluating whole fresh, frozen, canned and dehydrated.
Dataessential Report on Blueberry Usage on Menus
---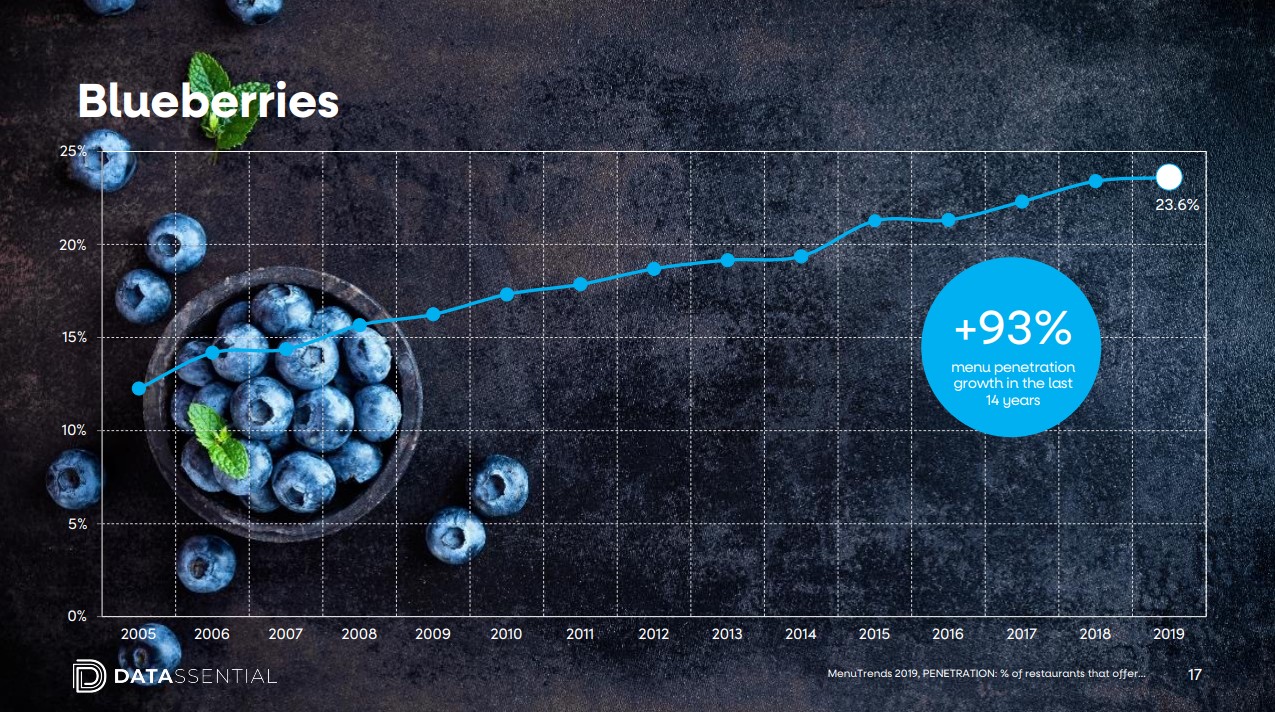 An assessment of fruit, berries and blueberry usage usage on menus in restaurants, QSR and casual segments.
Grower and Industry Stakeholder Research
Research and survey data gathered about and from growers can help us learn how to best collaborate to move our industry forward.
Technology & Innovation Research
---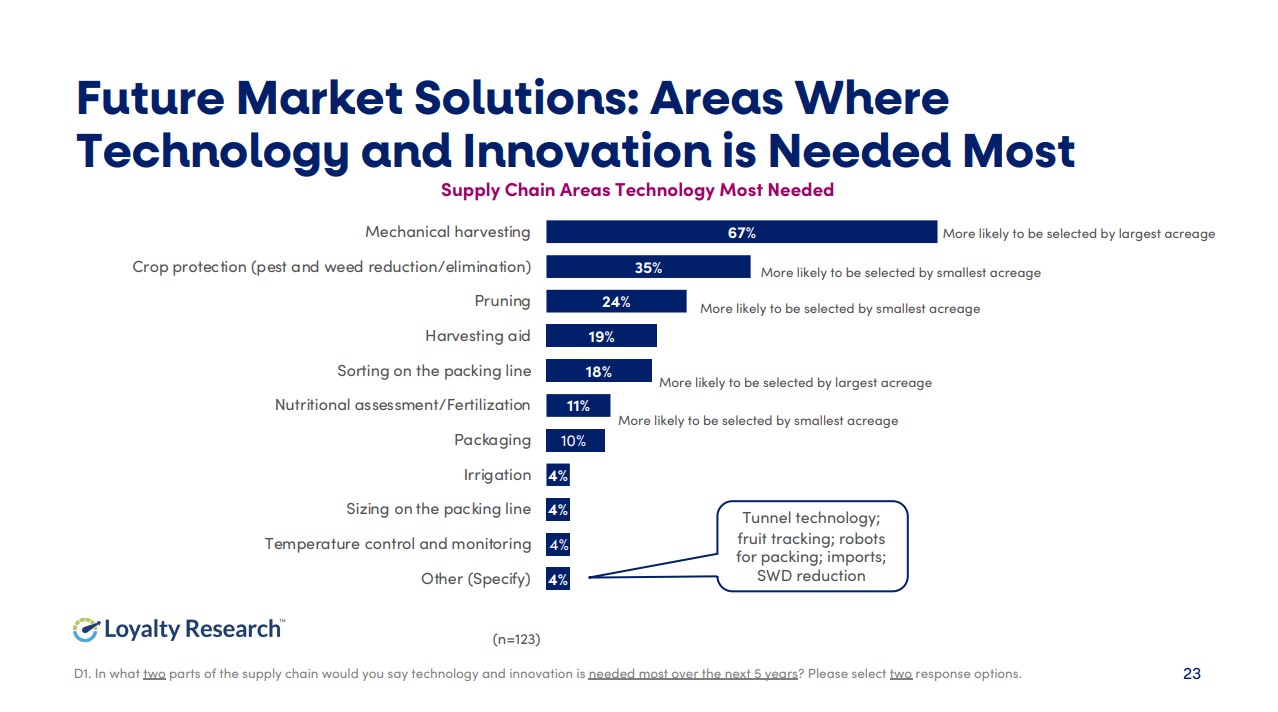 This survey explores leading technologies that can address real challenges faced by growers.
"Information is king. Real numbers, that you can trust, truly drive decision-making. "

---

Brian Bocock

Michigan blueberry grower and vice president of sales at Naturipe Farms